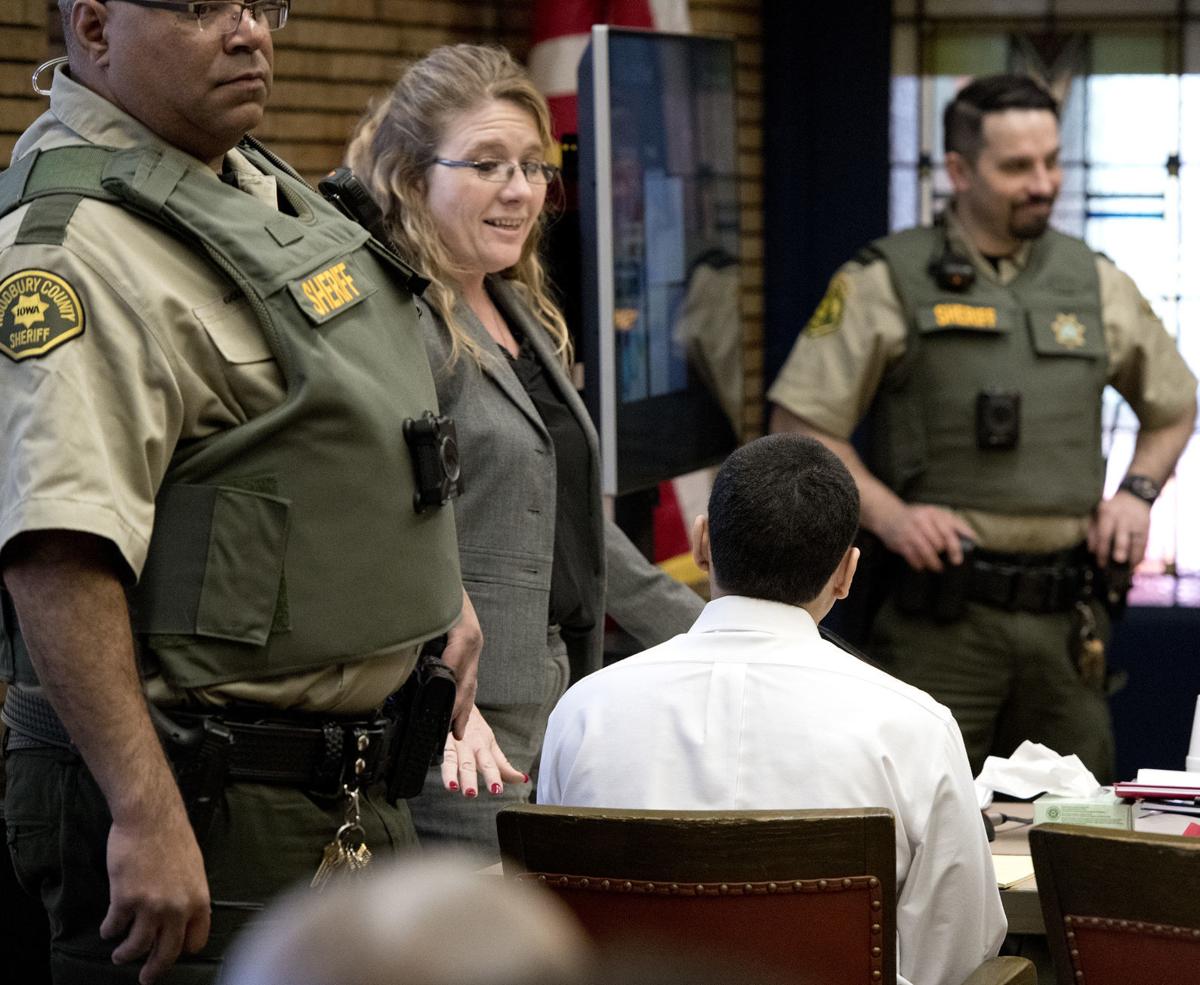 SIOUX CITY -- Roughly six hours after Paiten Sullivan and Felipe Negron Jr. had bled to death from multiple stab wounds, Tran Walker told police investigators he had become upset that Sullivan had told him she no longer loved him and did not want to get back together with him. He told police he wanted his ex-girlfriend to feel what he was feeling and that "her actions led up to this."
After initially telling investigators he had no recollection of how Sullivan and Negron had died, he later recounted hearing both of them repeatedly telling him "stop" as they were parked in a PT Cruiser at the corner of South Cecelia Street and Jay Avenue.
And he remembered seeing both of them bleeding, he said in a video recording of his interview with Sioux City police investigators.
Played Monday during the third day of Walker's trial for the deaths of Sullivan and Negron, the video had poor sound quality, and much of the conversation between Walker and police was inaudible. District Judge Tod Deck and attorneys followed along with a printed transcript, a copy of which was obtained by the Journal.
"Why were they bleeding?" Det. John Sanders asked Walker, according to the transcript.
"I was, I was stabbing them," Walker said before describing a long silver knife.
Walker said he didn't know who he stabbed first, but both were telling him to stop, "and they were covered in blood. And then Felipe got out of the car and then, and then Paiten, she was, I had her down and I was stabbing her."
"How many times did you stab her?" Sanders asked.
"I don't know," Walker said. "It was just repeatedly. ... I think all over. Her face was bloody and then the front down was bloody. And then I think that's when Felipe pulled me out of the car, and I was stabbing him too. ... I think it was more than once."
"Did you want them to die because you feel good inside?" Sanders later asked.
You have free articles remaining.
"Paiten, not Felipe," Walker said.
Walker, 19, of Sioux City, has pleaded not guilty in Woodbury County District Court to two counts of first-degree murder for the Jan. 28, 2018, stabbing deaths of Sullivan, 17, and Negron, 18, both of Sioux City.
Negron and Sullivan had picked up Walker earlier that night so he could talk to Sullivan about their relationship. They parked in a Wal-Mart parking lot on Floyd Boulevard and talked before driving to Morningside, where Sullivan was going to be dropped off. Walker said Negron was driving, and Sullivan was sitting in the passenger seat. Walker was in the back seat behind Sullivan when Negron stopped in the parking lot at King Koin Launderette, 3131 Jay Ave.
Witnesses last week testified that they saw a disturbance and ran to help. Walker fled the scene and was later apprehended in the restroom at the Hy-Vee store on Gordon Drive, approximately eight blocks away, and taken to UnityPoint Health-St. Luke's hospital for treatment of a severe cut on his right pinky finger. He was then taken to the police department for questioning.
After his interview, Walker led police to a house in the 800 block of South Paxton Street, a block east of the stabbing scene. Police found a silver dive knife next to a lawn mower near a garage in the back yard.
Brenda Reinhard, an Iowa Division of Criminal Investigation criminalist, testified Monday that blood found on the blade and handle of the knife contained the DNA of both Walker and Sullivan.
A knife police found on the front console inside the car contained a mixture of blood from three people, Reinhard said. On the blade, only Sullivan's DNA could be positively identified. Only Negron's blood could be identified on the knife's handle. Sullivan's blood also was found on Walker's jacket.
Deputy Iowa state medical examiner Jonathan Thompson, who conducted the autopsies on both victims, said he observed 43 stab wounds on Sullivan and 17 on Negron. Most of the wounds were superficial and caused no damage to organs or major blood vessels, he said, but each body had one significant wound that caused each victim to bleed to death.
A 5-inch-deep stab to Sullivan's neck sliced her carotid artery, Thompson said while showing a series of autopsy photos. Negron suffered a stab to the upper left chest that penetrated his heart's right ventricle.
After First Assistant Woodbury County Attorney Mark Campbell rested the state's case, public defender Jennifer Solberg rested her case, calling no witnesses and presenting no evidence. She instead made an oral motion for acquittal, saying that Campbell had not proved the state's case. Deck said he would reserve ruling on her motion until he issues his verdict.
Walker last month waived his right to a jury trial, choosing to have Deck decide the case. Campbell and Solberg will file their closing briefs over the next four weeks. Deck said he did not know how soon he'd reach his verdict after the briefs have been filed.
If found guilty as charged, Walker would face a mandatory sentence of life in prison without parole.
Copyright 2019 The Sioux City Journal. All rights reserved. This material may not be published, broadcast, rewritten or redistributed.