SIOUX CITY -- An argument over a missing cell phone at a Sioux City residence early Friday left a man dead and a woman hospitalized with serious injuries.
Sioux City police located Michael Landrum, 54, near the scene about two hours later and took him into custody without incident. Landrum, of Sioux City, was booked into the Woodbury County Jail on charges of first-degree murder and willful injury. His bond was set at $500,000 Friday afternoon.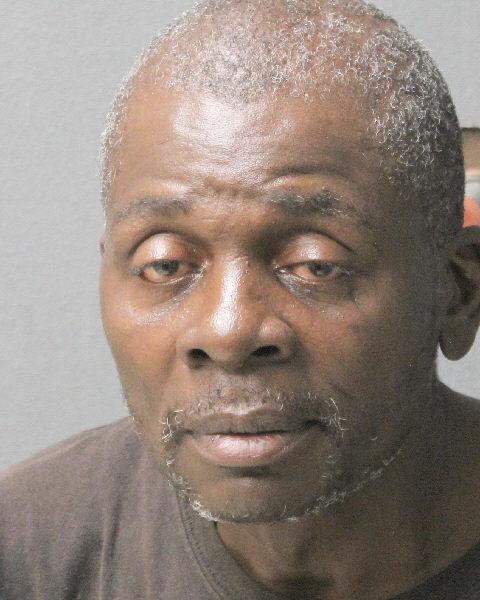 At a news conference, Sioux City Police Chief Rex Mueller said the incident remains under investigation and he was able to release few details.
Officers were called to 2103 Nebraska St. at 12:55 a.m., he said, and found two adults with stab wounds.
According to a complaint filed in the case, Landrum, who lives nearby, was at a party with the victims and then left. He returned shortly looking for his cell phone. The victims helped him look for it, and Landrum began accusing them of taking it, became upset and left. He returned again, pounded on the door, and when the female victim answered the door, Landrum stabbed her multiple times with a steak-style knife. When the male victim come to the female's assistance, Landrum stabbed him multiple times, the complaint said.
Both victims were transported to MercyOne Siouxland Medical Center. Police have not publicly released the names of the victims. According to the complaint, Salahadin Adem, 37, died from his wounds. Police Det. Ryan Denney said he could not comment on the status of the 43-year-old female victim, identified in court documents as Natasha Drappeaux.
"She has very serious injuries," Denney said.
Police found Landrum walking in the 2400 block of Nebraska Street at 2:23 a.m., Mueller said, and arrested him.
Denney said he could not comment on whether the knife has been recovered. He said the home belonged to one of the victims. Police believe drugs and alcohol were involved in the incident, Denney said.
A search of Iowa's online court records showed no history of violence in Landrum's past. The only case listed was an arrest earlier this year in Sioux City for operating while intoxicated and possession of marijuana. He is scheduled to enter a plea in the case in October.
Friday's death was the second homicide in Sioux City this year.
Paul Belk, 30, of Beaufort, South Carolina, is charged with first-degree murder, willful injury and possession of a controlled substance in connection with the April 14 stabbing death of his mother, Lisa Belk, at a Morningside apartment building. He is also accused of injuring his sister.
Sign up for our Crime & Courts newsletter
Get the latest in local public safety news with this weekly email.