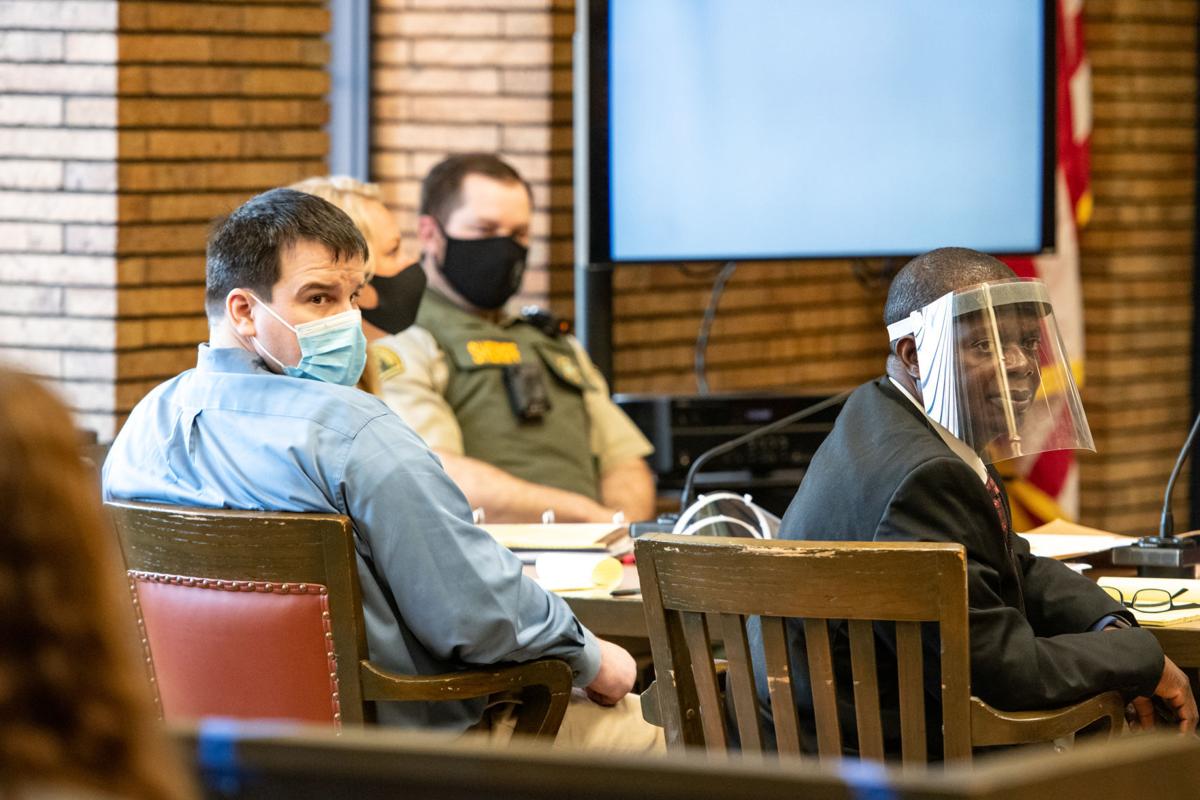 SIOUX CITY -- Though methamphetamine was present in her system at the time of her death, a state forensic pathologist testified that Elizabeth Bockholt died from strangulation.
Dr. Jonathan Thompson, who performed Bockholt's autopsy at the Iowa State Medical Examiner's Office in Ankeny, explained in photos shown Wednesday in Woodbury County District Court that Bockholt's neck had red abrasions indicating hemorrhaging. She also had petechiae -- small red spots on her face indicating burst capillaries -- and some hemorrhaging of blood vessels in her eyes.
"She had recently used meth, but in my opinion, strangulation was the cause of death," Thompson said. "She's got a red mark across her neck, the side of her neck, hemorrhages on her face. Somebody strangled her."
Thompson said he could not determine if Bockholt was strangled by hand or with some type of ligature.
Bockholt was found beneath a pile of partially burned bedding in a Sioux City hotel room on Jan. 24, 2019. Jordan Henry, 30, of Sioux City, is accused of killing her, then setting fire to the room. He has pleaded not guilty to first-degree murder and first-degree arson.
Thompson said the fire played no role in Bockholt's death because no soot or carbon monoxide was found in her airway. Burn marks on her back and right arm were not fatal, Thompson said.
It was not possible to determine exactly when Bockholt ingested the meth, Thompson said, but it had been within a day of her death.
A blood sample taken from Henry about 19 hours after Bockholt's body was found indicated he also had meth in his system, Iowa Division of Criminal Investigation criminalist Justin Grodnitzky testified.
Three witnesses testified a day earlier that Bockholt had a meth addiction.
According to court documents, Bockholt, 40, of Hinton, Iowa, and Henry had a romantic relationship prior to Henry being sentenced to five years in prison for theft in 2017. Henry was released on parole on Jan. 16, 2019, eight days before Bockholt died.
On Tuesday, a friend had testified that she took Bockholt to the Wingate by Wyndham hotel at 4716 Southern Hills Drive, where she met up with Henry on the morning of Jan. 24.
At 9:23 p.m. that day, Sioux City Fire Rescue was paged to a fire in room 102 at the hotel.
Sioux City Fire Rescue deputy fire marshal Joe Rodriguez testified the fire had mostly burned itself out by the time firefighters arrived, and they were able to extinguish it with a short blast from a hand-held water can. Investigators found a partially burned phone book by the bedding, which was piled between the two beds. Also found in the debris was a badly damaged smoke detector, which investigators suspect had been removed from the ceiling. A cell phone battery and a cell phone that had been damaged in the fire were found amid the debris, though no evidence was presented to show to whom the phone belonged.
Witnesses testified Tuesday that Henry had rushed from the hotel room when they opened the door to check on Bockholt's status. He was arrested about five hours later outside a relative's house nearby.
Irina Brodsky, a former Sioux City Police ID technician, testified that swabs she collected from Henry's hands and fingernails after his arrest detected no blood, but there was a mixture of DNA from two people, the state's crime lab determined.
Under cross examination, Brodsky, who now works in Virginia Beach, Virginia, said the crime lab was unable to determine the identity of the second source of the DNA found on Henry.
At the conclusion of testimony Wednesday, First Assistant Woodbury County Attorney Mark Campbell rested the state's case. The trial is scheduled to resume with defense witnesses on Friday.
If found guilty of first-degree murder, Henry would receive a mandatory sentence of life in prison without parole. First-degree arson carries a 25-year prison sentence.
Sign up for our Crime & Courts newsletter
Get the latest in local public safety news with this weekly email.