PONCA, Neb. -- Angel Henderson said she and her husband adopted two special-needs children out of love. They knew the troubles the children had experienced, and the Wakefield, Nebraska, couple wanted to give them the care and support they needed.
"We found out you can't love away trauma, and they had a lot of trauma," Henderson told a judge Friday.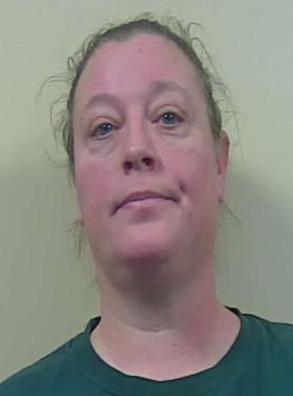 But Henderson, and to a lesser extent, her husband, added even more trauma to their young lives, District Judge Bryan Meismer said, by locking them in a bedroom, feeding them only once a day and subjecting them to other abuses.
"The fact these children came from horrible backgrounds makes what happened to them worse," Meismer said.
Meismer rejected a defense request to place Henderson on probation and sentenced her to five to 10 years in prison for two counts of felony child abuse. A Dixon County District Court jury found her guilty in November.
She had faced a maximum of 50 years on each count. Meismer said he balanced the length of the sentence with the fact that Henderson had no prior criminal record.
Henderson, 44, and her husband, Patrick, were arrested in January 2019 and charged with locking the two children in a bedroom, allowing them to leave only to go to the bathroom and feeding them only once a day or not at all if they didn't finish their school work.
If the children, who were homeschooled, left their bedroom for any reason, Angel Henderson would choke, kick or hit them. The children, ages 9 and 14 at the time, also were forced to sleep in pajamas that had the arms sewn to the side and the legs sewn together and wear stocking hats pulled down over faces.
Sheriff's deputies found the then-14-year-old son wearing the one-piece pajamas in the back of a vehicle on Jan. 19, 2018, after Angel Henderson had reported him missing.
Henderson said Friday that the pajamas were used for "swaddling," or helping to calm the children, who both had behavioral issues.
"It worked," Henderson said. "I have a pair of them myself. I love them. I wear them to this day."
Henderson said her husband had "checked out" and left much of the child-rearing to her, forcing her to cope with the children's behavior, which included biting, spitting and throwing things, on her own. She had researched many of the methods she used to control the children and sought advice from others, she said.
"I did what I could. Desperate times call for desperate measures," she said. "If I could change things, I definitely would, but I can't."
Two other children, age 13 and 6 at the time, also were living at the home, but were not mistreated. All four children, who had been adopted by the Hendersons, were removed from the home and placed into the custody of the Nebraska Department of Health and Human Services. Court records show that at least one of the children has since been adopted by another family.
Patrick Henderson, 56, pleaded guilty and was sentenced in November 2019 to four years in prison on two counts of child abuse, one of them a felony and the other a misdemeanor.