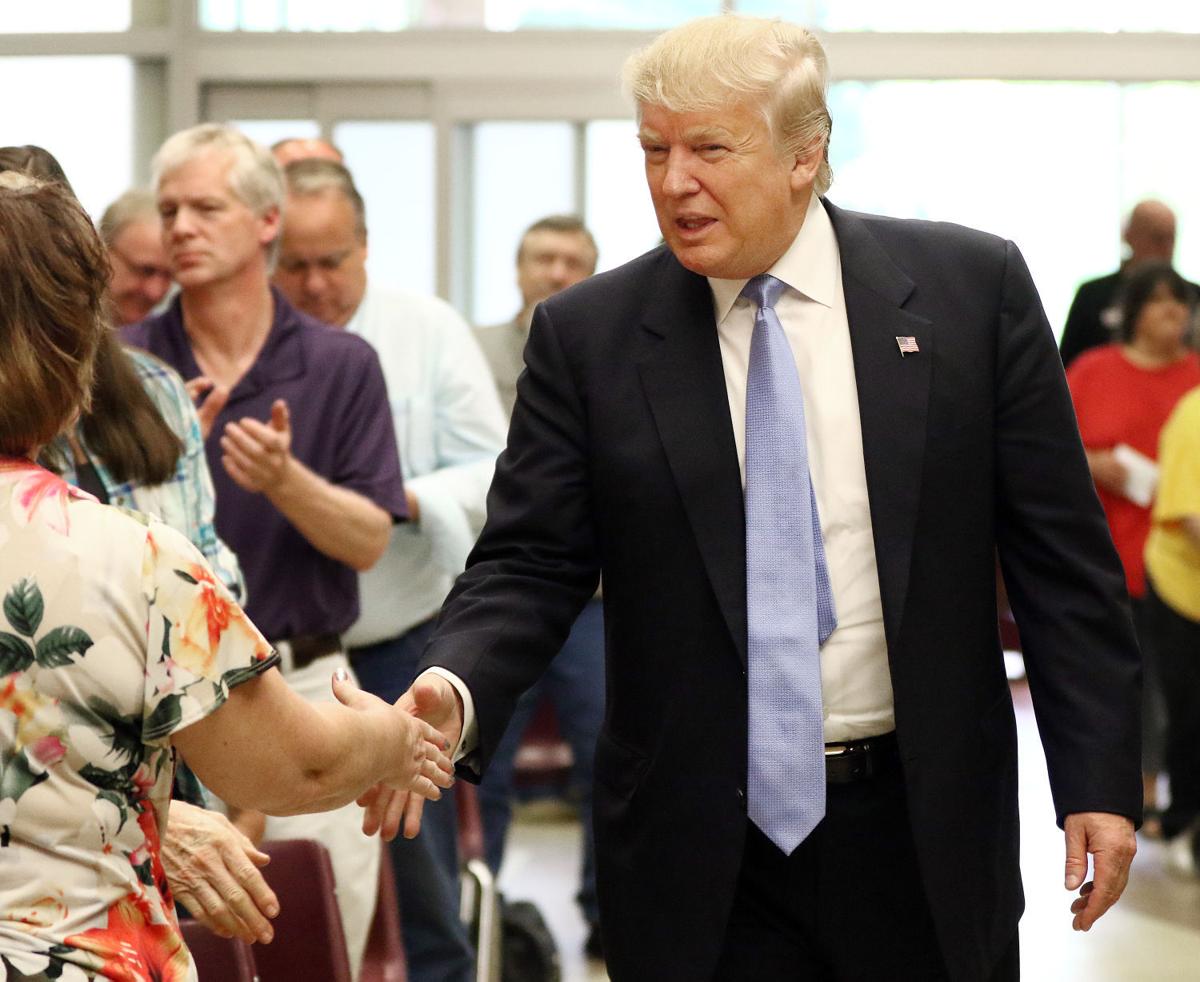 SIOUX CITY | Donald Trump's presidential campaign rolls into Sioux City next week, marking just the second time the billionaire business mogul and realty TV star has visited Iowa's fourth largest city this year.
Trump, the frontrunner for the Republican nomination, is scheduled to hold a rally at 6 p.m. Tuesday at West High School. Doors open at 4 p.m. Advance tickets are available at the Eventbrite website.
A lot has chanced since Trump's only previous 2015 visit to Sioux City in May. Back then, he was still mulling whether to enter the race. He told a crowd of 200 at Morningside College that he'd be a great president, while throwing barbs at other Republican candidates.
At that time, Wisconsin Gov. Walker led in a Quinnipiac University Poll for presidential candidates in Iowa. Trump officially became a presidential candidate on June 16. Since then, Walker has dropped out of the field and Trump has surged to the lead in polls in both Iowa and nationally.
Trump has been the focus of continuing news cycles, whether engaging in verbal battles with media personalities or cracking other candidates, such former Florida Gov. Jeb Bush over whether his brother, former President George W. Bush, did enough to prevent the Sept. 11 terror attacks.
Woodbury County Republican Party Chairman Kevin Alons said he's noticed that Trump is beginning to provide more policy details along with his candidate slams and assessments of current government failures.
You have free articles remaining.
"He's started to back that up more with some details," Alons said.
Alons said the Trump rise isn't surprising, given what he said is broad ongoing dissatisfaction with federal lawmakers and Democratic President Barack Obama.
"People are fed up with the status quo," he said.
Alons said Trump speaks with a bluntness that people enjoy.
"It is more direct than people are used to, and they find that refreshing," he said.
To do well in the Feb. 1 Iowa caucuses -- the kickoff of the presidential nominating season -- Trump would be advised to tout social conservative issues, Alons said.
At Trump's event Tuesday at West High School, one of the crowd warmup speakers will be James Miller, of Akron, Iowa, who owns a Sioux City-based lawn care business. Miller will describe how Trump will help business owners.
He will also introduce Trump to Todd Landen, of Sioux City, a military veteran from the Iraq War whose home is being improved as part of the Projects for Patriots endeavor that launched in the city in October.