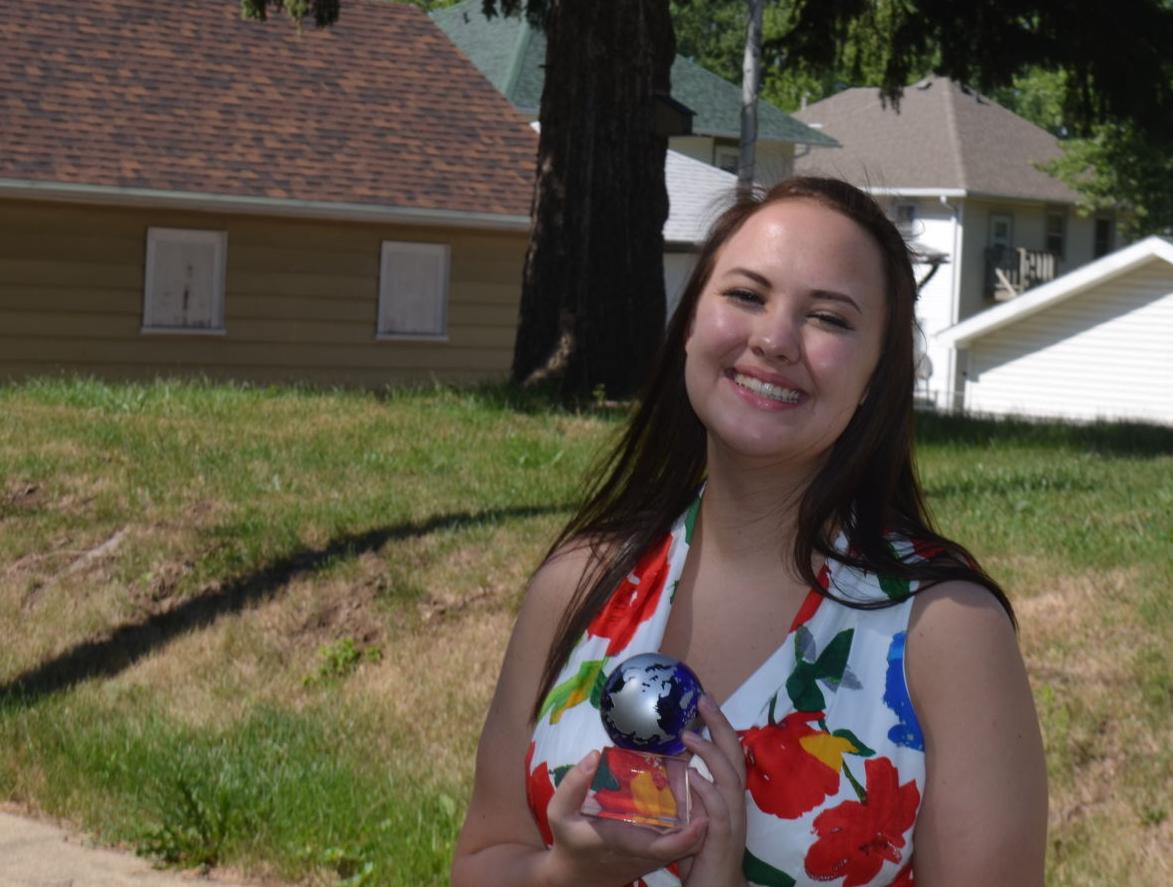 SIOUX CITY -- Even though she just graduated with honors from East High School, Nicole Essig is called "mom" by some of her closest friends.
"If your car stalled out in the middle of night, I'm usually the first person everyone seems to call," the Sioux City native said with a laugh.
That might be because the 18-year-old is unusually mature for her age. After all, both she and her fraternal twin sister, Shelby, had to grow up in a hurry. 
Their mother, Char Essig, died of breast cancer when the girls were 4. For the most part, they were raised by their father, Clint.
"I have memories of mom," Essig said, "but, mostly, it was me, my sister and my dad."
However, it was Char Essig's early death that inspired her daughter's interest in the medical field.
Based upon essay questions, personal recommendations and a stellar academic performance, Nicole Essig was selected to receive a $40,000 scholarship from the Kind World Foundation. It's the highest monetary post-secondary award the local nonprofit group annually presents. 
Essig will use the scholarship to attend the University of Iowa in the fall.
"I will initially go for a neuroscience degree before branching into psychology," she said. "There is still a stigma attached to mental health and I want to change that perception."
It's a good thing Essig isn't afraid of hard work.
Throughout her high school years, she had to juggle work as well as homework.
"Luckily, I liked my job as much as I like school," Essig said. "So it didn't seem too bad."
This pluckiness endeared her to the Kind World Foundation.
Since 2009, the Kind World Foundation, founded by former Gateway executive Norm Waitt Jr., has awarded nearly $3 million to hundreds of high school seniors from eight metro schools: Sioux City East, North, West and Bishop Heelan, South Sioux City, Dakota Valley, Sergeant Bluff-Luton and Elk Point-Jefferson.
"The Kind World Foundation was created for deserving students like Nicole," Marcia Waitt, the organization's scholarship and education program chairman, said. "We are so proud of her."
So is Essig's family. She will be the first member of her family to attend a university.
Essig admitted that, due to COVID-19 concerns, her senior year didn't go off as planned. Plus, her classes this fall at the University of Iowa will likely be divided between in-person classwork and online education.
But that hasn't dampened her enthusiasm.
"I'm really excited about going off to school," Essig said. "I'm a bit nervous but mostly excited."
Get local news delivered to your inbox!
Subscribe to our Daily Headlines newsletter.