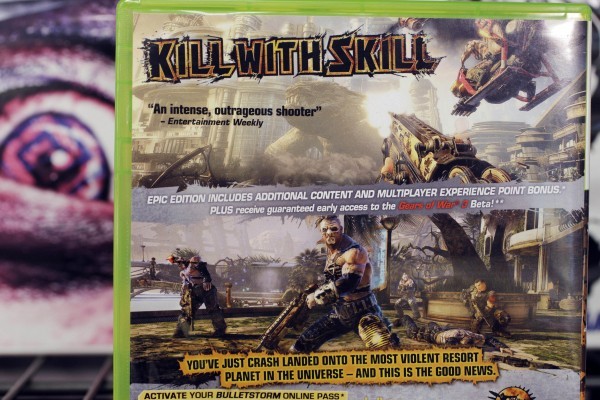 AMES, Iowa | A study released by Iowa State University Tuesday indicates there is a link between sociopathic behavior in some youth and playing violent video games.
The study, which included 227 youths incarcerated in long-term residential facilities in Pennsylvania, determined that playing violent video games, having a preference for violent video games, and the amount of time playing are risk factors for delinquency and violent behavior.
The study focused strictly on youth between the ages of 14 and 18 with a criminal history in order to examine the impact on antisocial behavior.
The average participant in the study committed 15 acts of delinquency and nine acts of serious violence, including gang fighting, hitting a teacher or parent, or attacking another person.
Criminal justice professor Matt DeLisi, who helped run the study, said he wanted to look specifically at people displaying anti-social traits instead of the public at large.
"Almost everyone plays video games, but not everyone playing is antisocial," DeLisi said. "It's not the video games per say, but the antisocial personality."
Violence in video games came under scrutiny after a man armed with a semi-automatic rifle shot and killed 20 elementary students and six teachers in Newtown, Conn., in December.
Sen. Chuck Grassley, R-Iowa, said in during a committee hearing on the causes of gun violence that violent games were also linked to a man who killed 77 people in Norway on July 22, 2011. Eight people were killed by a car bomb and another 69 were shot at a summer camp for the Norwegian government's Labor Party youth wing.
Grassley said the shooter, who is serving 21 years in prison for the attacks, cited the first-person shooter "Modern Warfare 2" as part of his training. That game featured an optional level called "No Russian" where players massacred civilians during an airport shootout.
"There are too many video games that celebrate the mass killing of innocent people --games that despite attempts at industry self-regulation find their way into the hands of children," Grassley told the committee on Jan. 30.
"This game was specifically cited in the manifesto of the Norway mass shooter as 'part of my training-simulation' for carrying out the attacks. Where is the artistic value in shooting innocent civilians?"
Not everyone agrees that violent video games lead to violent crimes.
A Dec. 17 Washington Post story looked at gun-related homicides per capita in 10 industrialized nations and the correlation to video game spending per capita. The study found that while the United States led the pack in gun-related murders, it was second to last in video game spending per capita.
The report added that murder rates trended downward the more a nation spent on games.
The study could not determine though if people were buying fewer violent games in countries like the Netherlands or South Korea compared with United States consumers.
The Enterainment Software Association, which represents the gaming industry, also says the links between video game violence and real-life crime is thin. The group's website cites a decline in violent crime among youth since the early 1990s while video game sales have increased as an indication there is no relation.
Douglas Gentile, and associate professor of psychology at ISU, said both sides are missing the point and are asking the wrong questions.
The ESA and Washington Post story convolute the issue by talking about crime when research focuses on aggression, he said. Politicians and society at large also look for one key factor to blame in the wake of a tragedy even though it's likely a mixture of many factors such as childhood abuse, antisocial tendencies and exposure to violence.
Society should instead ask what are the risk factors and how can they be addressed, Gentile said.
With the Iowa State study, DeLisi said the findings reinforce that violent video game exposure is one of many factors that tie in to aggression, but not the lone determining factor.
When it comes to parents whose children do not have anti-social traits, there is little to be worried about if parents stay involved by limiting playing time and ensuring children are not skipping school, he added.
"The largest affects far and away are for psychopathic personalities," he said. "The policy for me is psychopaths are very dangerous."
The Associated Press contributed to this report.