SIOUX CITY -- Construction is slated to begin next month on a new Bishop Heelan High School gymnasium that will replace the cramped older gym that Crusaders fans affectionately called "The Pit."
School leaders said Thursday the $3 million project is anticipated for completion in December, about a month into Heelan's 2018-19 basketball season. The new 1,600-seat gym, which will connect to the new academic wing that opened in January, also will host home volleyball and wrestling meets, as well as physical education classes, pep assemblies, regional show choir competitions and other special programs.
"We are thrilled to deliver this great news to our Heelan family and the broader Siouxland community," Heelan's Interim CEO Timm Funk said at a news conference at the school.
Funk thanked donors for their generosity, which also helped launch the new high school, which replaced the old 1949 building.
"We are blessed with a dedicated group of benefactors who share and support our faith-based mission emphasizing academic achievement, excellence in the arts and Heelan's long-standing tradition of outstanding athletics," Funk said.
Funk noted the gym's top-loading design means people will enter at the top and descend the steps to sit in the bleachers.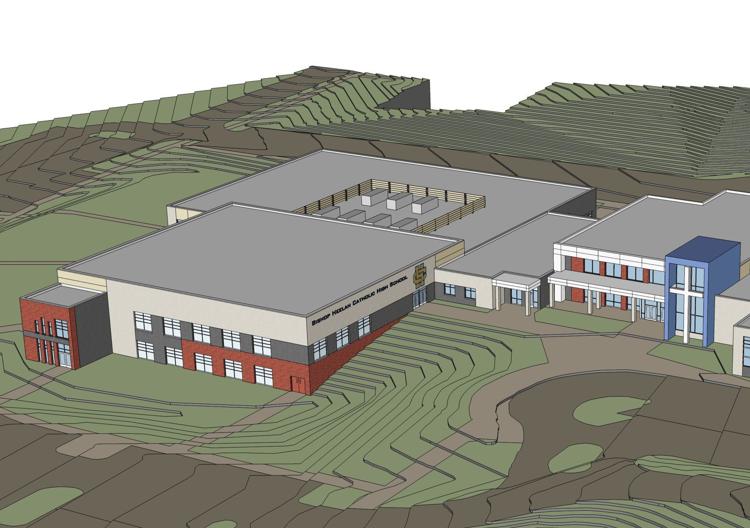 The gym will also feature a running and walking track looping the top of the gym, similar to Newman-Flanagan arena at Briar Cliff University. Included in the gym will be girls and boys locker rooms, athletic training and first aid room, coaches offices, locker rooms for game officials and referees and athletic equipment storage area.
Tom Betz, Heelan's executive director of advancement, said that after years of active fundraising, numerous Heelan projects are nearing completion.
"We are now officially in the home stretch and able to shift our focus from the gymnasium to raising the final half million dollars needed to complete a strength and conditioning facility,  which will be adjacent to the gymnasium," Betz said.
It has been a bountiful construction era at Heelan. The new gym comprises a third phase of a $30 million investment in the high school campus just north of downtown.
A new fine arts wing that cost $15 million opened in 2014,  and it now connects to the academic wing, which began holding classes on Jan. 5, after being built for $12 million.
The high school academic wing gives news classrooms, administration offices, a counseling center and chaplain offices more than 55,000 square feet. In addition, it contains significant upgrades in technology connections, plus lecture and science labs and learning centers in which students can conduct group work.
Students have continued using "The Pit" while attending classes at the new high school.