EXCLUSIVE: North High student won't go back to Sioux City school after bullying
SIOUX CITY | Spencer Rice has missed an entire month of his sophomore year, staying home rather than return to North High School, where some students bullied him online in late December.
"I don't want to go back. They lied to us and I am honestly terrified," said Spencer, who is autistic.
Since the discovery of an online poll that asked whether Spencer should be killed, his mother, Kristi Rice, has battled Sioux City school district administrators in her quest to create a safe environment for her son.
Kristi Rice said she, Spencer and his older siblings are frustrated by district "stonewalling" on what they see as two simple requests -- providing  Spencer with a new teacher's aide and approving a transfer to West High School, where the family believes he would find a more supportive environment.
"You are not going to bully me into sending my kid into a school where somebody wants to kill him," Kristi Rice said.
Beyond that, Kristi said she wants to change the procedure for parents to address the bullying of their children. She contends school district officials, led by Superintendent Paul Gausman, are more concerned at fending off negative publicity than making sure there is a process for parents to work with administrators to get to the bottom of bullying charges.
She contends there is "a secret code, a secret handshake" where parents are kept in the dark.
"Why do we have to go through something so freaking heinous?" Kristi said.
In a statement, Gausman strongly asserted that bullying incidents get a full review.
"Instances of bullying are always investigated and acted upon immediately when we are made aware of any challenges. Building leaders and the District's Student Services and Equity Education Department often serve as the first point of contact when concerns are brought forth," Gausman said.
Citing federal privacy laws, Gausman said the district could not comment on Rice's specific case, including whether any students have been disciplined for their role in the online poll.
"Due to the allegations brought forth recently, I personally reviewed cases from recent months specifically. I can with great certainly assure our community and the families that we serve that every case that was brought forth was addressed within 24 hours by either the principal and/or the Director of Student Services and Equity Education," Gausman said.
Kristi Rice bristles at that, saying she wants more clarity.
"They hide behind the privacy law -- 'We can't really tell you what happened, but know we are handling it.' They lull you into this false sense of security, that they are working with the police," Kristi said.
Tired of striking out with administrators, Kristi is considering bringing up the matter at a future school board meeting. She said she isn't sure Gausman has shared full details of her son's story with the seven-member board.
"There is a lot to be fixed here. We can't fix what we don't acknowledge," she said.
In an interview Tuesday, Kristi and Spencer Rice said the time away from school has had a derogatory effect on Spencer.
"I have a feeling it will be a lost semester," Spencer said.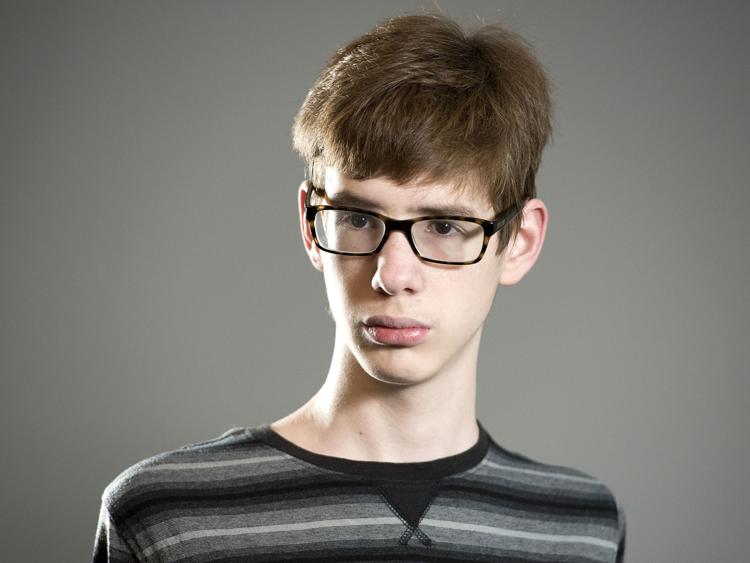 His mother added, "Spencer has missed so much school. He has regressed. Initially, he was down to one word answers and really was not engaging at all, but, with time, we are seeing some improvement."
"Most of the time I just spend on my computer on coding," Spencer chimed in, looking up cryptocurrencies, a new topic he is delving into, so as "not to lose my thirst for knowledge."
"Being stuck at home, just looking up at the ceiling, it is maddening. I am not a person who does nothing in one place all day," he said.
Kristi Rice said North High officials, a few days ago, sent home backlogged coursework. She called that an unhelpful step that has caused too much stress for Spencer to handle.
"They literally dumped three and a half weeks of work on a kid who hasn't been in school since Jan. 3," Kristi said. "When we have a tutor or an instructor, we will do it. We don't expect the other 14,000 kids in the district to do work without an instructor."
Spencer, 15, has been on an Individualized Education Plan with special education elements. He wears a Project Lifesaver anklet and has had a host of health issues, including brain surgery at one point. He has done physical, occupational, art and horse therapies.
"I need help ensuring his absolute safety at school. Despite his disabilities, he is a brilliant, gentle soul who deserves so much better," his mother said.
"WE COULD HAVE RESOLVED THIS THE WEEK IT HAPPENED"
In the aftermath of the award-winning film, school officials took a series of actions to ensure parents they were taking the issue of bullying seriously. Gausman said those have continued this school year.
In the cyber bullying incident in December, Kristi Rice said one of the first responses in the online poll questioned the manner in which he should die. On the first day school resumed in January after the poll was posted, Kristi Rice said her son was aggressively threatened as he moved from the bus to the school cafeteria, "but thankfully another student got between them."
Kristi spoke at length about numerous North High and school district officials who have rebuffed her attempts to lodge a police report and make sure the persons responsible for the threat were punished.
"The school misled us into believing the bullies had been suspended and the police were involved," Kristi said.
Sherry Howard-Wilhelmi of Phoenix, Arizona, has been an advocate for children with developmental disabilities for 40 years, and now works for the Arizona Consortium for Children With Chronic Illnesses. Howard-Wilhelmi has known Spencer since was a baby, back when the family lived in Arizona.
Howard-Wilhelmi has been part of Spencer's IEP team for years, so she has sought input after he voluntarily withdrew from North on Jan. 8, according to the family. Howard-Wilhelmi said her talks eventually led her to Gausman on Jan. 15. She said school officials noted they didn't have a signed authorization to talk to her about the incident.
"They are unwilling to talk to a person on the IEP team," Howard-Wilhelmi said.
"They are obstructionist. We could have resolved this the week it happened... They are purposely denying this kid an education."
Gausman said privacy laws won't allow him to address whether Howard-Wilhelmi is approved to work with school officials as per Spencer's IEP. On the question of whether a transfer to West is a possibility, Gausman said, "Details about transfer requests are not public information."
Kristi has taken her concerns beyond the school district. She has filed information about Spencer's saga with Disability Rights IOWA group, a law center for protection and advocacy in Des Moines, in hopes of getting help to facilitate a transfer from North and getting a new aide.
Kristi said those replies should be considered by district officials, so they can try "to do better by all the kids."
"We don't want to be known as a problem school district, so let's fix it," Kristi said.