SIOUX CITY -- Most of the seven 2019 graduates assembled in a conference room at the Journal offices Wednesday didn't know each other. But they frequently nodded or laughed or rang out in agreement as they discussed their high school careers.
There was the unexpected random connection, such as one boy noting he had seen a girl participant from a different school at a Sioux City restaurant the night before. Some of the seniors figured out they had seen the others in various extracurricular activities, like music competitions, in recent months.
And then there was the moment when Katey Nammany, who graduated from Bishop Heelan on Sunday, said schools should add information for students explaining how to apply for college student loans, so the process would be less confusing. Immediately, both Morgan Bowman, of South Sioux City High School, and Rachel Pirrie, of Siouxland Christian School, interjected, "That's true."
If seeking to feel good about the future of young people, listen to well-spoken Class of 2019 seniors describe what they wished they knew back when high school started, the teachers who impacted their lives, the activities they loved and the (sometimes late arriving) lessons they learned about making friends and taking risks outside their comfort zone.
The Journal invited eight metro schools to send one graduating senior to Wednesday's roundtable discussion. Seven accepted -- Sioux City East, North and West, Bishop Heelan, South Sioux City, Sergeant Bluff-Luton and Siouxland Christian. (Dakota Valley did not select a representative.)
Here are some excerpts from the discussion.
Q: Looking back, what do you wish the freshman you would have known back when entering high school?
A: "Everybody has something that you can learn from and you can make friends with anybody. Everybody has some type of aspect to them, that you can agree with and like, and I really figured that out, going on (later), that I can find a friend in anybody. I don't have to love everything about them, but I can connect to everybody on some type of level. That really helped me make friends and be more compassionate towards people I didn't initially see myself getting along with." -- Katey Namanny, Bishop Heelan, who plans to attend the University of Iowa, studying environmental engineering, while on the pre-law track.
A: "Don't care what anybody else says or thinks. Just do what what you wanna do. Join things, join things that you would enjoy, and do it because you want to do." --  Jose Ruelas, North High School, who will study film making at Western Iowa Tech Community College in Sioux City.
You have free articles remaining.
Q: Is there a regret, if you could change one thing about your high school career, what might that be?
A: "I think I just regret the most not just stopping and enjoying the moment more. I am involved in so much, it just feels like I am going from one thing to the next to the next to the next. It is like, I wish I would have stopped to enjoy everything that was happening, all the people around me and all the things around me." -- Rachel Pirrie, Siouxland Christian, who will study elementary education at Bethel University in St. Paul, Minnesota.
A: "I regret not accepting who I was sooner. I was so busy trying to be who everybody else wanted me to be, and I guess I wanted to be everyone's friend and I wanted to impress everyone. As school continued, I figured out it is OK just to be me, and the people that will surround you, as you are being yourself, are the people you want around anyway." -- Morgan Bowman, South Sioux City High School, who plans to study mass communications and attend Concordia University, in Seward, Nebraska.
Q: What teacher had the biggest influence on you in high school?

A: Thomas Hales and Anna Scott, who teach in the music field. "That level of expectation is kind of inspiring. Because a lot of people, 'Oh, they are just teenagers, they don't really care, it doesn't really matter.' " -- Andrew Flory, East High School, who will study aerospace engineering at Iowa State University.
A: Grace McElroy, who teaches literature and composition. "She really influenced me to start thinking about teaching. She is outgoing and always really confident in herself and has a lot of school spirit, and she just motivates everybody. She motivated me to want to be like her, to be a teacher." -- Laura Morrison, Sergeant Bluff-Luton, who will study to become an English teacher at Minnesota State University in Mankato.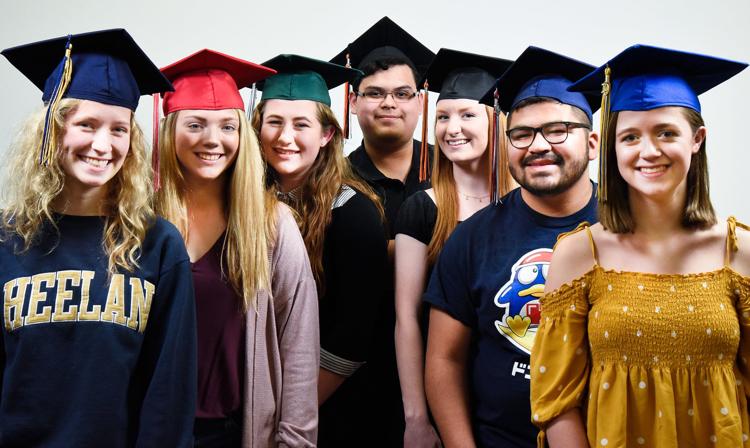 Q:  Were you adequately prepared in high school, or is there something that should be added to schooling?
A: "I have been very well prepared from Sergeant Bluff. They seem to be having more courses coming in each year... I feel like even if they aren't there yet, they are on the right path to start including more courses."-- Laura Morrison.
Q: What will you miss most about high school?
A: "I am going to miss the atmosphere and the culture at West the most. Because at West, it doesn't matter if you are a guy or a girl, gender, race, sexuality, none of that matters, because you are human and people still care about you. It is such a family environment, that I am really gonna miss having my family around. In every group, you have miniature families that are made...I am gonna start crying." -- Payton French, West High School, who will study English and literature at Central College in Pella, Iowa.
A: "People in general, not just students, but also teachers too. They have become part of the whole experience. I think the people make the activities -- you have marching band everywhere, you have jazz band everywhere. I think it really does come down to the people you are doing it with, that make your experience." -- Flory
Q6: As a whole, for its influence on society and individual people, is social media good or bad?
A:"It very much can be both. If it is properly used, it can a great place, where we can connect with one another and we can build each other up and it can be beautiful. But so often in our society, it is instead used as a weapon, and it is used to tear people down and make people feel worse about themselves. It is all in the way we are treating it and the way it is used." -- Pirrie.
Immediately in affirmation, Bowman said, "Retweet," to chuckles from the group.