SIOUX CITY -- The raises that could go to Sioux City School District teachers and administrators remain key segments to be set, but other details of the 2019-20 year budget are becoming clear.
The Sioux City School Board continues to wait for negotiations with unionized teachers and salary discussions concerning administrators to be settled, but in a Monday meeting the board members accepted the outline for a budget of more than $200 million that will be considered for adoption after a public hearing on April 8.
They didn't speak against the largest new personnel piece, in which several employees would be added as behavior coaches and behavior technicians for the special education program. With other elements, the combined cost of $450,500 of new special education program pieces would be added for 2019-20.
Superintendent Paul Gausman said special education program necessities are "the most difficult challenge we are facing, which is more challenging behaviors at an earlier age."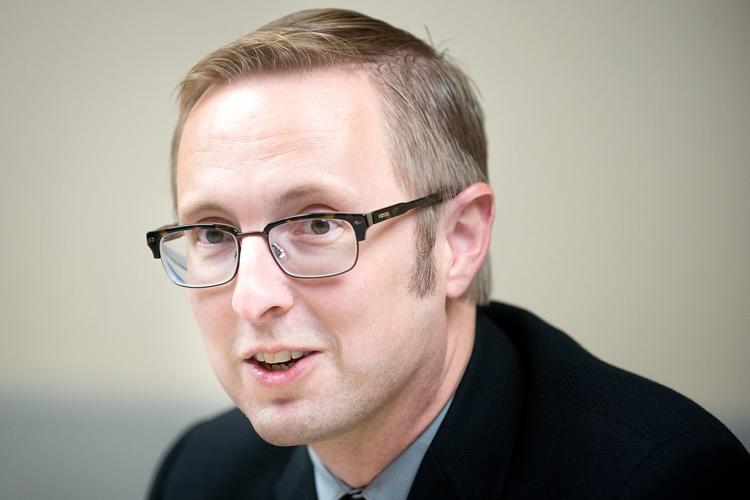 After the meeting, school board President Jeremy Saint said members are juggling program needs over time with the desire to keep property taxes low. The budget in current form contains a projected drop in the property tax levy rate paid to fund the district.
In action approved last spring, the tax levy fell by 4 cents per $1,000 of assessed valuation from the 2017-18 year to the current year. The new projection for the budget being set contains a drop of 5 cents per $1,000, from the current $15.35 to $15.30, or even slightly lower than the projection of two weeks ago, Chief Financial Officer Patty Blankenship said.
The board members didn't speak against the projected tax levy rate.
"It allows us to get down a little bit," Saint said.
The school board members have been processing through FY 2020 budget details since November.
"The board is generally in favor of the budget that has been developed over the last few months," Saint said.
Even with a potential levy decrease ahead, the district's share of property taxes paid by a typical property owner could still go up slightly, since property valuations as a whole have increased as a result of increases in the so-called rollback. Rollback is a state limitation on the percentage of the valuation subject to taxation, and the rollback rate increased by 1.3 percent, Blankenship said.
Nearly one year ago, school board members approved the $204 million financial plan with revenues and expenses for the year through June 30, 2019. Of that total amount, $169.6 million comes from general fund spending.
The proposed new budget contains $172.6 million from general fund spending. Virtually all of that $3 million net increase from the current year is in the cost of instruction, a line item that contains teacher salaries and benefits.
The 2019-20 budget is being set in a better financial climate than in the last few years.
With state lawmakers settling on a 2.06 percent increase in basic state aid for Iowa's K-12 public schools, the district is not looking to cut staff, but Gausman previously said it also can't add even more instructors in some programs that could use them.
The 2.06 percent increase in state supplemental aid is higher than the previous two budget years, which saw increases of 1.1 percent and 1 percent. 
During those recent years, Sioux City district officials were forced to cut millions of dollars in spending, which included slashing some teachers' pay and offering financial incentives to teachers who agreed to retire early.