SIOUX CITY -- Nate Protexter and Anna Sewalson said the elective course they're taking at East High School has helped them better understand how to handle money made from part-time jobs and even put aside some into a savings account.
Sewalson and Protexter chose to take the Financial Literacy class, along with about 50 East classmates this year, and the course is also offered to students at West and High high schools. Next year, however, every Iowa high school student will have to take a similar financial instruction course in order to graduate, given an Iowa Legislature requirement.
"I never really had a budget before," Protexter said in December at the conclusion of his class with teacher Jamie Zyzda.
Director of Secondary Education Jim Vanderloo told the Sioux City School Board members in December about the upcoming statewide change requiring a personal financial literacy class for graduation. Vanderloo said the 2018 legislation adds a half-credit course for students graduating in May 2020 and thereafter.
In a later interview, Vanderloo said, "We as a district believe this is a good decision," giving good life skills for students "to be more prepared for the day-to-day financial choices presented to adults in our society."
Vanderloo said current sophomores and juniors in the Sioux City School District will be challenged to fit that course in before graduating in the next two years, since it isn't "grandfathered in." He said once those two years are done, personal financial literacy will become less jammed into student schedules, since they have more years to fit it in.
There will be a big difference in the number of students reached in the next few years, from a few hundred now to 4,000, Vanderloo said.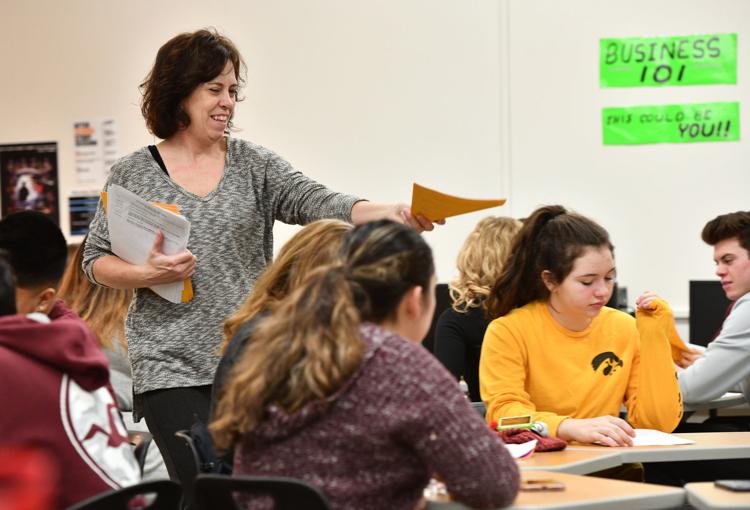 For the 2019-20 school year, Vanderloo said it is likely that one instructor in each of the three high schools will teach the course every period of the school day. He said the current content of the course at East is beneficial, and only a few elements, such as risk management discussions, will need to be added to meet the state's designed rigor.
The name of the course will likely be changed to Next Generation Personal Finance.
"Upon the conclusion of the Financial Literacy class offered by the Business Education Department, students have exposure and an overall base knowledge of a variety of financial topics," Zyzda said. "Each topic has at least two or more hands-on activities, designed to reinforce and allow the students to experience the topic firsthand."
Some of those include how to create a budget, balance a checkbook, comparison shop, the importance of saving, basics of investing and insurance, how to file taxes and the benefits of charitable giving.
In a January class, Zyzda led students through a bargain shopping exercise. She bought both brand name and generic items for six different household goods, including facial tissue, bottled water, chocolate chip cookies and gummy worms.
Students were asked to review or taste each unlabeled item, and then say which they thought was the brand name variety.
They correctly guessed the brand name variety 90 percent of the time for potato chips, went 50-50 on bottled water and only got 40 percent of cookies properly designated as brand names, at times chuckling as the results were announced. The pupils then looked up the lower generic and pricier brand names costs online, and made decisions on which to spend their money.
Experiences like that have made Sewalson glad she's taking the course with Zyzda.
"I think budgeting is good for me. It has kind of made me more strict with myself," Sewalson said.