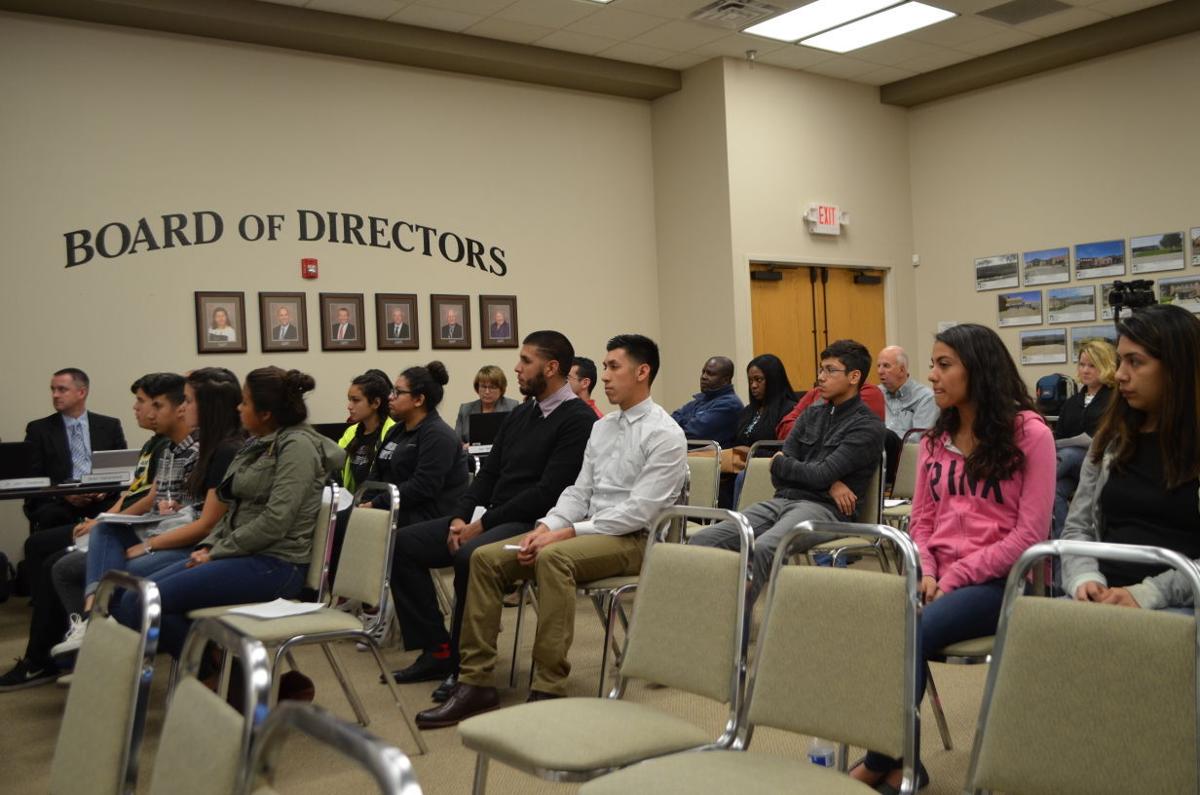 SIOUX CITY | With tears in her eyes, West High School senior Sonia Rodriguez told the Sioux City school board Monday that Republican presidential candidate Donald Trump's planned campaign stop at the school Tuesday night is harmful to the student body. 
She said since the event was announced last week, she has felt a division between those who support the controversial candidate and those who have been personally offended and affected by his comments. 
Trump has promoted his plans to deport all undocumented immigrants and build a "double wall" along the U.S.-Mexico border. He has used derogatory terms for women he dislikes.
"Honestly, this day, of all my four years at West High, I have never been so bullied and I feel like it is dividing our school," Rodriguez said. "To bring someone like him to our school is basically dividing us, and we honestly don't feel comfortable with this man coming to our school."
Rodriguez was one of four current West High students to address the board with concerns that the inflammatory comments Trump has made about people of color and women are a bad message to bring to the school. About 15 more students were present. 
Since the students' statements came during the citizen comment portion of the meeting, district policy kept the school board from addressing them.
Superintendent Paul Gausman said he's gotten a lot of feedback about Trump's visit. He said, however, he was proud of the student response. Of "hundreds" of messages received on his Twitter account, Gausman said not one had a disrespectful tone. 
Gausman said he was saddened that students had come under harassment since the stop was announced. He said West High administrators will meet with affected students Tuesday morning to make sure they are safe and comfortable. 
You have free articles remaining.
On Friday, Gausman said he understands Trump's visit to the school is controversial but that having political rallies in schools is allowed under the district's facility use policy.
Gausman said the goal is to have events of broad interest in the community, and Trump is paying a rental fee for using the space.
Alison Benson, district communications director, said Trump's campaign paid $700 to use the facility. The cost covered overtime pay for district employees who helped set up and run the event.
The city of Sioux City also paid $2,100 for extra law enforcement, medical and fire responders. Police Chief Doug Young said 10 officers will provide security during the event.
Benson said the cost to use school facilities does not change based on whether an event is political or not. Rather, the cost is based on purpose.
There is no fee for school events that serve students of the district with no expectation of profit. Other events that serve the students also are allowed to use facilities for free but may be charged for personnel such as custodial or set-up service if requested.
For the third tier, under which Trump's stop falls, fees and agreements are negotiated.
Under the district's policy, events that serve the district's youths have scheduling priority over other events.
Several candidates have previously used schools for presidential campaign events. That includes 2008 Republican presidential nominee John McCain and vice presidential nominee Sarah Palin at West High, and eventual Democratic President Barack Obama at Irving Elementary School in 2007 and 2008.