SUTHERLAND, Iowa |  Like many of her friends and family, Wayne Buchholtz is still in disbelief that his niece, Carly Kreibaum, is gone.
"Best person that you could ask for," the Sibley, Iowa, native who now resides in Dubuque recalled Wednesday. "She was the best that anyone would want as a niece, a daughter or wife."
Kreibaum, 34, of Sutherland, was one of 59 people gunned down Sunday night in the worst mass shooting in U.S. history. From the 32nd floor of a hotel, multi-millionaire Stephen Paddock opened fire on 22,000 spectators gathered for an outdoor country-music festival on the Las Vegas Strip.
Kreibaum and her friends Alison Huckaby of Larrabee and Amy Douglas of Cherokee bought tickets to the Route 91 Harvest Festival as part of a fun getaway to Vegas that quickly turned tragic.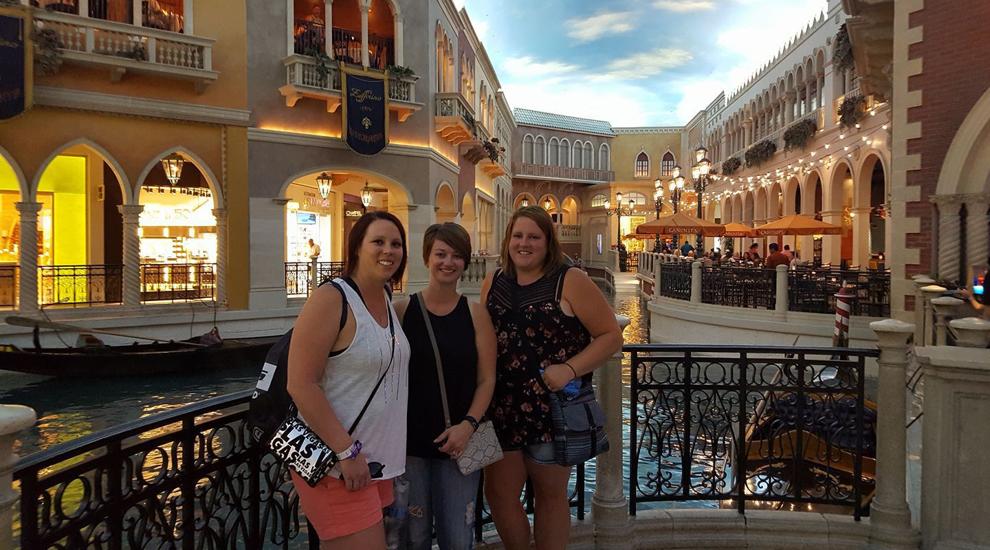 During the chaos that ensued after Paddock started raining machine gun-like bursts of gunfire down on the crowd, Huckaby and Douglas lost track of Kreibaum, who appeared to have been shot. She was listed as missing for nearly two days before relatives confirmed her death Tuesday.
"It's still not real," Lisa Kreibaum, an aunt to Carly Kreibaum's husband, Chris, told the Journal Wednesday. "It just doesn't seem like it's possible and I don't think it's still set in."
Lisa Kreibaum, who lives in nearby Everly, said she's known Carly since she and Chris started dating more than a decade ago.
The pair married on July 21, 2006. The couple, who live on a farm just outside of Sutherland, have two children, 9-year-old Dalten and 6-year-old Cambri.
The single biggest trait everyone the Journal spoke to Wednesday was how nice Carly was.
"She was the best mom, the best wife — she was such a wonderful addition to our family," Lisa Kreibaum said.
The former Carly Buchholtz grew up in Sibley, Iowa, the Osceola County seat of about 2,600, and about an hour's drive north of Sutherland. In 2001, she graduated from Sibley-Ocheyedan High School, where she participated in band and choir, played basketball and threw the shot put for four years on the Generals track and field team.
Daryle Tutje, a science teacher who has taught in the district for 31 years, recalled having Carly in his classroom in fifth and sixth grades and again as a freshman and sophomore after she entered high school.
"She was a little quiet, very pleasant, very likeable kid," Tutje said. "I haven't really had any contact with her since then, but (I) always had a good experience with her."
Sibley-Ocheyedan Superintendent Bill Boer expressed condolences to the Kreibaum and Buchholtz families on behalf of the district.
"Our thoughts and prayers are with the family at this time," he said.
After high school, Carly Kreibaum attended Wayne State University in Wayne, Nebraska, where she earned an undergraduate degree in art, according to the Wayne Stater student newspaper. 
For the last 12 years, she worked as a department manager at the Walmart Supercenter in Spencer, Iowa.
Many of her former co-workers and regular customers have expressed their grief on Facebook about losing her in such a tragic manner.
One former co-worker — who worked with Kreibaum for 18 months at the store and asked not to be identified — told the Journal, "All I can say is she will be missed greatly. (S)he was one of the sweetest people you could ever meet. Always positive."
Lisa Kreibaum, who also works in retail, said that was one of the things she and her niece bonded over.
As in her hometown of Sibley, family and friends in Sutherland are still trying to cope with the loss of one of their own to a senseless act of violence more than 1,100 miles away.
The streets of Sutherland were more quiet than usual Wednesday as news of Kreibaum's death spread in the southern O'Brien County town of about 650, said Don Wetherell, the city's  library director. Wetherell is a friend of the family and knows Chris Kreibaum through the local Ruritan civic organization.
"People are kind of still in shock about it," Wetherell said. "I mean we've had tragedy here before, but nothing like this."
The librarian is helping Mugshots Bar & Grill, a downtown Sutherland staple and where he also works as a cook, organize an upcoming benefit for the Kreibaum family. From 10:30 a.m.- 2 p.m. on Oct. 15 for a freewill offering, supporters can dine on smoked pork sandwiches and other items donated by local businesses.
Additionally, Security National Bank of Sutherland has established an account people can donate to. Darin Johnson, the bank's president and CEO, said it was to help the family with expenses.
When asked if he had anything else he wanted to share about his niece, Wayne Buchholtz only had one additional thing to say.
"She will be missed," he said.