FAIRBANK, Iowa | Many longtime residents were suspicious of a frequent visitor to this northeast Iowa town.
Throughout the 1920s and 1930s, Louie La Cava would turn up in the community of 1,100 periodically since his wife Josephine had family in the area.
Describing himself as a cigar salesman from "back East," La Cava would enter a Fairbank cafe, take a seat at the farthest table, making sure his back was never turned away from the door.
Then, La Cava would head over to the barber shop for a shave. More than 80 years later, people still remember he obsessively hid his face behind a newspaper.
Could this mysterious businessman actually be a gangster-on-the run?
This is the premise of "Gangster In Our Midst," a historical novel written by Fairbank, Iowa, native Betty Brandt Passick.
"There was something strange about Louie La Cava," the now St. Paul, Minnesota-based author explained. "He was careful not to say too much."
It turned out La Cava actually was harboring a big secret. He had been a bookkeeper for Al Capone.
According to FBI and police reports, La Cava's sworn testimony helped to send the famous "Scarface" to federal prison on tax evasion charges in 1931.
"For years and years, people thought La Cava may have been a gangster," Passick said. "It turned out that he sort of was."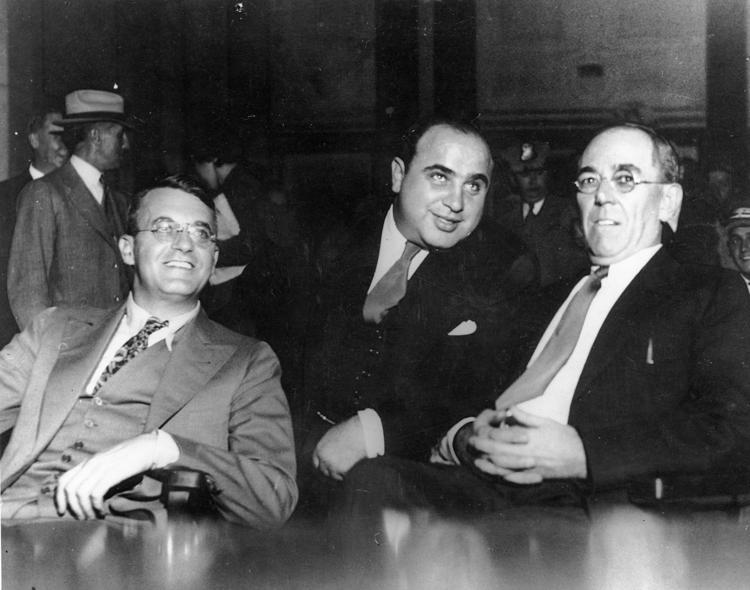 Passick said La Cava was, at one time, involved in Capone's organized crime syndicate in Chicago. His secrecy was borne out of a fear that the Mafia might retaliate.
"La Cava was smart enough to keep a low profile," she said. "It worked since the man lived well into his 80s."
Indeed, La Cava and his wife are both buried in Fairbank's Catholic cemetery.
"The La Cavas had homes on the East Coast, moving to Miami in the late 1940s before retiring to Fairbank in the late 1960s," Passick said, noting that she didn't personally know either.
As a girl, Passick said she loved to read and do research. She was still passionate about literature when she was raising her two children.
Although she has tackled a few projects in the past, Passick, 70, didn't get serious about writing until retiring from a career as a project coordinator for 3M.
"I wouldn't have predicted my first historical novel to be about a gangster," she said with a laugh. "Still, I had a good time writing it."
This is despite the fact that Passick had to change the name of the town depicted in "Gangster In Our Midst" from Fairbank to a fictional Oxbow, Iowa.
"My publisher thought that would give me more flexibility in telling the story," she said. 
Even though her book is classified as historical fiction, Passick utilized FBI reports, archival newspaper articles and interviews from longtime Fairbank residents as research.
"Many of the people I interviewed knew (La Cava) when they were children," she said. "Most of them are now in their 80s and 90s but they all have perfect recollections of this mystery man."
That makes sense to Passick, who said there is a mythology around gangsters.
"They're certainly larger-than-life," she admitted. "We remember names like Capone and Dillinger long after their deaths."
While Louie La Cava doesn't share the same name recognition, Passick is happy to be the one to tell his story.
"I discovered very quickly that historical writing is my forte," Passick said. "It's something I've always wanted to do."