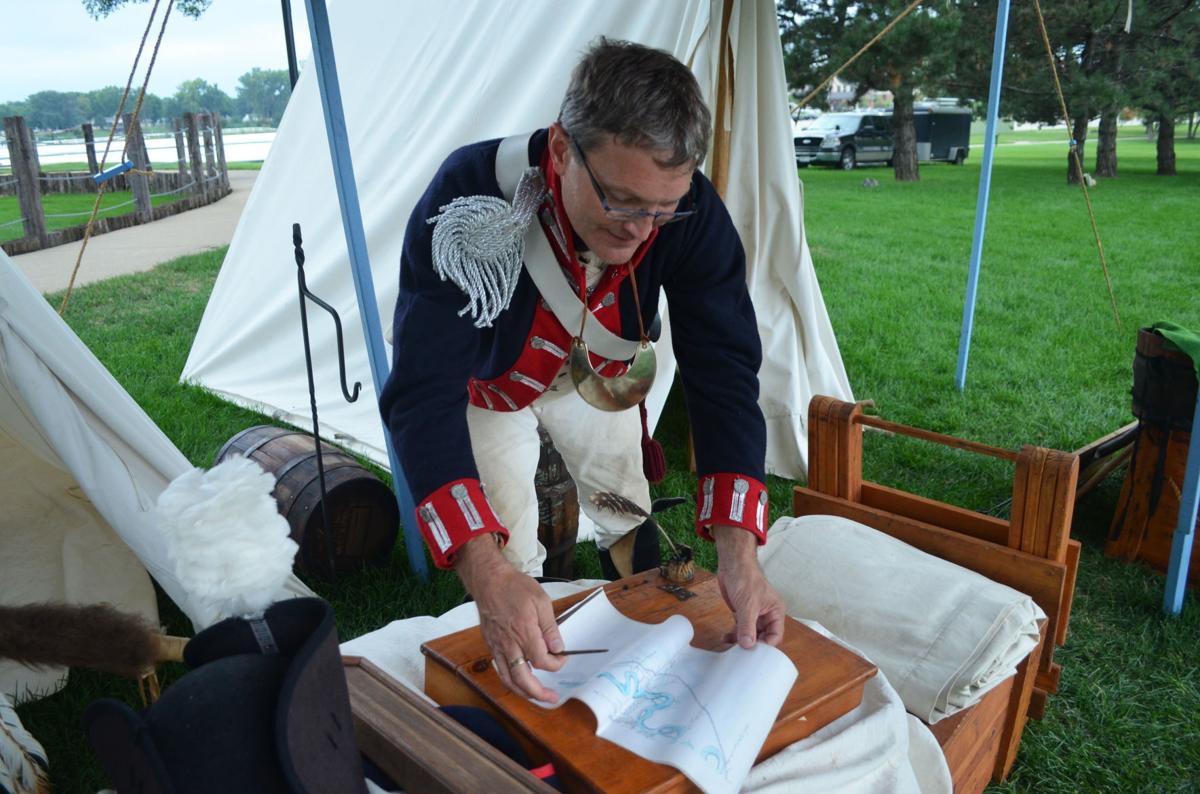 SIOUX CITY -- Sunday afternoon wasn't especially hot -- the high temperature was about 79 degrees -- so Captain Meriwether Lewis kept his woolly, red and blue dress uniform on. 
Mike Berger, a reenactor playing Lewis at the Sergeant Floyd Memorial Encampment Saturday and Sunday, said he doesn't don the heavy, ceremonial clothes when temperatures at the yearly event climb too high. Lewis himself probably didn't wear his fancy wool coat in the August heat, either. 
"We'll be in what we call our 'working whites'" -- white cotton duck shirts, pants and vests -- when it's hot out, Berger said. Most of the "crew" at the encampment Sunday were wearing their working whites. 
The real Corps of Discovery likely wore plain work clothes when they were here 214 years ago, too. 
"For the most part, unless they were counseling with one of the native nations, they wouldn't be in their dress uniforms. They'd keep them packed in barrels to preserve them," Berger said. "They probably just had a shirt to keep from getting sunburned." 
Berger has been participating in the encampment for the past 17 years or so.
This year's event featured metal working, gun cleaning, children's activities and a service honoring Sergeant Charles Floyd. Floyd was the only member of the Lewis & Clark expedition to perish -- he got sick and died in present-day Sioux City when the expedition was camped here. 
You have free articles remaining.
Fellow reenactor Dean Slader portrayed blacksmith John Shields, who at age 35 was the oldest member of the expedition. Without Shields' blacksmith and gunsmith skills, Slader said, the entire expedition would have failed. 
"John Shields spent a lot of time fixing and working on weapons," without which the Corps would have been in trouble, said Slader. Shields also made iron goods that were traded with Native groups for foodstuffs. 
Berger estimated more than 300 people visited on Saturday, and 70 or 80 as of Sunday afternoon -- rain may have kept some at home that day. 
The event's programming changes a little bit every year, Berger said, particularly as participants with one skill or another come and go. But they also take note of what attendees want to see. 
"We really follow the interest of the visitor," he said. "Sometimes we have people that'll come year after year, and one year they may be interested in the blacksmith, and the next year they may be more interested in the mapmaking." 
The actual place where Lewis & Clark camped in 1804 was somewhat near the mouth of the Floyd River. The spot where last weekend's encampment took place, in front of the Sergeant Floyd River Museum (1000 Larsen Park Road), did not exist when Lewis & Clark were in Sioux City. 
"This was actually river," Berger said. The Missouri River, which was channelized during the 20th century, used to be much wider and shallower. 
Copyright 2018 The Sioux City Journal. All rights reserved. This material may not be published, broadcast, rewritten or redistributed.