SIOUX CITY -- Amid a four-day swing through Iowa, Democratic presidential candidate Andrew Yang in Sioux City said he has the new approach the party needs, in order to go beyond traditional ways of dealing with a drastically transformed economy.
With malls and Main Street stores dying off due to online shopping and other substantial changes in the economy, Yang said there is a need for a "trickle up" policy.
"That is my most prominent policy," Yang said.
That proposal, which Yang sees as a key way to address massive job displacement, would guarantee every citizen age 18 to 64 a monthly minimum, tax-free income of $1,000, without passing a means test or being required to work.
It is similar to the oil dividend Alaska residents receive, and as Yang asked the gathered Democrats if they were familiar with that, many people shouted out that state's name.
Yang said he would fund the Freedom Dividend with an automation tax, along the lines of value-added taxes levied by European governments. A plan very similar to Yang's passed the U.S. House in 1971 during the Nixon administration, but Democrats stalled it in the Senate.
Yang spoke to 30 people at a Truman Club event of the Woodbury County Democratic Party in an event at a private home. Yang is a Silicon Valley and New York entrepreneur who was making his eighth visit to Iowa, the state holding the February 2020 caucuses that begin the presidential nominee selection process.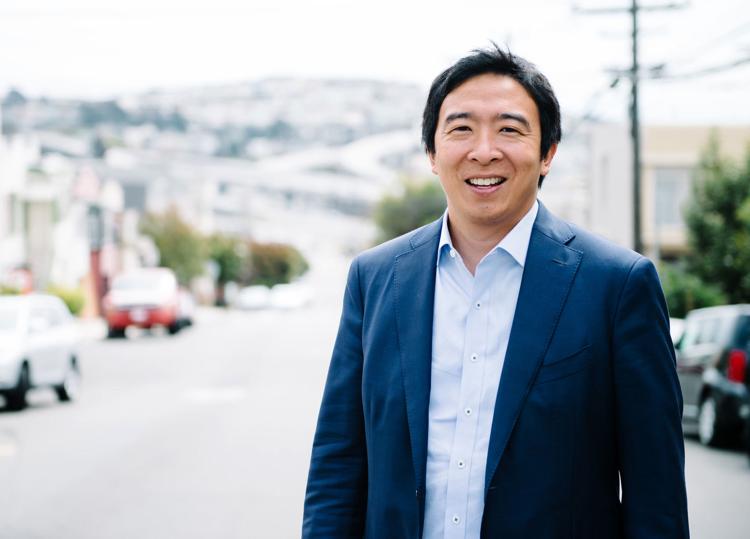 In a campaign swing that will last from Wednesday through Saturday, Yang held town hall meetings and visited numerous colleges. Earlier on Friday, Yang held an event at the Donna Reed Theatre, in Denison, Iowa.
Earlier on Friday, U.S. Sen. Cory Booker, D-New Jersey, announced his candidacy for president.
Iowa Democratic Party Chairman Troy Price was at the Wang event, and said he likes the breadth of candidates who have entered the race. Price said the large number of candidates running to unseat Republican President Donald Trump means a lot of varying solutions will be aired.
"We are going to have a wide open caucus field," Price said.
Copyright 2019 The Sioux City Journal. All rights reserved. This material may not be published, broadcast, rewritten or redistributed.
Get Government & Politics updates in your inbox!
Stay up-to-date on the latest in local and national government and political topics with our newsletter.