SIOUX CITY -- Speaking to a crowd of a few hundred in the Orpheum Theatre Sunday night, U.S. Sen. Bernie Sanders recalled his strong showing in the Democratic Iowa caucuses three years ago, and said his once-radical ideas have become the standard of the Democratic Party. 
It was his first Sioux City presidential campaign stop of the 2020 campaign cycle. 
"Tonight I want to offer a very special thanks to the people of Iowa," Sanders said. "In 2016, this is where the political revolution began. Thank you Iowa." 
Sanders returned to favorite themes, including single-payer healthcare, expanding Social Security, criminal justice and immigration reform, free higher education, tackling climate change, infrastructure investment, raising the minimum wage, fighting voter suppression and publicly funded elections, among others. 
Many of these positions, he reminded the crowd repeatedly, were considered untenable in 2016. 
"The ideas that we were then talking about were seen by the political establishment and the media establishment as ideas that were extreme, ideas that were radical, ideas, they said, that were way out of touch with where the American people were," Sanders said. "Raising the minimum wage to a living wage, oh much too radical an idea. Listen to this one: guaranteed healthcare to all people as a right. Nobody in America supports that one." 
"Those ideas that we talked about four years ago, that seemed so very radical at the time -- well, today, virtually all of those ideas are supported by a majority of the American people and they are supported by Democratic candidates, from dog catcher to president of the United States." 
President Trump faces a large pool of Democratic candidates in 2020, many of whom have already visited Northwest Iowa, including Elizabeth Warren, Kirsten Gillibrand, John Delaney, Andrew Yang, Eric Swalwell, John Hickenlooper, Julian Castro, Amy Klobuchar, Tim Ryan, Beto O'Rourke and Cory Booker.
You have free articles remaining.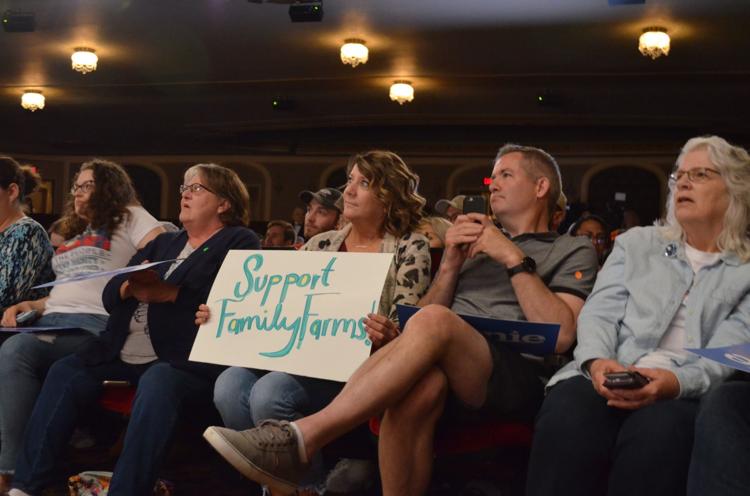 Sanders hit hard on the topic of healthcare, long one of his signature policy goals, during his speech at the Orpheum. 
"Let me tell the private insurance companies, that whether they like it or not, and trust me they do not like it, this country will join the rest of the industrialized world in guaranteeing healthcare to all people," Sanders said to applause from the audience. "We will end the absurdity of having the United States spend twice as much per capita on healthcare as do the people of any other nation, and yet see our healthcare outcomes worse than many other countries." 
The speakers who opened for Sanders, including Ben & Jerry's ice cream co-founder Ben Cohen and California Rep. Ro Khanna, referred to him repeatedly as "the next president." 
Jessica Butler, a Sanders supporter from Hawarden, Iowa, and one of the opening speakers, described her dismay at the living conditions of lower-income people in Northwest Iowa, something she hopes the Vermont senator will be able to address if elected. 
"On my 30-minute drive (to work), these are some of the struggles that I see facing our community: I see schools consolidating, crumbling infrastructure and dilapidating homes," Butler said. "That ain't right. I see factory farms forcing family farms to close. Say it with me: That ain't right. I see workers traveling 30 minutes or more for jobs paying less than $15 an hour." 
"That ain't right," the crowd replied.