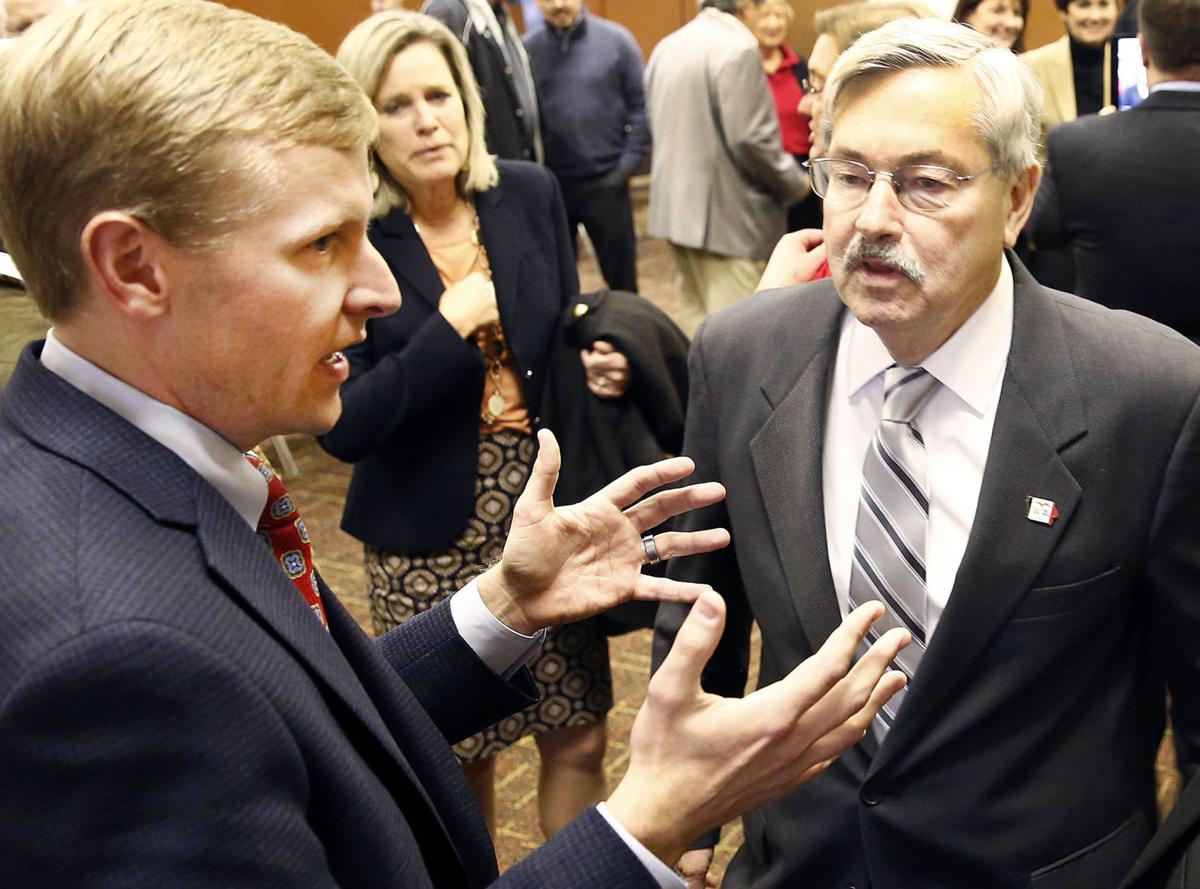 To fulfill the duties of the full-time position, Anderson will soon give up his seat in the Iowa Senate, which will trigger a special election for the GOP-leaning District 3 seat. He also will step down as a staffer for U.S. Rep Steve King, R-Iowa.
At some point in the future, Anderson said he and his family will move from rural Pierson to neighboring Cherokee County.
The Cherokee Area Economic Development Corp. announced Anderson's appointment as executive director Friday. He succeeds longtime director Mark Buschkamp, who stepped down in August to work for a financial institution in Cherokee.
Anderson, a two-term senator, said he is working with Gov. Kim Reynolds' office on the timing of his resignation from the Legislature. He said the special election will be held later this year, in time for a new senator to be seated prior to the start of the 2018 legislative session in January.
The winner of the special election would serve the remainder of Anderson's four-year term, which runs through 2018. The new senator also likely would also have a leg up on other potential candidates who would run for the seat in the June primary and November general elections.
Senate District 3, which takes in nearly all of Plymouth County and western and northern Woodbury County, including the Morningside neighborhood of Sioux City, is heavily Republican, with 17,635 registered GOP voters compared to 8,741 registered Democrats.
Anderson was first elected to the Senate in 2010, defeating Democrat Marty Pottebaum by a wide margin, and then ran unopposed for re-election in 2014.
In an interview Friday, Anderson acknowledged he will be going through quite a few changes in his life all at once.
A native of Sioux City, Anderson has worked in politics for 19 years, with 10 in the congressional office of King and nine years prior to that for U.S. Sen. Charles Grassley, R-Iowa. His last day of work for King's office is Sept. 30, he said.
"I want to do something else and broaden my horizons," Anderson said.
Anderson said a friend employed at the hospital in Cherokee approached him about applying for the economic development post.
"It was honestly not anything I sought out...It was something we thought we couldn't turn down," Anderson said.
Anderson said when he was dating his future wife Angie, they frequently met in Cherokee as a midpoint point between his home in Sioux City and her residence in Peterson. The couple also held their wedding reception in Cherokee.
Since then, Peterson said he has come to know the county well, through his legislative and congressional duties.
 "I love Cherokee County and am excited to have this opportunity," Anderson said. "I look forward to leading CAEDC and working closely with The Marcus Economic Development Group, the Aurelia Development Group and Cherokee Industrial Corporation in addition to all the other communities of Cherokee County. My family and I look forward to this next chapter in our lives in an area we call home."
Cherokee Area Economic Development Corp. Board Chairman Brian Freed noted Anderson was selected by an unanimous vote.
"The board could not have found a better fit to lead CAEDC," Freed said in a statement. "Bill has the knowledge, passion, drive and network in addition to understanding how business operates to help lead our county to the next level."
Rick Mongan, who represents the Cherokee County Board of Supervisors on the CAEDC Board, said Anderson's experience in Des Moines and as an former aide to Grassley and King would be beneficial in his new role.
Bill and his wife, Angie, have a son, Joseph, 9, and two daughters, Eva, 7 and Mary, 3. The couple has resided for the past 10 years near Pierson. They own and operate Anderson Professional Services, an accounting and bookkeeping business in Sioux City.
Born and raised in Sioux City, Bill Anderson is a graduate of the Sioux City public school system, and a veteran of the Iowa Army National Guard. 
Get Government & Politics updates in your inbox!
Stay up-to-date on the latest in local and national government and political topics with our newsletter.