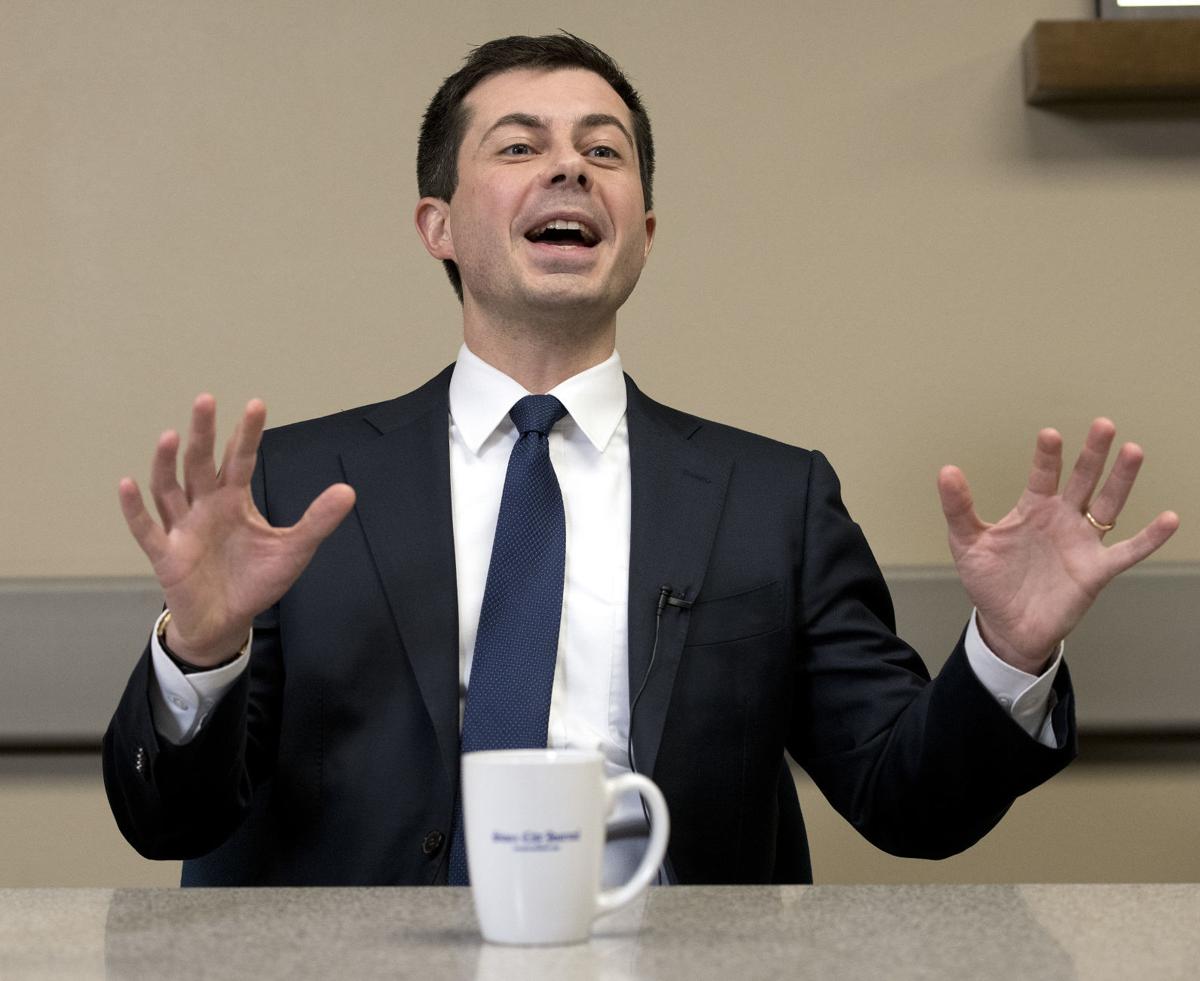 SIOUX CITY -- Democratic presidential candidate Pete Buttigieg on Wednesday said members of his party who want to win the presidency shouldn't overpromise policy pieces such as free college education, and also shouldn't be wary of taking atypical actions such as talking about faith and budget restraint.
"Across all of my plans, you'll notice two things. First of all, relative to my competitors, I'm being very careful what we promise," Buttigieg told the Journal's editorial board, bringing up how he's not among the Democrats who are pitching free college tuition.
"It is why I am being careful with what we are proposing on health care, to make sure it is paid for," he continued, making the second point.
Buttigieg noted in his lifetime Republican presidents ran up budget deficits, while Democratic presidents Bill Clinton and Barack Obama pared them down.
"My party ought to get more comfortable owning this issue. Look at it right now, we've got a $1 trillion deficit under President (Donald) Trump. You know, the reason I think my party hesitates to talk about (the deficit) is because we're used to it being invoked as an excuse against making investments in health care and infrastructure, other things that are important," he said.
Buttigieg, 38, is the former mayor of South Bend, Indiana, and many still call him Mayor Pete. He had been mayor for eight years until three weeks ago, when his second term ended.
Speaking in a metro area that is similar to the size of South Bend, Buttigieg said there are many lessons that come from being a mayor. He led a city staff with about 1,000 workers and a budget of $300 million.
Beyond the basics of providing good roads and security, Buttigieg said he also internalized a key point when it comes to countering the accumulated impact of comments by Trump that have lessened civility.
"One of the things you learn as a mayor, is you are a walking symbol of unity in your city, with people who have nothing in common with each other other than living in the same city ... It is that much more true in a president. So we need a president who is committed to establishing a tone that says everybody belongs and that builds up the sense of belonging that I think we are crying out for as a country," he said.
You have free articles remaining.
Buttigieg acknowledged the political discourse in the U.S. had slid even before Trump came along.
"The president can put gasoline on the fire, but we can't pretend the fire is new," he said.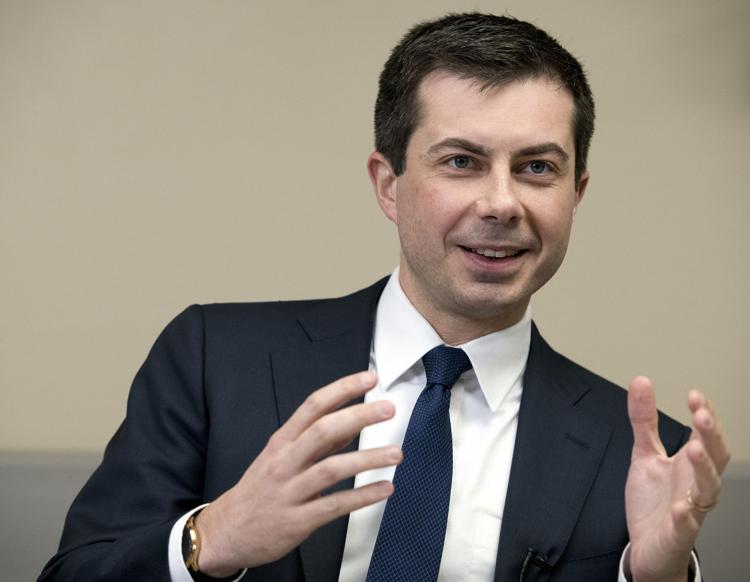 The Iowa caucuses will be held on Feb. 3, as the first contest in the nominee selection process, and there are 12 Democratic presidential candidates seeking to deny Trump a second term. Buttigieg is polling in the top tier of candidates in Iowa alongside Joe Biden, Elizabeth Warren and Bernie Sanders.
Buttgieg also spoke on his stances concerning immigration, health care and climate change, along with his opposition to decreasing benefits in entitlement programs such as Social Security. He referenced his military experience and faith as reasons he can connect with Americans.
Buttigieg peppers his stump speeches with faith references and was asked to flesh out his life's journey on that topic. He attended Catholic schools, but said he didn't become serious about religion until embracing the Anglican and Episcopal church traditions while attending Oxford University in England.
He said in a time when Trump "uses faith to divide," he'll provide a higher minded discussion of religion to connect people.
"I think (Democrats) are a little allergic to talking about it because of our sensitivity to how faith has been used to harm or to divide," Buttigieg said.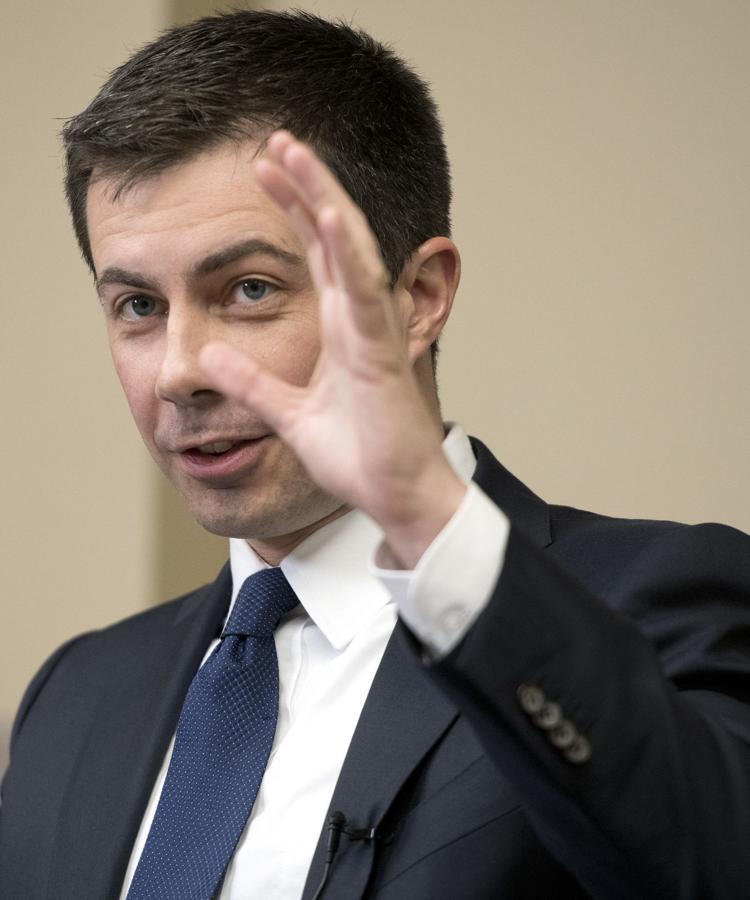 "... It is a healthy time for us to talk about this, in a moment when we have a president who -- at very least in his style and, I would say in many ways, his policies -- are as offensive to politically conservative Christian traditions as they are to my own," Buttigieg said.
Just last week, Buttigieg campaigned on Jan. 16 in Arnolds Park, Orange City and before 350 people at West Middle School in Sioux City, although a blizzard nixed his ability to hold a planned event the following day in Le Mars. Continuing another swing through Iowa, he will return to the area on Saturday at 6:30 p.m. at the Estelle Siebens Science Center at Buena Vista University, in Storm Lake.
Online
Visit this story at siouxcityjournal.com to view video of Pete Buttigieg's visit with the Journal editorial board.
Get Government & Politics updates in your inbox!
Stay up-to-date on the latest in local and national government and political topics with our newsletter.