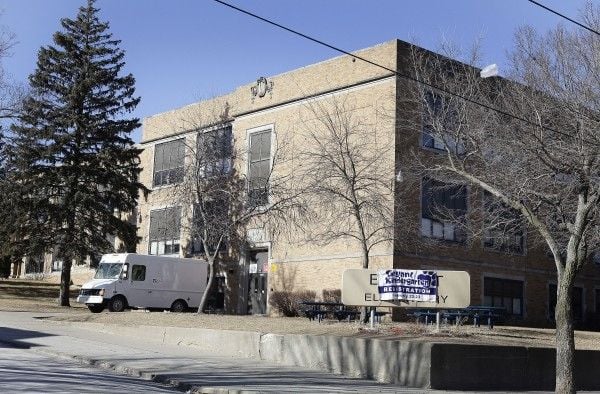 SIOUX CITY -- An economic development expert Wednesday criticized a plan to demolish Bryant Elementary School and build a modern facility nearby.
"To think that the building can't be reused is ludicrous," said Donovan Rypkema, at the Business for Breakfast program at the Orpheum Theatre.
Rypkema is a principle at PlaceEconomics, a Washington, D.C., real estate and economic development consulting firm. He spoke to more than 100 people at the Sioux City event, part of Historic Preservation Week.
Rypkema saw Bryant and other Sioux City sites on Tuesday. Sioux City school district officials want to demolish the 821 30th St. school and house students in a new building. One option would construct the replacement in a section of Leif Erikson Park at 31st and Virginia streets. Several are being considered. 
Rypkema, who advocates for reusing historic spaces, said leveling the existing Bryant doesn't make sense. He called for upgrading the existing space.
"It is the height of fiscal irresponsibility to tear down the school and put it in a park two blocks away and put a pocket park in its place," he said.
School district spokeswoman Alison Benson said Bryant could not be retrofitted to meet  heating and air conditioning system codes due to low ceilings. She said elevators and more parking areas need to be added. Parts of the school date to 1889.
If a new school is built elsewhere, Benson said, the district would try to sell Bryant, as it has done other schools, so the building could generate property taxes. As a last resort, the building would be torn down.
Using that logic, Rypkema said earlier, "We might as well tear down the Yale and Harvard campuses."
Rypkema on Wednesday also called on Sioux City leaders to convert empty or underused downtown buildings into market-rate housing, funneling more development into the area.
"One new resident moving into a downtown can have the economic development impact of adding three to four jobs," Rypkema said. "Think what a difference 100 more people -- let alone 800 -- would have on your downtown."
He said local property owners should apply for local historic landmark designation and encouraged the community to follow the recommendations of the International Economic Development Council. Members of the Washington, D.C., group in March visited Sioux City and made several preliminary suggestions, including adopting ways to encourage small businesses to move downtown and adding more housing. The group also proposed eliminating some one-way streets, a plan Rypkema supports.
One-way streets "have only one purpose: to move cars faster," he said. "That's not what you want for downtown. Downtowns that are most successful are the ones that are pedestrian-oriented."