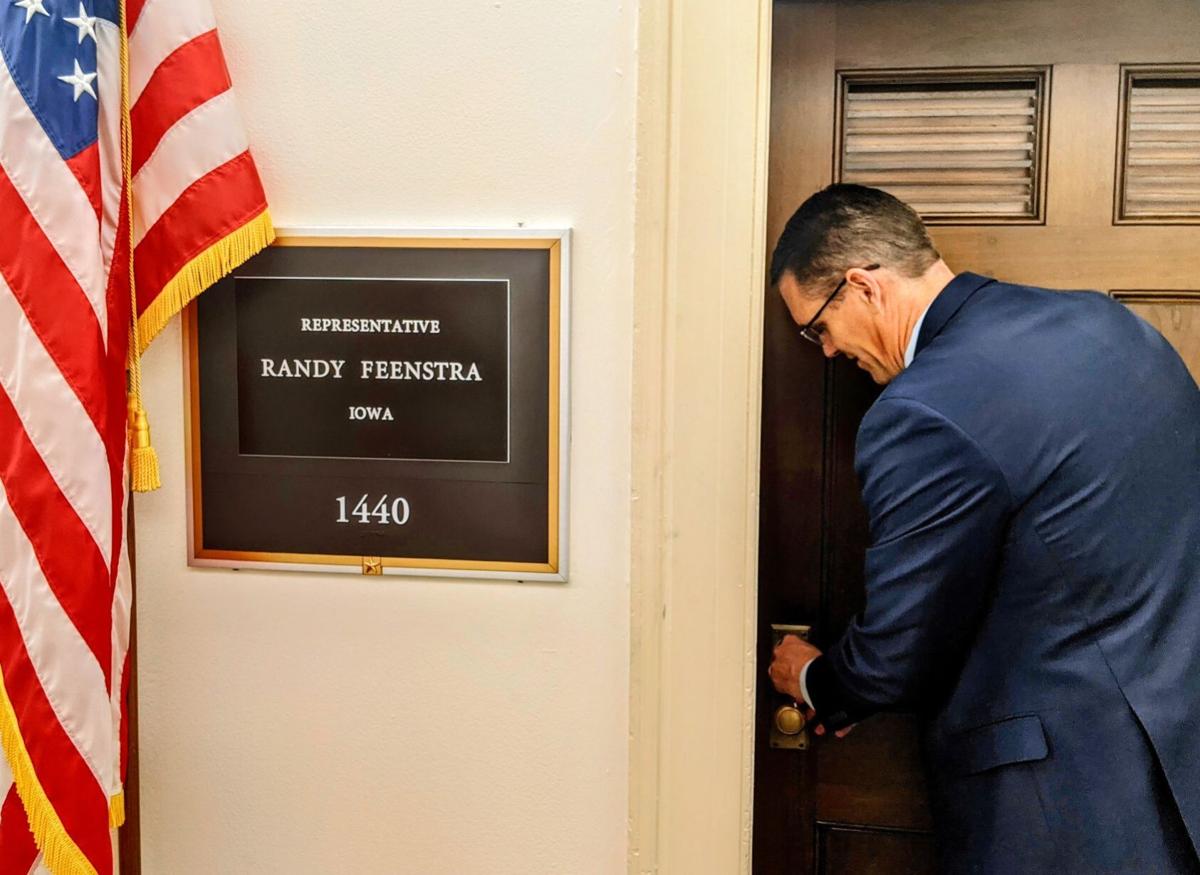 Feenstra, a native of Hull, Iowa, who turns 52 this month, was elected in November in a landslide against Democratic opponent J.D. Scholten. He replaced former Rep. Steve King on the Republican ticket in Iowa's 4th Congressional District this year, after King suffered a series of setbacks. Feenstra received the endorsement of President Donald Trump and won 38 of the 39 counties in the 4th District. 
The congressman said Sunday evening that it was a long day on the Hill, with a vote for speaker of the House followed by the swearing-in ceremony overseen by Speaker Nancy Pelosi, who was re-elected by the Democratic-majority House. 
"I obviously supported (Rep. Kevin) McCarthy as speaker," Feenstra said in a phone call Sunday evening. "But, that took most of the afternoon to get her to be speaker, Pelosi, and then at 5:30 tonight, that's when we had the swearing-in." 
Feenstra was allowed to bring just one guest, his wife Lynette, who sat in the balcony. Voting took place in groups, rather than with the full House, to facilitate social distancing, though the swearing-in ceremony brought the whole group together. "I don't think they meant to do that, but everybody sort of came in," the congressman said. 
The House of Representatives and the White House will be in Democratic control during Feenstra's term, while control of the Senate has yet to be determined. Feenstra said his priorities are bipartisan and that he shouldn't have much trouble with his colleagues across the aisle. 
"Working with agriculture, helping out producers, helping ethanol, biodiesel, and those are very bipartisan issues, so I'm really looking forward to working across the aisle and getting things done," Feenstra said. 
Republican Party of Iowa Chairman Jeff Kaufmann struck a somewhat more combative tone in a statement Sunday on the occasion of the swearing-in of the 117th Congress. 
"Iowans sent Republicans to Congress because they were tired of Democrats being pushed around by coastal elites like AOC's 'Squad' and Nancy Pelosi. I know Congressman Randy Feenstra and Congresswomen Ashley Hinson and Marriannette Miller-Meeks will fight for Iowans and their values," Kaufmann wrote. "Together they will ensure that Iowans' voices are heard loud and clear by those who look down upon small town/rural America." 
Feenstra said he and Lynette would be heading to their hotel Sunday evening and dining on room service (indoor restaurant dining is shut down in Washington) before the important work awaiting him this week: the certification of the Electoral College results. Former Vice President Joe Biden won over incumbent Donald Trump, with 306 electoral votes to Trump's 232. 
A handful of Republicans in Congress have said they plan to contest the election results, but Feenstra said he hasn't yet resigned himself to either side of the issue. 
"I'm listening to my constituents, we have a big House caucus coming up on Tuesday and I want to hear all the information from that, and then I'll make my decision, and we'll have a vote on Wednesday," he said.