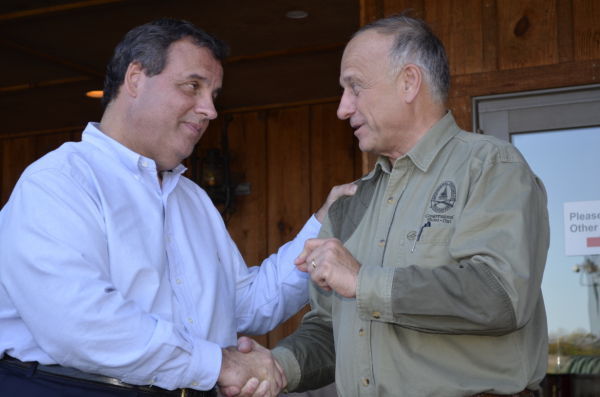 AKRON, Iowa | New Jersey Gov. Chris Christie backed a fellow blunt-talking Republican on Saturday when he spoke at a fundraiser for U.S. Rep. Steve King, R-Kiron, in Plymouth County.
"One of the things that Steve and I share is the absolute commitment to speaking our minds. That would be a good thing, no matter what office you are running for," said Christie, who acknowledged he is considering a 2016 run for the presidency.
Christie appeared with King at the rural Hole In The Wall lodge for a private fundraiser. They spoke to members of the news media afterward.
King and Christie have known each other since 2009. Christie previously stumped for King at events in 2010 and 2012. This year, six-term House member King is running for re-election to the Iowa 4th congressional district seat. His Democratic opponent is Jim Mowrer, a military veteran from Boone.
Christie said Republicans won't agree on all issues but said he and King are locked in on many.
"We believe in smaller government, we believe in lower taxes," Christie said.
Christie said he will make a decision on whether to run for president in early 2015. In the meantime, he'll be busy visiting 14 states over 11 days before the Nov. 4 election.
Tam Allan, of Lincoln, Neb., attended the event, which he said drew about 70 people. Allan said he appreciates that King brings notable national Republicans to Iowa, including some who may run for president.
Allan said Christie connected well with the group.
"There is a warmth side of him that you miss in national TV," he said.
King said Christie has a good grasp of key issues. He said battling through the competitive early states, such as Iowa, in the presidential selection process benefits Republicans.
"It helps sharpen the candidates," King said.
Mowrer's spokesman, Sam Spencer, said King hasn't been effective in the U.S. House, and he panned Saturday's GOP event.
"Steve King is making his campaign about celebrities instead of the issues," Spencer said.
Also on Saturday, Christie attended an event for Nebraska Republican gubernatorial candidate Pete Ricketts and planned to attend Gov. Terry Branstad's Birthday Bash in Clive, Iowa. Democrat Chuck Hassebrook is running against Ricketts, and Democratic state Sen. Jack Hatch is Branstad's opponent.
Christie has been stumping around the nation, not just in Siouxland. Among many trips, he's been in Kansas to boost Gov. Sam Brownback, as well as candidates in his home state.
King planned a busy weekend, including his annual October pheasant hunt on Sunday. Hunting with King will be Texas U.S. Rep. Louie Gohmert, a longtime conservative colleague of King's.