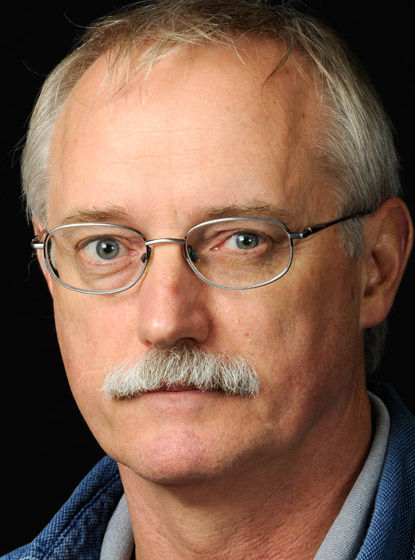 DES MOINES | Not more land, but rather more efficient use of current lands would help feed the world and address world hunger, a keynote speaker said Tuesday at the Iowa Hunger Summit.
Dennis Dimick, executive editor of National Geographic, addressed a packed conference room at the downtown Marriott Hotel for the Hunger Lunch, part of the day-long Hunger Summit. Dimick highlighted the magazine's series, which is running this year, on food production.
"The story of how we are going to feed the planet is a continuing, long-term challenge for all of us," Dimick said Tuesday at the eighth annual event. "I think (the National Geographic series) is probably one of the most important things we've ever done."
The series is titled "Why food now?"
The world's population likely will increase by 35 percent by 2050, and to feed that increase, crop production will have to double, according to the National Geographic report.
"These questions are compelling, and they are a great challenge of our human civilization," Dimick said. "That's why we're doing this series. We want to start a conversation, try to get agriculture and food back in the public discourse, to get people to think about their food."
Dimick said more effective use of current agricultural land will be necessary to avoid further deforestation. One-fourth of the world's food calories are lost or wasted, the report says.
You have free articles remaining.
"If we want to continue to increase agricultural production, we have to do something other than cutting forests," Dimick said.
Dimick also said future ag production will be tied to climate change.
"When you have heat waves and droughts, it's going to have a big impact on productivity," he said.
The annual Iowa Hunger Summit is organized by the Des Moines-based World Food Prize, an international award that recognizes contributions related to the world's food supply.
The events continue through Thursday with the "Borlaug Dialogue," a series of dozens of speakers and discussions related to the future of the world's food supply. The series is named for Dr. Norman E. Borlaug, the native Iowan and Nobel Peace Prize winner who developed new wheat varieties and improved crop management practices that are credited for saving millions of lives in Central America in the 1940s and 1950s.
Gov. Terry Branstad gave brief remarks at Tuesday's luncheon and issued a proclamation designating Thursday "Norman Borlaug Day" in Iowa. Branstad noted 2014 is the centennial anniversary of Borlaug's birth, which was commemorated in March with the unveiling of a statue in his honor at Statuary Hall in Washington, D.C.
Borlaug started the World Food Prize in 1986. He died in 2009.
"(The Borlaug statue) will be there for people that visit our nation's capital, to inspire them and help build this tremendous effort that he started," Branstad said.
"He really made such a difference in the world. … I know that Dr. Borlaug's important work will continue with things like this Hunger Summit and with the opportunity for people to be inspired by seeing his statue and learning about his outstanding career and the difference he made in preventing starvation of nearly a billion people in the world." 
Get Government & Politics updates in your inbox!
Stay up-to-date on the latest in local and national government and political topics with our newsletter.