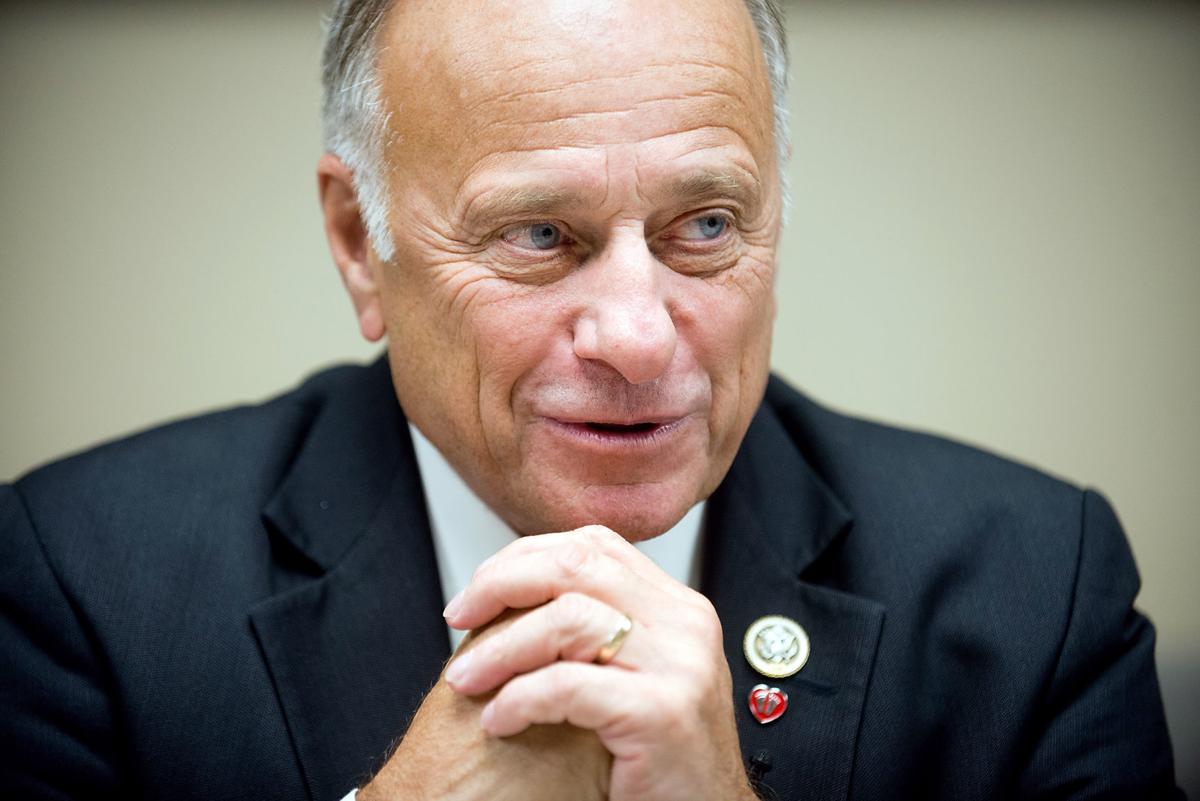 SIOUX CITY -- In the aftermath of the shooting deaths of 11 Jews at the Tree of Life synagogue, two Jewish leaders from Iowa's 4th District on Tuesday decried Rep. Steve King as an "enthusiastic crusader for the same types of abhorrent beliefs held by the Pittsburgh shooter."
In a letter to the editor in the Des Moines Register, Alan Steckman, president of Adas Israel in Mason City, and John Pleasants, president of Ames Jewish Congregation, said the eight-term Republican congressman "should no longer represent Iowa on either the national, or international, stage" due to his inflammatory comments and actions. The letter was signed by 60 religious leaders that also represented the Christian and Muslims leaders.
No religious leaders from Northwest Iowa signed the letter.
"The Pittsburgh murderer was motivated by anti-immigrant and anti-Semitic rhetoric," the letter said. "Steve King espouses similar ideas and associates himself with others who share them. He bears some responsibility for inciting the kind of hatred that led to last week's horrific violence."
King's campaign did not immediately respond to an inquiry for comment Wednesday.
Robert Gregory Bowers, 46, the man accused in the shooting rampage at a Pittsburgh synagogue that left 11 people dead, uttered Jewish slurs during the massacre. He has been indicted on 44 criminal counts that include a federal hate crime that could bring the death penalty.
In the letter, the religious leaders cited King's meeting in August with the far-right Austrian Freedom Party a day after leaving a delegation that toured historical Jewish and Holocaust in Poland. His airfare to and from Europe was financed by a Holocaust memorial group. The faith leaders also pointed to King's endorsement of Toronto mayoral candidate Faith Goldy, a white nationalist who has promoted a 1930s book in which the author calls for the "extermination of Jews."
"King cannot refute charges of anti-Semitism by claiming to be a supporter of Israel while associating with a racist, xenophobic movement that includes anti-Semites and Holocaust deniers."
You have free articles remaining.
The religious leaders called on more U.S. businesses to cut off campaign dollars to King, citing Warren Buffett's Berkshire Hathaway and its subsidiary Mid-American Energy Company; AT&T; and the American Bankers Association. Intel, Purina and Land O' Lakes Foods recently withdrew support for the congressman in the face of boycotts from opponents.
Wednesday's rebuke from religious leaders was the latest in a growing chorus of voices upset with King for what they say are his racist comments and associations with white supremacists.
In an unprecedented move, National Republican Congressional Committee Chairman Rep. Steve Stivers, R-Ohio, "strongly condemned" King for his recent comments, actions, and retweets, saying they are "completely inappropriate."  The NRCC also said it would not send funds to help King's campaigns in the closing days of the campaign.
The recent controversies King has experienced are adding to the surge to the campaign his Democratic challenger, J.D. Scholten, is experiencing, as Scholten cited a huge fundraising pull in one day.
Just after midnight on Wednesday, Scholten tweeted, "Thank you to everyone who has become a part of this incredible movement. In a little over 24 hours, we've received over $350,000 from over 7,500 individuals and signed up dozens of new volunteers. And we're just one point away from defeating Steve King. #GameOn"
Scholten cited the polling of a Democratic leaning entity, as the online poll from Change Research showed King up by one point, 45 percent to 44 percent.  That poll was released Monday, and on Tuesday the King campaign countered by releasing its own internal poll, which showed King 18 points ahead of Scholten, 52 percent to 34 percent.
Copyright 2018 The Sioux City Journal. All rights reserved. This material may not be published, broadcast, rewritten or redistributed.