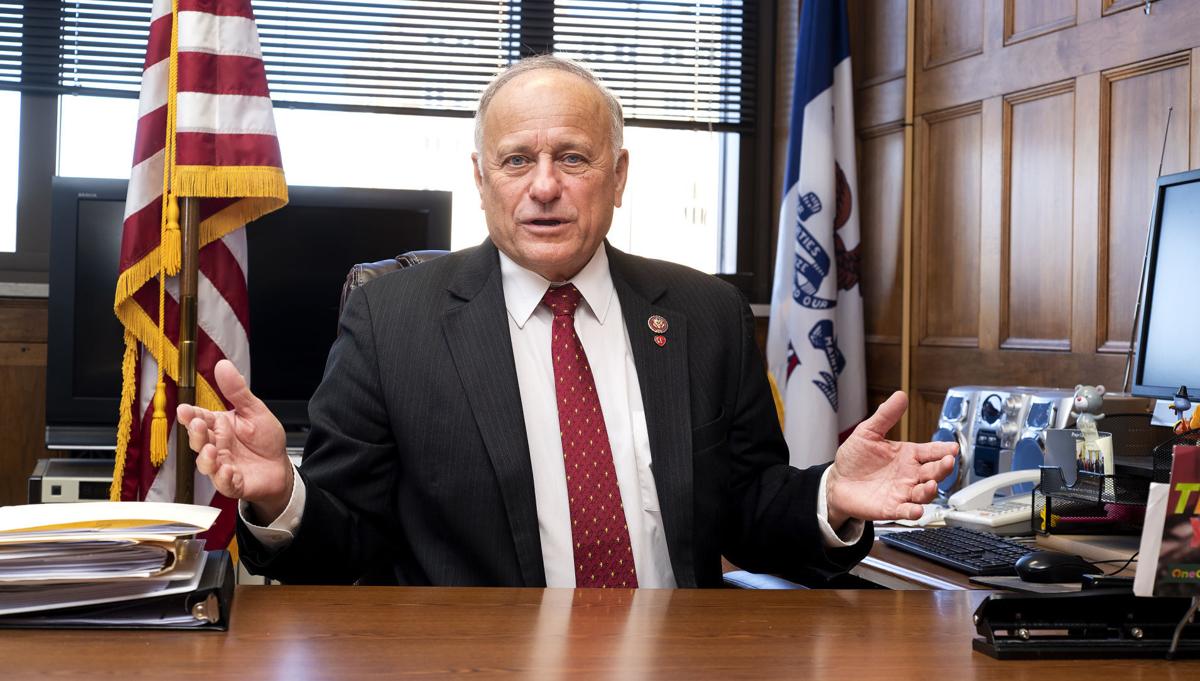 King, whose 18-year tenure in the House ended last month, was the last member of Congress stripped of all committee posts. Two years ago, House GOP leaders took that unusual step in the wake of published comments in which King questioned when terms like "white supremacist" and "white nationalism" became offensive.
Like King, Taylor Greene, a first-term congresswoman from Georgia, sits firmly in the right wing of the Republican Party. In a tweet Wednesday, King urged GOP House members to resist pressure from majority Democrats to punish Greene for her past racial and violent rhetoric.
"If (House Majority Leader) Kevin McCarthy @GOPLeader fails to mobilize the House Republican Conference & lead an aggressive defense of @mtgreenee with every tool of a floor action fight, we will know he cut a deal with (House Majority Leader Steny) Hoyer to throw Marjorie Taylor Greene to the wolves," King tweeted.
Democrats had given Republicans an ultimatum: strip Greene of her committee assignments, or they would. On Thursday, the full House on a largely party line vote, stripped her of her committee spots.
But McCarthy, R-Calif., ruled out taking action, accusing Democrats of a "partisan power grab" for targeting Greene, who had given voice to conspiracy theories from QAnon and other sources before she began campaigning for the House. Greene whose once endorsed violence against House Speaker Nancy Pelosi, dismissed a school shooting as fiction, and suggested that a Jewish-owned financial firm may have been involved in a plot to spark California wildfires using a space laser. Before Thursday's House floor vote, Greene said she regretted some "words of the past," but she did not explicitly apologize for her inflammatory remarks. 
McCarthy condemned Greene's past endorsements of conspiracy theories — after weeks of saying little critical of her — and said she recognized in a private conversation that she must meet "a higher standard" as a lawmaker. 
"DC's Dem's undies in a knot over unearthed posts of @mtgreenee. But EVERY House Democrat is FOR killing babies up to, & most even after, the moment of birth. @AOC accused (Ted) Cruz of attempting to murder her! @IlhanMN still on Foreign Affairs. @ericswalwell on Intel & Impeachmnt Mgr!" he said in a tweet that referenced Reps. Alexandria Ocasio-Cortex of New York, Ilhan Omar of Minnesota and Eric Swalwell of California.
King left 18 years in office as a congressman for Northwest Iowa after losing his 2020 re-election bid in the Republican primary. His time in the House did not overlap with Greene, who just began her first term representing a Georgia district five weeks ago.
In a January 2019 New York Times article on immigration, King was quoted as asking, "White nationalist, white supremacist, Western civilization — how did that language become offensive? Why did I sit in classes teaching me about the merits of our history and our civilization?"