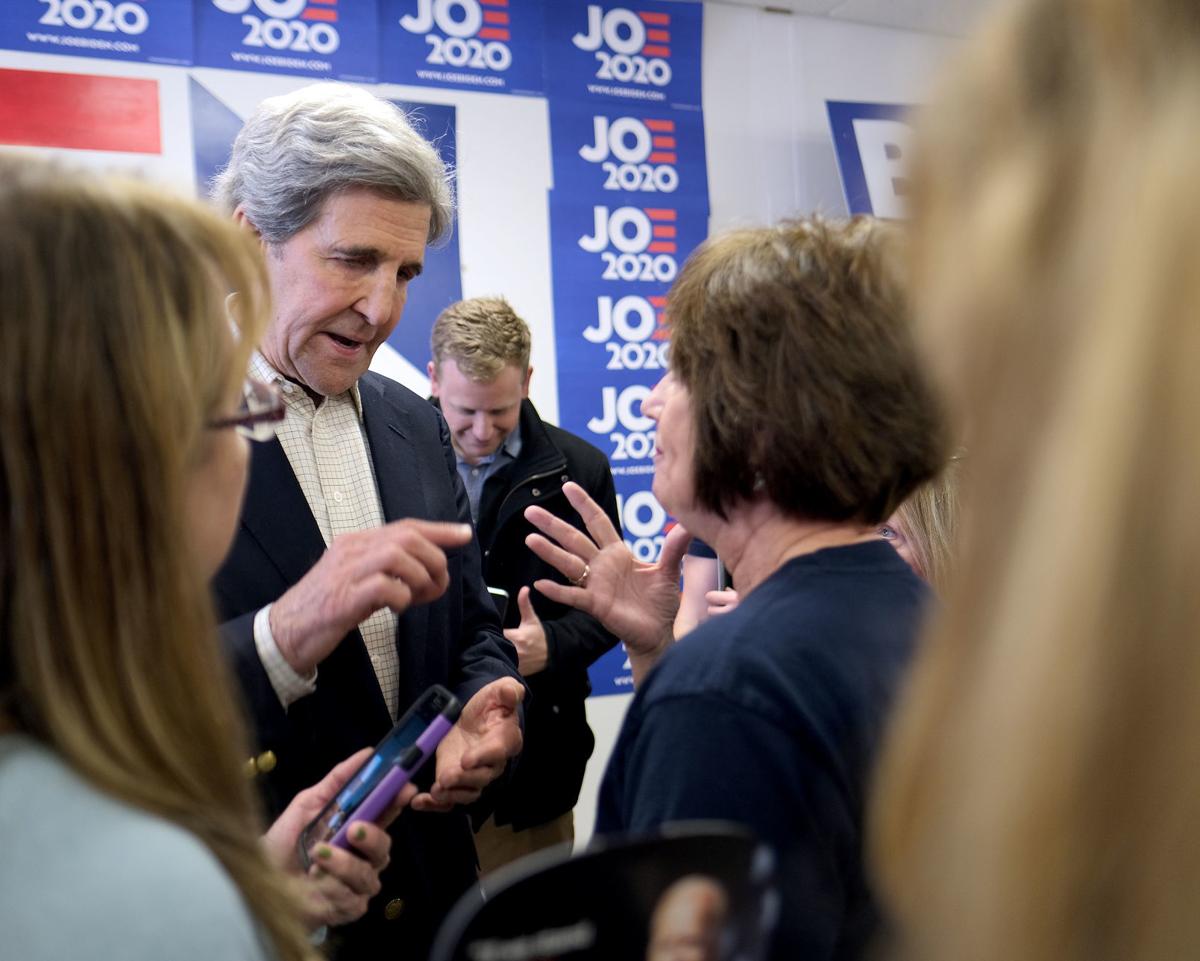 SIOUX CITY -- It's been more than 15 years since John Kerry last spoke at a campaign event in Sioux City. In 2004, the former Massachusetts senator campaigned in Iowa's fourth largest city, shortly after securing the Democratic nomination for president.
Kerry, who is also a former secretary of state, returned to Sioux City on Tuesday, saying Joe Biden should follow in his footsteps. Kerry laid out the case for the former vice president being this year's Democratic nominee.
"This is a gut feeling, who can beat (President) Donald Trump. I've been in this position. You all privileged me with a victory here in Iowa," Kerry said of the state's 2004 caucuses. "And many of you did it because you thought I could beat George W. Bush, and indeed should have. We came within one state..."
"Joe Biden is the one person in this race who has the heart, the instinct, the record, the experience, the ability to make certain that we win the presidency."
Kerry was among four Democratic office holders who kicked off the "We Know Joe" bus tour in Sioux City Tuesday. The tour will run through Jan. 13, stopping in 20 counties across the state.
In Sioux City, Kerry was joined by three state legislators under age 40 from across the nation -- Pennsylvania state Rep. Malcolm Kenyatta, Tennessee state Sen. Raumesh Akbari and Florida state Rep. Shervin Jones.
The Democrats spoke at Biden's campaign office in Sioux City along Hamilton Boulevard. Campaign officials said the group represents Biden's diverse national base of support that positions him to beat Trump, the Republican president who is seeking a second term. Jones said both progressives and moderates have good reasons to support Biden.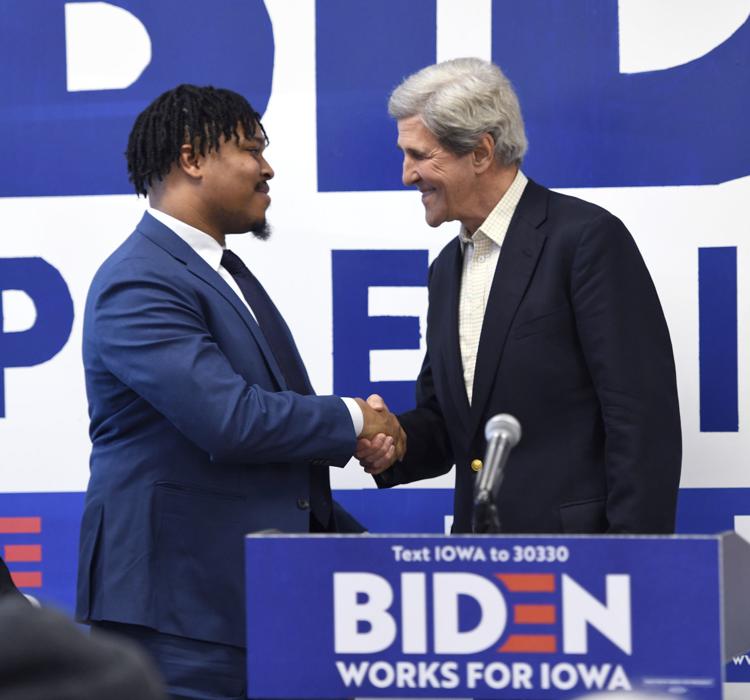 "I threw a party with 300 of my new best friends," Kerry recalled, to chuckles from the crowd.
You have free articles remaining.
The Feb. 3 Iowa caucuses are just 27 days away. In recent polls of the state, Biden is among a tier of four top Democrats, along with Sens. Bernie Sanders and Elizabeth Warren and former South Bend, Indiana, Mayor Pete Buttigieg.
Kerry said Biden served admirably as vice president under President Barack Obama for two terms, and understands the needs of Iowans. Kerry said farmers have been hurt by tariffs Trump has levied on China.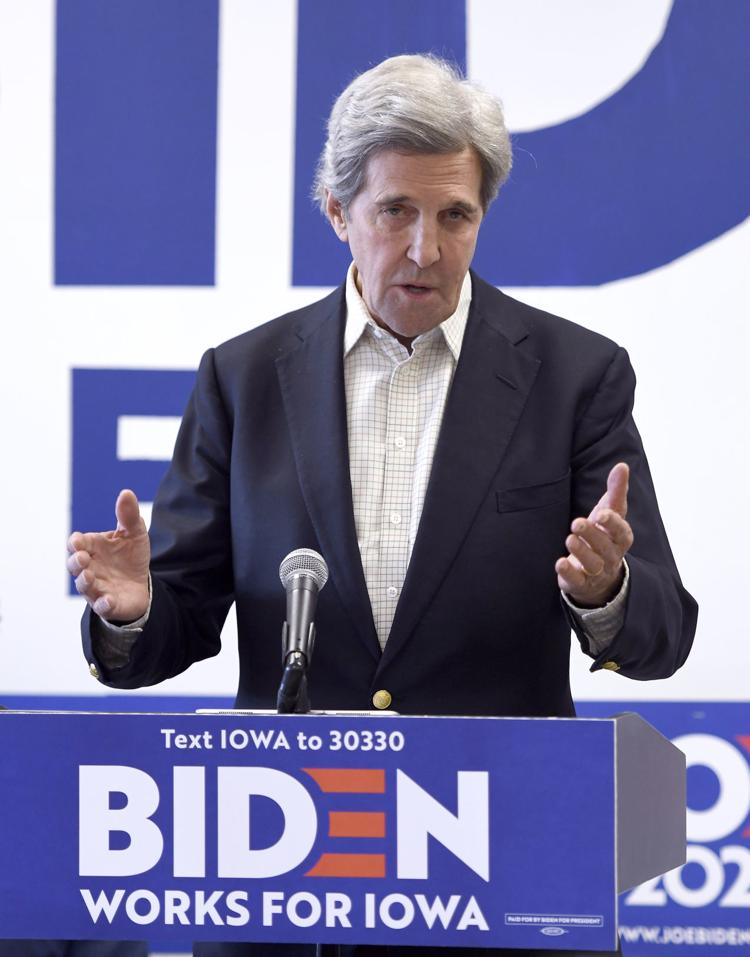 "There is a chaos that everybody feels," Kerry said.
The event was interrupted for two minutes during Kerry's talk, by a group of about six young people standing up in the middle of the 100 people, chanting about Israeli injustice while holding red "Palestinians Should Be Free" signs. An organizer said the protesters were part of the national Jewish Voice for Peace group.
After the group stopped chanting and exited the room, Kerry said he believes people with all views should be heard, and it was unfortunate that group chose to "shout and then leave."
The Democrats on the bus tour also stopped in Missouri Valley and Council Bluffs on Tuesday, and will head east for other events over the next six days.
Get Government & Politics updates in your inbox!
Stay up-to-date on the latest in local and national government and political topics with our newsletter.