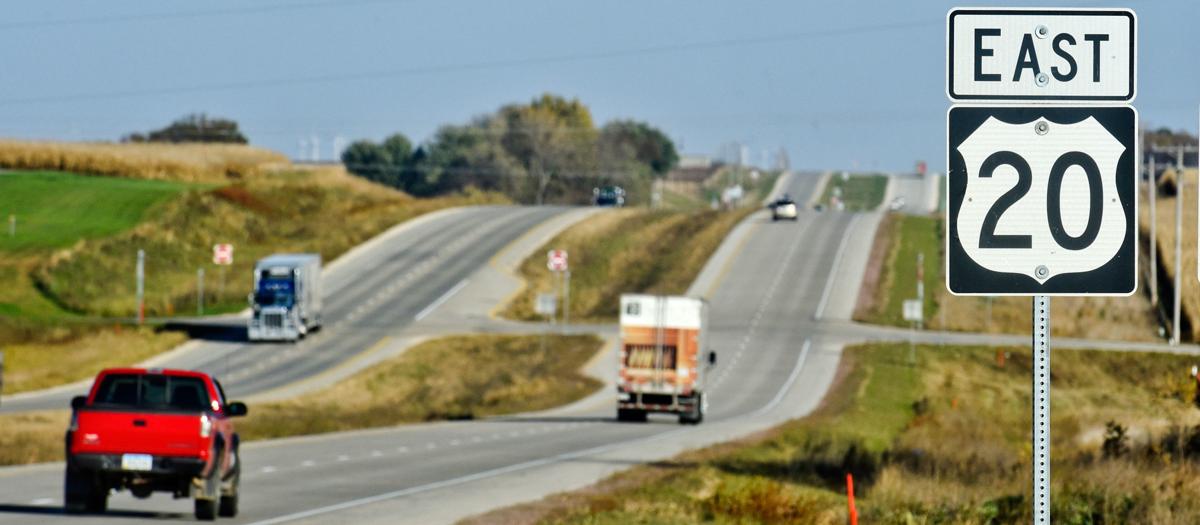 Editor's note: The Journal today continues its countdown of the Top 10 Stories of 2018 in Siouxland, as chosen by Journal editors. The No. 1 story will be revealed on Dec. 29, and the Journal's annual Newsmaker of the Year will be named on Dec. 30.
SIOUX CITY -- A celebration six decades in the making arrived in October, as traffic flowed along a four-lane U.S. Highway across the state of Iowa.
For years, there was no funding stream or great momentum for the quest to widen the final miles of two-lane road from Early to Moville, passing by the cities of Correctionville, Cushing, Holstein, Galva and Schaller.
But after an infusion of dollars from an increased state fuel tax and flurry of construction activity, the Iowa Department of Transportation finished work on the final segment of the highway in mid-October. The expressway opened Oct. 17, and two days later a host of state department officials and current and past legislators gathered at Holstein for a ribbon cutting.
You have free articles remaining.
"I think I can sum up today in one word: finally. Finally," Lt. Gov. Adam Gregg, a native of Hawarden, told the audience.
By the 1980s, the eastern two-thirds of Highway 20 had been widened to four lanes. All but 15 miles in western Iowa -- from Moville to Sioux City -- were still two lanes, sometimes in winding fashion, with some chunks going north-south.
"It was really getting bad. The two-lane part of it had just worn out," said Jerry Sindt, who lives a few miles southwest of Holstein on a long-time family acreage.
In the last dozen years, 20-to-25-mile sections with four lanes were opened. First, was a segment from Moorland to Rockwell City. Then came Rockwell City to Early, in a layout more to the north and bypassing most towns. That left a 40-mile section with two lanes back to Moville.
The state Legislature in 2015 approved a 10-cent increase in the state gasoline tax to help pay for the project, and by that summer the DOT used that extra revenue to slate the completion of Highway 20 in Woodbury, Ida and Sac counties. That resulted in a three-year, $215 million endeavor, 60 years after the Sioux City to Moville section had been broadened to four lanes.
Carrying out the work over the final stretch and the last three years, 12 million cubic yards of dirt was hauled away. So were any doubts by Siouxlanders who thought they'd never see the 300-mile expressway from Sioux City to Dubuque completed.
Copyright 2018 The Sioux City Journal. All rights reserved. This material may not be published, broadcast, rewritten or redistributed.