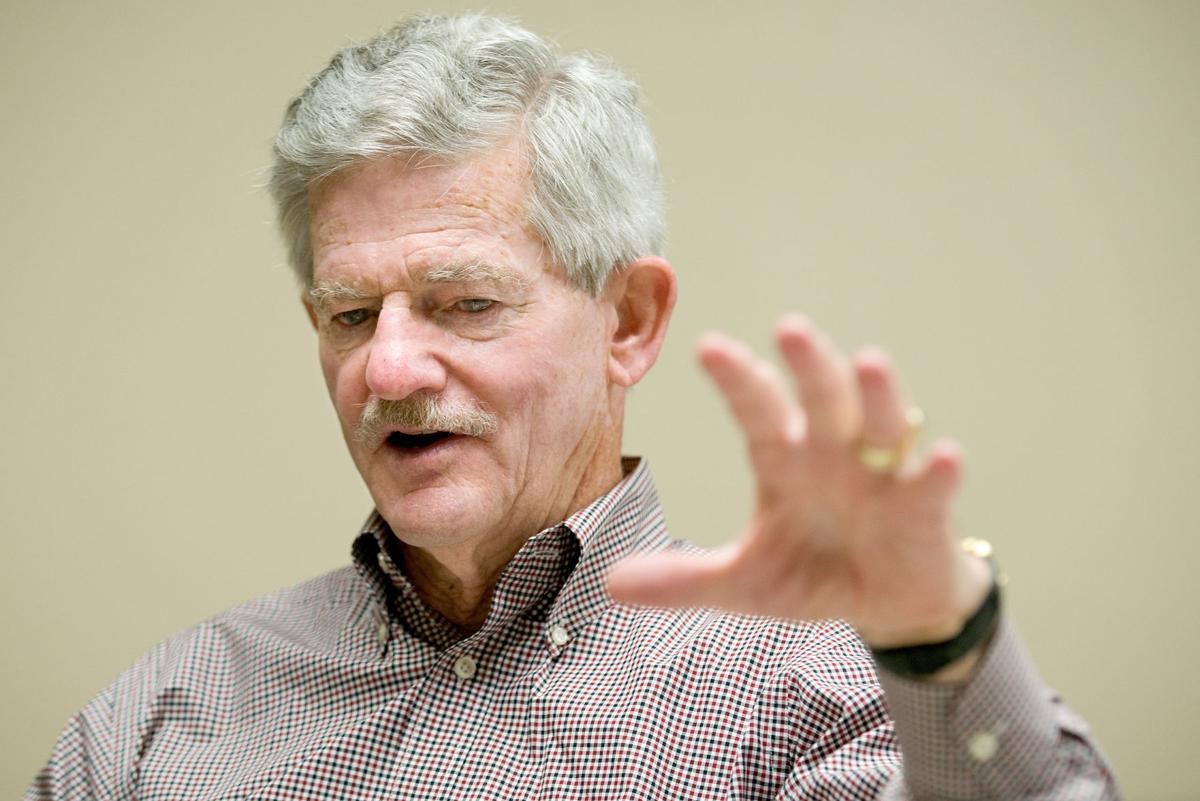 SIOUX CITY -- In June 2016, as then presidential candidate Donald Trump wrapped up the Republican nomination, former GOP National Committee Chairman Jim Nicholson said Trump's rhetoric could be "problematic" for some voters, and he understood some Republicans' reticence to support him. 
Three years later, Nicholson said he has been very impressed with Trump's performance in office, and plans to support his re-election in 2020. 
"I'm very happy with what President Trump has accomplished and what he is attempting to accomplish," Nicholson, a native of Struble, Iowa, said in an interview in The Journal offices.
"I think he's done a great job. Look at all the objective factors -- the economy, full employment, record participation in the labor force, both Caucasian, Hispanic and African-American. There's wage growth, there's real growth, GDP, there's very little inflation. He's greatly strengthened the military, he's greatly strengthened the judiciary." 
There are no Democratic candidates Nicholson said he would be comfortable with in 2020 -- even the more-moderate contenders like former Vice President Joe Biden, who Nicholson warned would be pulled too far to the left by others in the party. 
"Unfortunately I think the whole Democratic Party and the whole array of aspirants has gone way to the left, been pulled there, some of them, by the centrifugal force of the movement that has taken over the Democratic Party -- the socialist, green movement," Nicholson said. 
Nicholson, who was chairman of Republican National Convention in 1997, later served as U.S. Ambassador to the Vatican in 2001 and U.S. Secretary of Veterans Affairs from 2005 to 2007 during the George W. Bush administration. 
Now at age 81, Nicholson is still working full-time at the Washington, D.C. law firm of Brownstein Hyatt Farber Schreck and "on civil boards and commissions."
He credits his active professional life for his good health.
"There's so many interesting things going on, some of which I think I can make a contribution to, both professionally and in public service," he said.
Nicholson, who grew up in the Plymouth County town of Struble, said he makes it back to Northwest Iowa "at least once or twice a year." He lives in McLean, Virginia, just outside Washington, and came back to the region this weekend for a family reunion in Le Mars that's expected to draw more than 150 people. 
"I have a lot of relatives here, so there are weddings and funerals, and I have three siblings that live in Northwest Iowa," he said.
Born in poverty in 1938, Nicholson said he was raised in a Democratic, pro-Franklin Roosevelt, pro-New Deal family. He won a commission to the U.S. Military Academy at West Point, New York and then spent eight years in the Army before going to law school. 
"I always thought that I was a Democrat," he quipped. 
In the 1970s, Nicholson became the general counsel to the Colorado Association of Homebuilders. At the same time, Richard "Dick" Lamm, Nicholson's then-39-year-old law school adviser, became the Democratic Governor of Colorado. 
"He wanted to stop growth in Colorado, and he wanted to stop growth by stop issuing building permits, and I saw the effects of that on the people from whence I had come, the working class people of Colorado," Nicholson said. "Fixed-wage people, policemen, firemen, the service industries, they could no longer buy homes. The price of homes was going through the sky because they limited the supply." 
Seeing that, Nicholson switched his political allegiance.
"I realized I was not a Democrat, I was a Republican, because I was pro-growth, open markets, capitalism, competition," he said. 
Nowadays, Nicholson keeps busy with projects at the prestigious Brownstein law firm. He's taken on unusual, globe-spanning cases, including the Tahoe Resources silver mine that was shut down by officials in Guatemala, and a complex case in which two business people were falsely imprisoned in Kuwait.
Practicing law in countries where the justice system differs greatly from our own has been an eye-opening experience for Nicholson. 
"It gives you a deeper appreciation for our own country and our own system," he said. 
If nothing else, Nicholson is living proof an octogenarian can be an influential, globetrotting lawyer. Even a man his age can visit a Guatemalan silver mine. 
"I've been down in the mine, a mile down in the mine," he said. 
Nicholson is also co-chair, along with former Sen. Jim Webb, a Virginia Democrat, of Explore Offshore, a project of the American Petroleum Institute that supports and promotes offshore oil exploration. The pair wrote an editorial in the Wall Street Journal last week promoting offshore oil exploration. 
U.S. coastal waters are largely off-limits for new oil and gas leases, except for parts of the Gulf of Mexico. Trump has proposed to open up most of the coastline to oil exploration, which Nicholson would strongly support. 
"Why shouldn't we know at least what (oil) is out there, and where it is?" he said. 
Get Election 2020 & Politics updates in your inbox!
Keep up on the latest in national and local politics as Election 2020 comes into focus.