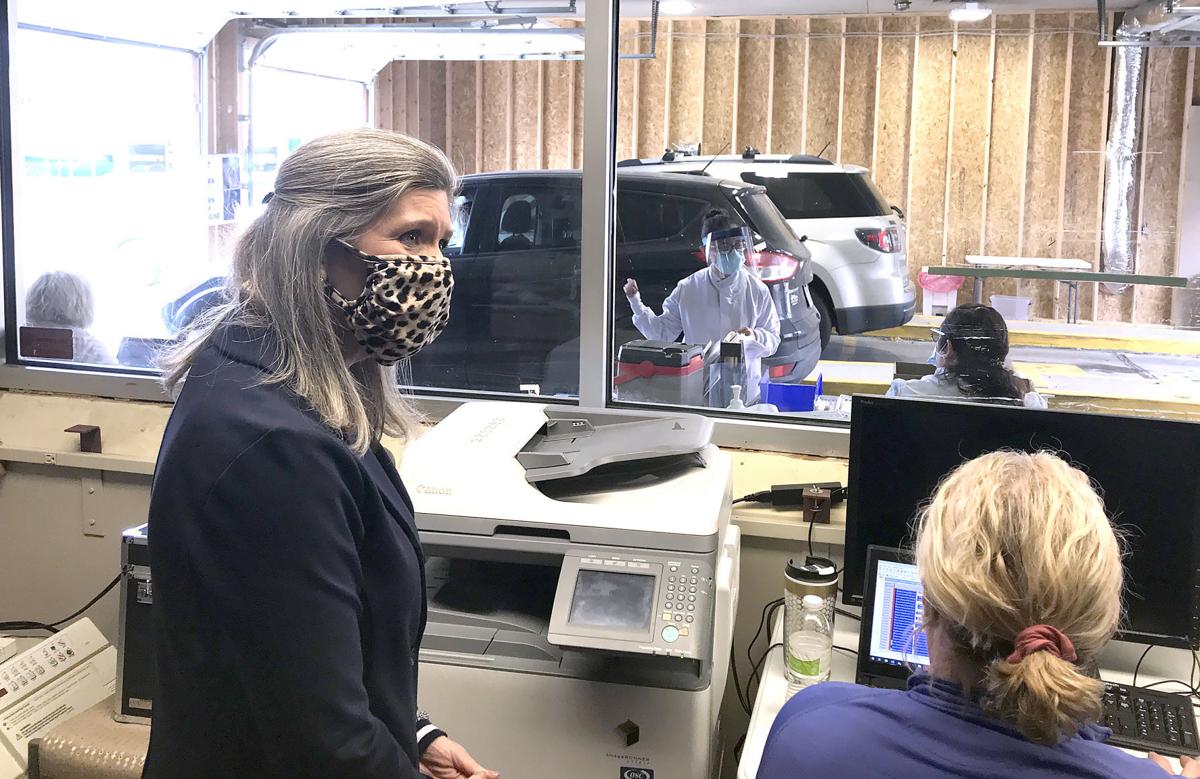 That came after a 1 p.m. interview in which Ernst told the Journal she had last been tested negative for the virus "a number of weeks ago" and wasn't sure that all senators and their staffs should now be tested.
"If ever I am somewhere and there is any question about someone that may have COVID or been exposed to COVID, then I do go ahead and get a test. But it's been a while," Ernst said, after an hourlong tour of Siouxland Community Health Center in Sioux City.
The Republican senator said she hadn't heard Senate Minority Leader Chuck Schumer call Friday for testing all senators in the aftermath of Trump's positive result.
"This episode demonstrates that the Senate needs a testing and contact tracing program for Senators, staff, and all who work in the Capitol complex. We simply cannot allow the administration's cavalier attitude to adversely affect this branch of government," Schumer said in a statement.
Mulling that, Ernst said that was likely not necessary and might take tests away from other Americans who need it more.
However, she had a subsequent turnabout in her stance, and took a test in Sioux City. In a statement to the Journal that came Friday evening, Ernst spokeswoman Kelsi Daniell said, "Out of an abundance of caution, Senator Ernst was tested for COVID-19 today and it was negative."
"I don't have any concerns...We are always socially distanced and we are always wearing a mask," she said.
Ernst said she wears masks in every public stop, even when in a small town, such as her residence in Red Oak, Iowa, or shopping at Hy-Vee or Dollar General. Ernst said she doesn't feel at risk for getting the virus.
Trump's announcement, via Twitter, that he and first lady Melania Trump tested positive for coronavirus, and the deep uncertainty that accompanied it, upended countless plans and sparked comment everywhere from presidential offices to the thousands weighing in on social media.
More than 7 million Americans have tested positive for the virus and more than 200,000 people have died from COVID-19 over the last seven months.
Ernst toured Siouxland Community Health Center, at 1021 Nebraska St., and spoke with many workers there. She viewed a coronavirus drive-through testing site one block south of the center building, and praised the work there.
The senator said the harsh reality is that coronavirus spread could last into 2021 spring: "This pandemic is going on and on, and we are so ready to be through with it and put up our Christmas tree."
Ernst is down to the final months of her six-year term, and is seeking re-election in the Nov. 3 election. Polls show a tight race between Ernst and Theresa Greenfield, a Democrat who on Tuesday put forth a "Back on our Feet" plan for a second package of federal money to address the pandemic.
Greenfield's plan would include $1,200 direct payments and resume $600 weekly unemployment aid to idled workers. Ernst told some health center officials she doubted any of the virus and stimulus packages being debated will pass before election day.
"I hope I'm wrong. I'd love to see us get a bill done and over the line next week," Ernst said.
Also Friday in Sioux City, Ernst visited the Police Department to hear about efforts to combat the opioid crisis and the Rosecrance Jackson Centers to hear about the services for people struggling with mental health issues and substance abuse.
Concerned about COVID-19?
Sign up now to get the most recent coronavirus headlines and other important local and national news sent to your email inbox daily.