SIOUX CITY | Discount grocery store chain Aldi has proposed to build its first Sioux City store on a 2.61-acre parcel of land at the intersection of Outer Drive and Floyd Boulevard.
The store would measure approximately 22,000 square feet and would employ around 15 people, according to city documents. 
The City Council will vote Monday whether to initiate the 30-day notice period required for selling city-owned property in an urban renewal area. A public hearing for the land sale would then be April 23. 
Aldi, a supermarket chain based in Germany, confirmed its plans last month to build a store in Sioux City next year. The company currently has more than 1,700 stores and is working on plans to expand to 2,500 stores by 2022. 
SIOUX CITY — Aldi, a discount supermarket chain based in Germany, plans to open its first Sioux City store next year, a company official confi…
According to a proposed development agreement, Aldi would purchase the site just north of The Shoppes at Northern Valley from the city for $775,000. The city will receive $695,000 of that amount, after subtracting a $80,000 broker commission. 
A preliminary site plan shows the building's access point would be off Floyd Boulevard using the existing northern entrance to The Shoppes at Northern Valley, near Scooter's Coffee. The Aldi store would have 111 parking stalls.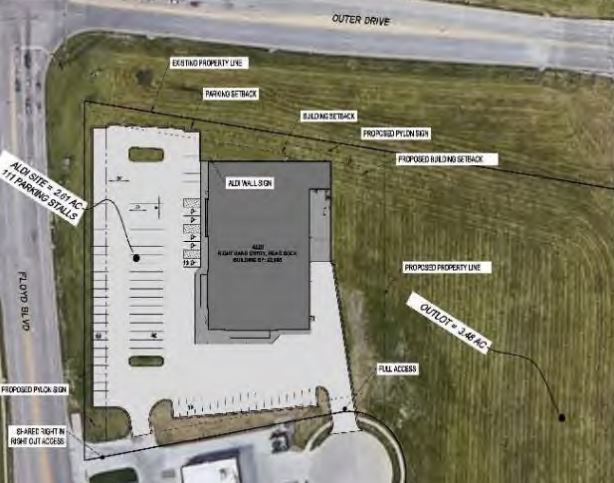 Once constructed, Aldi would provide another grocery option to dwellers on the city's north side. Along with offering value groceries, the chain sports an abundant selection of fresh produce and gluten-free products, fresh and sustainable seafood, specialty wines and cheeses, a few craft beers, organic items from its SimplyNature line, and its award-winning Little Journey baby products.
If approved next month, the land sale would be the second parcel in the Northern Valley Crossing area to move off the market in an approximately six-month period. 
In early October, the city sold a 1.5-acre tract of land near 3104 Floyd Blvd., directly across the street from the Floyd Boulevard Wal-Mart Super Center, to Saltzman Management Co., the owner and operator of five metro Burger Kings. Saltzman plans to construct either a Burger King or Buffalo Wings & Rings restaurant at the site.