SIOUX CITY -- A four-story parking garage proposed for downtown Sioux City would span across Third Street and connect directly to the Hard Rock Hotel & Casino, according to a site plan filed with the city.
The $11 million structure at 205 Pearl St. would be a joint project between the city and Hard Rock, with both entities sharing the cost. 
Once completed, the ramp's more than 530 parking stalls would accommodate motorists traveling to the hotel and casino, as well as the nearby city-owned Tyson Events Center and the Historic Pearl Street district. It would also include approximately 15,000 square feet of first-floor commercial space.
"With the I-29 construction, there's been a definite need for additional parking with the Tyson Events Center," City Manager Bob Padmore said. "I think it's a good project that we're partnering with the Hard Rock, that also has need for parking."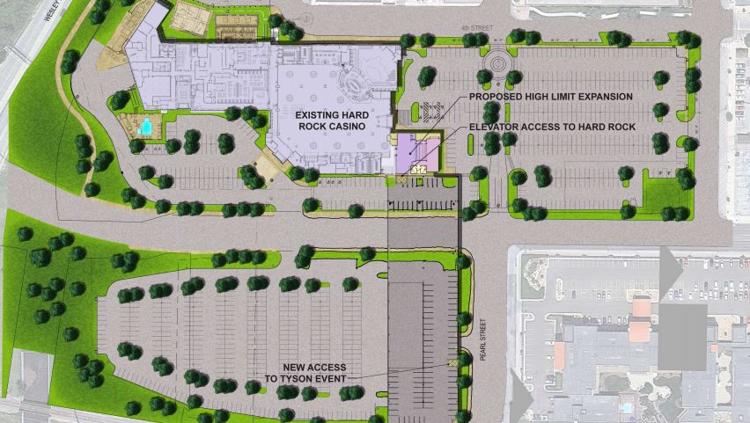 Padmore said under current plans, the city would own the ramp and retail space, which would then be leased by Hard Rock, which is owned and operated by Las Vegas-based Warner Hospitality. The City Council will discuss the project and the arrangement during Monday's council meeting.
Padmore said the casino would serve as a leasing agent for commercial space in the ramp. The current site plan shows room for six retail spaces on the first floor along with a loading dock, service corridor and mechanical area.
The site plan also shows some proposed expansion work at the casino site where the two structures will meet. A Hard Rock spokesperson contacted by The Journal Tuesday declined to comment until the project is further along. 
The city's Planning and Zoning Commission will take up two items related to the project during its regularly scheduled meeting May 8. Those include a rezoning of the property from "downtown commercial" zoning to "casino entertainment" and an approval of a site plan for the project. 
City senior planner Chris Madsen said the rezoning is needed for consistency between that project and the rest of the Hard Rock site.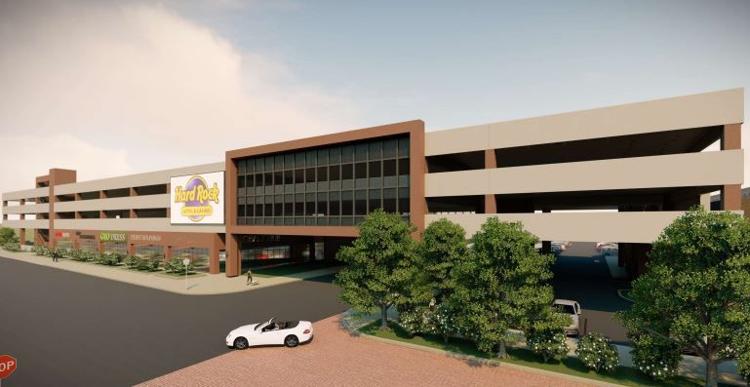 If passed, the zoning and site plan items will then go before the Sioux City Council during its May 21 meeting. Padmore said if all moves forward as proposed, construction could begin as early as this summer. 
The parking structure will sit on a 1.2-acre plot of land owned by the city, which previously was home to Liberty Bank. The city moved the bank from the property in 2015.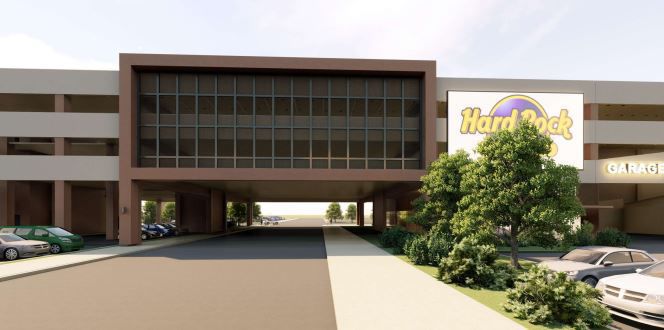 The $120 million complex, which includes a 30,000-square-foot casino, a 60-room boutique hotel in the historic Battery Building, and various dining and entertainment options, opened at Third and Water streets on Aug. 1, 2014. The complex currently has more than 800 surface parking spaces spread over three lots. Some parking was lost to a recent expansion to the casino floor that added a high-stakes gaming room and wine bar.