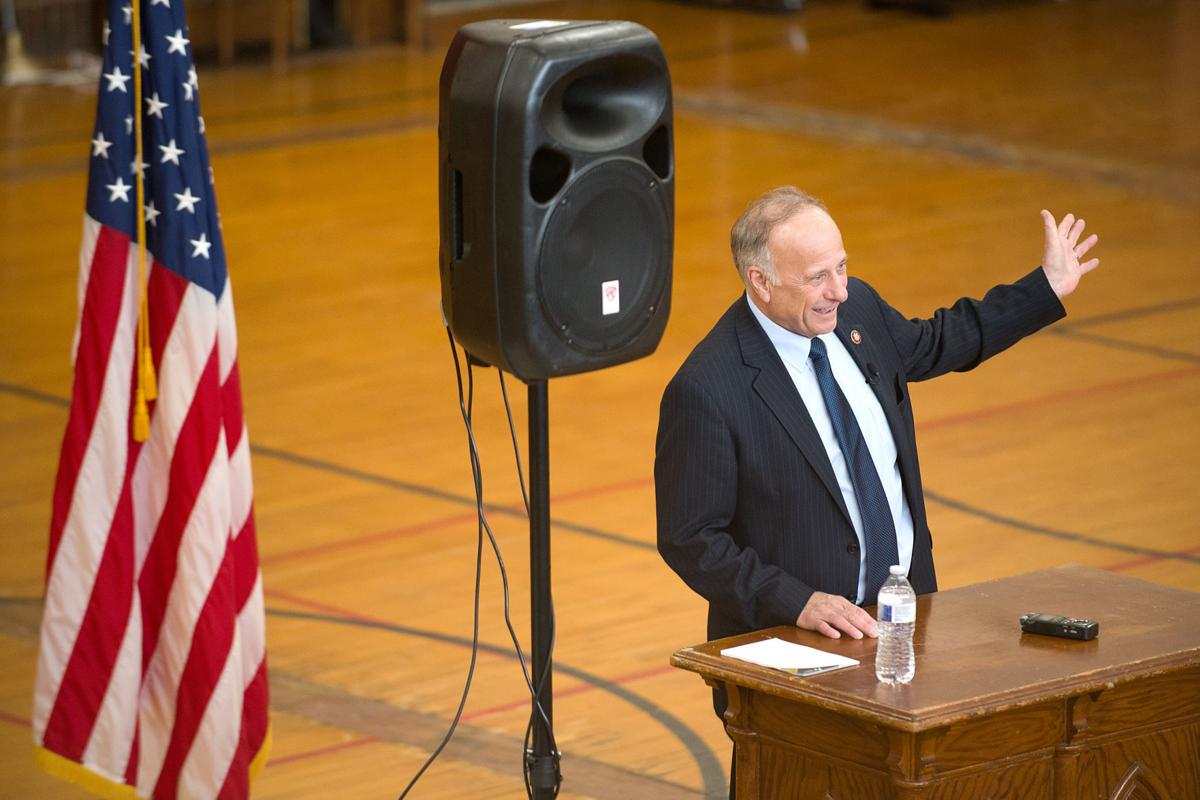 SIOUX CITY -- State Sen. Randy Feenstra, one of the three fellow Republicans looking to oust U.S. Rep. Steve King, brought in four times more campaign cash than the eight-term congressman over the first three months of the 2019-20 election cycle.
King's campaign reported raising $61,666 in the first quarter. That trailed the $260,442 Feenstra reported. Among the high-profile Republicans who donated to Feenstra's campaign was former Gov. Terry Branstad, who is now the U.S. Ambassador to China.
King, who has historically struggled to raise campaign dollars, spent $69,000, or nearly $8,000 more than he raised during the quarter, and ended the period with a cash balance of $18,385.
A fourth Republican in the race, former Irwin mayor Bret Richards, had receipts of $65,556. That amount was broken down into contributions of $17,556 and loans of $48,000.
No Democrats have declared for the seat.
Federal candidates were required to report their fundraising activity with the Federal Election Commission by Monday, covering fundraising from Jan. 1 through March 31.
Feenstra noted the $260,000 in contributions marks the highest amount ever raised over the first quarter by any first-time Republican congressional candidate in Iowa. Feenstra's team said the money came from more than 500 contributions, with 88 percent of those coming from Iowa.
"Randy Feenstra raised four times the amount of money and has thirteen times the cash on hand of Congressman King. It's proof that Iowa is ready for an effective conservative leader to represent the 4th district," Feenstra campaign manager Matt Leopold said in a statement.
Branstad gave $1,000 to Feenstra. Also donating money to him was former state Sen. Rick Bertrand,  who unsuccessfully ran in the 2016 against King. Bertrand, a Sioux City businessman and developer, gave $5,600 to Feenstra, of Hull.
Taylor said his campaign cash came from 98 donors, of which 90 percent live in the counties of the 4th District. Additionally, Taylor said he pulled in money from previous King donors, who over prior elections combined to donate $114,500 to the congressman.
Looking at the campaign fundraising statistic called cash on hand, or money remaining to be spent after subtracting spending for the three-month period, Feenstra was the leader with $239,684.
Taylor finished the quarter with $50,065 cash on hand, and Richards had $37,139.
Last fall, King had the closest call of his political career, narrowly defeating first-time Democratic candidate J.D. Scholten by just 10,500 votes, or 50 percent to 47 percent, in the 4th district, the most Republican of the state's four congressional districts. During the campaign, King faced intense criticism for a series of his inflammatory comments about immigration and his support for right-wing politicians and parties in other countries.
Just weeks after starting his new term in January, he was again embroiled in a major controversy after he appeared to defend white supremacy in a New York Times article.
 "White nationalist, white supremacist, Western civilization — how did that language become offensive?" King said in an interview with the Times. "Why did I sit in classes teaching me about the merits of our history and our civilization?"
In the aftermath of the national uproar over his remarks, the House voted overwhelmingly to rebuke King, and GOP leaders stripped him of all his committee assignments for the next two years. The Republican House campaign committee also pledged to withhold funding for his 2020 re-election campaign. 
King has claimed the Times reporter misquoted him, and said he has nothing to apologize for.  
Scholten, of Sioux City, said he is considering whether to run for the U.S. House again or challenge Republican Sen. Joni Ernst in 2020. In the 2018 campaign, Scholten raised $3.2 million, while King brought in $865,566 during the two-year period. 
Note: An earlier version of this story incorrectly said Richards had not filed a report.
Copyright 2019 The Sioux City Journal. All rights reserved. This material may not be published, broadcast, rewritten or redistributed.