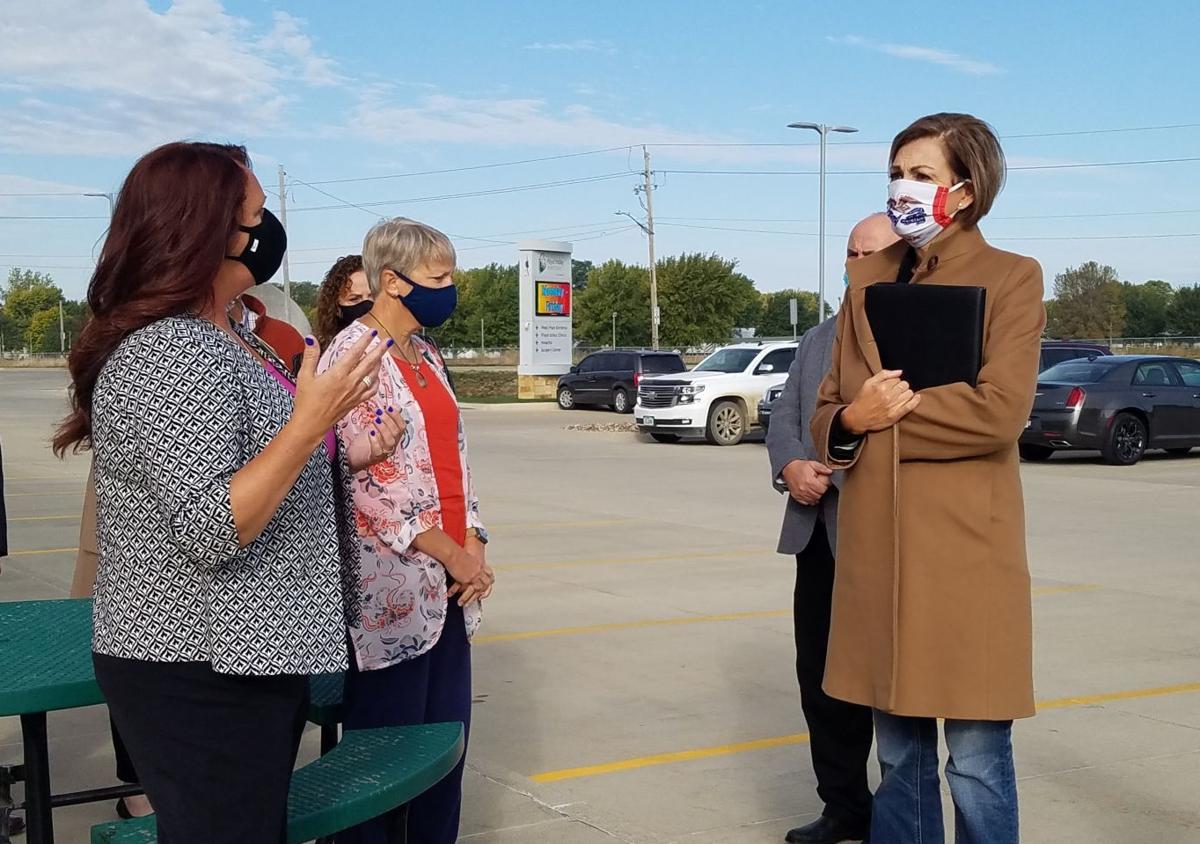 LE MARS, Iowa -- Gov. Kim Reynolds suggested Friday that increased testing at hospitals could be partly responsible for the recent surge in COVID-19 infections in Northwest Iowa. 
"Earlier, we weren't testing everybody that came into the hospital," Reynolds said after after touring a Test Iowa site in Le Mars. "And they made the decision that, anybody came in, they're doing a test. So if you go to the ER, or if you go in to have a baby, (they test you), which is the right thing to do. It's definitely the right thing to do. But, we weren't doing that before. And so, they're doing it now, and that's had an impact on some of our numbers."
Reynolds made her first visit to Northwest Iowa since COVID-19 cases began spiking, with as many as 3 in 10 testing positive for the respiratory virus.
Among the state's 99 counties, Lyon and neighboring Sioux have the highest average 14-day positive rates, at 30.3 and 27.7 percent, respectively. O'Brien, Osceola, Crawford, Plymouth and Woodbury counties have rates above 15 percent.
Plymouth and Sioux have each recorded hundreds of new infections in the past two weeks, while Woodbury County alone tallied nearly 1,000 in that time period. 
"You've seen the numbers up here increase," said Reynolds, who also stopped in Sioux City, Sutherland, Sibley and Alvord Friday. Northwest Iowa "just hadn't been hit yet, either, that's a piece of it. At the beginning of COVID, you could almost draw a line down the state, and it was mostly on the eastern side of the state, and really the western side of the state hadn't experienced much outbreak."
In her remarks, Reynolds seemed to downplay or overlook a surge in cases in parts of Northwest Iowa in the spring. Led by Woodbury County, metro Sioux City's outbreak was frequently among the worst in the U.S., relative to population, according to data from the New York Times. And Woodbury's cumulative tally of cases stood at 5,835 Friday, second most in the state, behind only Polk, the most populous county.
The Republican governor's comments came amid news early Friday morning that President Donald Trump and First Lady Melania Trump had both tested positive for COVID-19. The infections rattled the president's re-election campaign only a month away from the election.
Reynolds offered her sympathies to the first family.
"My thoughts and prayers go out to him, and the First Lady, and really anybody that's been impacted by COVID-19, and have had to deal with that. You know, there's various ways that the virus impacts individuals, so we'll wait and see what kind of symptoms that the president and the first lady and those that have been tested positive, have," she said. 
Though Reynolds has tested negative for the virus, she was exposed to it on a trip to Washington, D.C. earlier this year and was under a "modified quarantine." 
"I've been tested multiple times since then," she said, adding that "it's not something I do every day." 
"In fact, I did have a cold earlier on, and just to be sure it was a cold, we got the testing done and it was negative," Reynolds added. 
The governor, who has repeatedly resisted calls to issue a statewide mask mandate, said Friday that a softer approach on masks -- one where they're strongly encouraged -- is preferable to a mandate. She cited a survey suggesting that 76 percent of Iowans are voluntarily wearing face coverings. 
"Some people can't (wear masks), because of health reasons, so factor that in. And just some people believe that government shouldn't be telling them what to do, they believe in individual freedoms and liberties. So, the goal is the same, I believe, for both, and I think we're accomplishing it," the governor said. 
"And to be honest, if you look at Wisconsin, they've had a mask mandate since July, and their numbers are skyrocketing. California has had a mask mandate since June or July, and you saw what happened there. So there's no way to truly (enforce) it," she added. 
During her visit to Le Mars Friday, Reynolds spoke with medical providers at Floyd Valley Healthcare, where a Test Iowa site was established in July.
Concerned about COVID-19?
Sign up now to get the most recent coronavirus headlines and other important local and national news sent to your email inbox daily.