In reports that were due by midnight Wednesday to the Federal Election Commission, King reported raising $42,917 in the first quarter of 2020, covering January through March. Feenstra, a state senator from Hull, raised $122,871 and has dominated the five-Republican primary field since launching his campaign in early 2019.
Meanwhile, J.D. Scholten, the sole Democrat in the field, continues to outraise all the Republicans. Scholten brought in $338,579 over the quarter, which was more than all of the Republicans taken together, as those five raised just under $185,000 combined.
Feenstra since mid-March has been the sole candidate running television ads in the Sioux City market, the largest of the 39 counties of the 4th District. His team said those media buys will continue up to the June 2 primary election, which will determine the Republican nominee.
"Our fundraising success has allowed us to deploy a districtwide media campaign focused on Randy's record of delivering conservative results," Feenstra's campaign manager Matt Leopold said in a release.
"Between now and Election Day, we'll continue deploying our financial and grassroots resources to ensure 4th District voters have the effective conservative leadership they deserve."
"As a campaign, we've moved to an entirely digital operation to protect the health of me, my staff and the 4th District. We're focused on providing facts, information and resources during this crisis, lifting up our front line workers, connecting with folks online and bringing new people into our campaign. We're continuing to grow our campaign and we'll be ready for whoever comes out of the Republican primary."
Scholten, who lost by 3 percentage points to King in 2018, is back for a second attempt to win the seat.
That gap continued into the first part of this year. Feenstra ended March 30 with $415,651 available to spend on campaign activities, while King had  $26,773.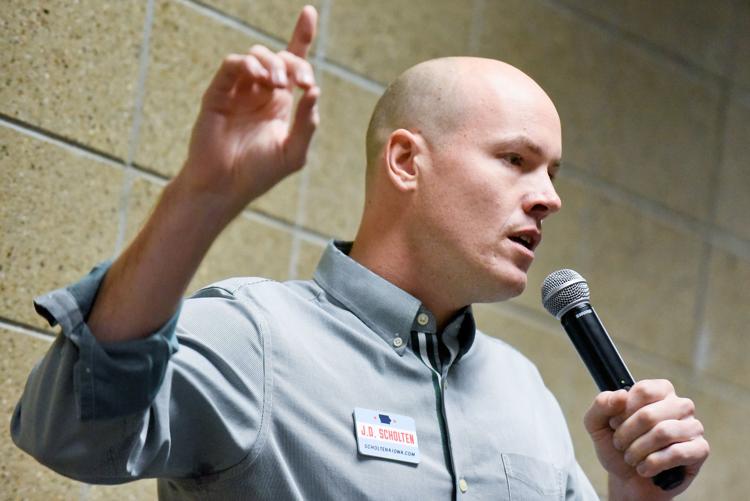 King, an outspoken conservative who was stripped by Republican House leaders of his committee assignments in January 2019, has traditionally not been a large fundraiser, especially when compared to other U.S. House incumbents. His campaign did not respond to a Wednesday request for comment.
The other Republicans include Jeremy Taylor, a former Woodbury County supervisor from Sioux City; health care official Bret Richards, of Irwin; and businessman Steve Reeder, of Arnolds Park.
"Blessed to be joined by +30 activists in Woodbury last night on Zoom - saw many supporting me in #IA04 & where our numbers show great support. Woodbury will weigh heavily in the race as the most populous county," he tweeted.
In contributions, Richards, a former mayor of Irwin, took in $5,152 over the three months, although he has given his campaign a substantial number of loans to boost overall receipts. Richards has loan money of $231,900 over the campaign cycle, and ended March with a cash on hand amount of $82,809.