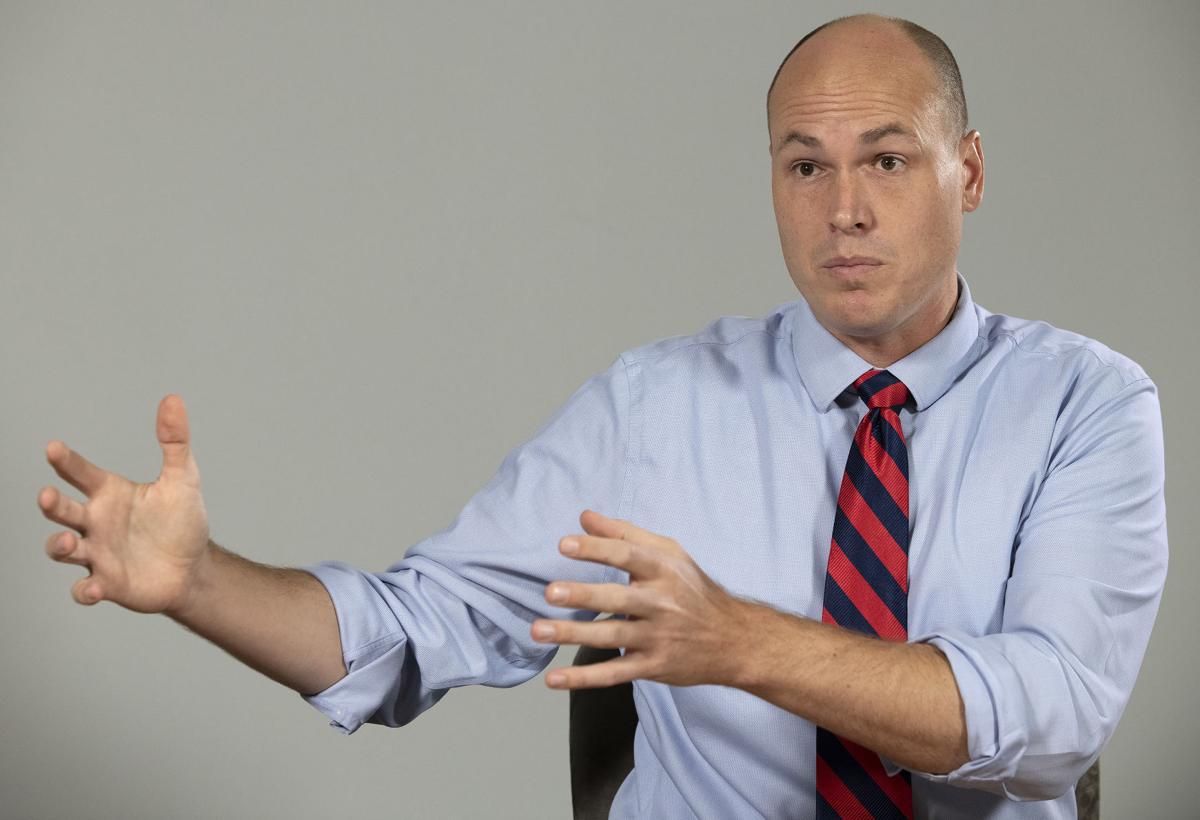 SIOUX CITY -- J.D. Scholten on Wednesday released an internal poll that shows the Sioux City Democrat narrowly trailing Republican Randy Feenstra in the race for Iowa's 4th Congressional District seat.
A Change Research survey conducted on behalf of the Scholten campaign showed Feenstra leading 50 to 45 percent. The poll of 603 likely voters was conducted Oct. 13-15, and has a margin of error of 4 percent.
Scholten's poll shows a much closer race than an internal poll released last week by Feenstra's campaign. The latter poll, conducted by American Viewpoint, showed Feenstra with a 54 to 31 percent lead over Scholten, with 11 percent undecided. American Viewpoint, of Alexandria, Virginia, did 400 interviews on landlines and cell phones on Oct. 6-8, and the margin of error is 5 percent.
Change Research recruited voters into the survey via text messages from a voter file sample, and through dynamic online sampling into an online survey, a Scholten campaign official said.
"This is a straightforward poll that did not include any messaging or any language that would bias opinions before asking voters how they intended to vote," Scholten campaign manager Adam Schantz said.
Schantz added that Scholten is drawing the votes of Republicans and independents.
"J.D. has proven that he will always show up, listen, and be held accountable by the people. This is yet another poll proving that this race will come down to the wire and we're confident that when the remaining undecided voters see J.D.'s tireless work-ethic and dedication to service, he'll win their support too," he said.
Scholten is running for the congressional seat for a second election cycle, and hoping to improve on his narrow 3-point loss to veteran Rep. Steve King in 2018.
The counting of election ballots is looming on Nov. 3, the final day for voting. Early voting has been ongoing since Oct. 5. The 4th District, which covers 39 counties in Northwest and North Central Iowa, is by far the most Republican of Iowa's four districts.
Two independent polls earlier this year also differed on the closeness of the race for King's seat. In early August, Monmouth University Polling Institute released a poll that showed Feenstra, a state senator from Hull, with a commanding 54 percent to 34 percent lead over Scholten among registered voters, with 8 percent undecided.
Get Government & Politics updates in your inbox!
Stay up-to-date on the latest in local and national government and political topics with our newsletter.