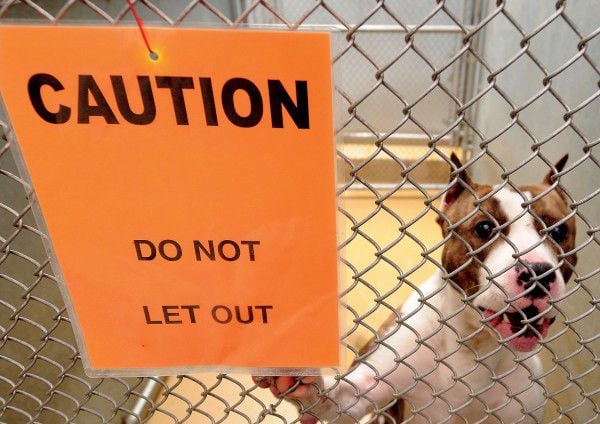 SERGEANT BLUFF | Sergeant Bluff city officials have opted not to lift the city's 14-year-old ban on pit bull ownership, citing a lack of community support to make the change. 
The Sergeant Bluff City Council voted 4-1 Tuesday to keep the ban in place. The decision culminated a nearly six-week process exploring possible changes and soliciting community feedback. 
"Based on everything we've discussed over the past several weeks, I just think we need to leave it alone," said Councilwoman Carol Clark. "It seems to be working."
City officials Tuesday detailed how a majority of the several dozen community members they and other city officials had talked with over the past weeks -- nearly 70 percent -- favor keeping the ban as-is.
Ron Hanson was the lone council member voting no, saying he wanted to see provisions that would allow for temporary foster care of pit bulls within city limits. 
Sergeant Bluff officials began revisiting the city's ban on pit bulls in October. after the council held a hearing for Nikko, a 7-year-old American Staffordshire Terrier owned by residents Sam Vice and Alyssa Stankoski, who was found loose by police this year. American Staffordshire terriers are among a handful of dog breeds categorized as pit bulls.
The council then began considering whether changing its vicious and dangerous animal ordinance to allow pit bulls that meet certain conditions to live within city limits.
On Tuesday, Greg Trucke, of Trucke Heating & Air Conditioning in Sergeant Bluff, voiced support for keeping the ban. He said he spoke on behalf of local service and delivery people, who he said often deal with dogs and bad pet owners. 
You have free articles remaining.
"It's bad enough dealing with owners that won't restrain the dogs that are allowed," Trucke said. "It just takes one to make this be a bad deal for everybody involved."
Sergeant Bluff Police Chief Scott Pack also advocated to keep the ban, detailing an incident Monday night in which police responded as backup to a call in Woodbury County where two pit bulls attacked a German shepherd. One of the dogs ended up dead, he said. 
Vice told the council any type of breed can be vicious depending on its upbringing, and he said different breeds have been targeted with bans over the years.
Councilman Bill Gaukel said while he believes socialization of pit bulls matters, he isn't sure the council could put in place restrictions that would adequately ensure safety.
"One of my concerns that lingers is can we control -- can we trust the environment that the animal's going to be in?" he said. 
Council members expressed sympathy for Vice and Stankoski, saying they seemed to be responsible owners but that the council had to do what was best for the community. 
After the meeting, Vice told the Journal he respects the council's decision. He added that a more thorough poll of the city may have provided the council the fullest picture of what people wanted, mentioning that many younger people seemed to him to favor lifting the ban. 
"For the month-and-a-half time span they went through this, they did a great job, honestly," he said.
Vice and Stankoski said if tests show Nikko meets the threshold of pit bull prohibited by the city, they plan to keep the dog and move outside city limits or to another community where he is allowed.