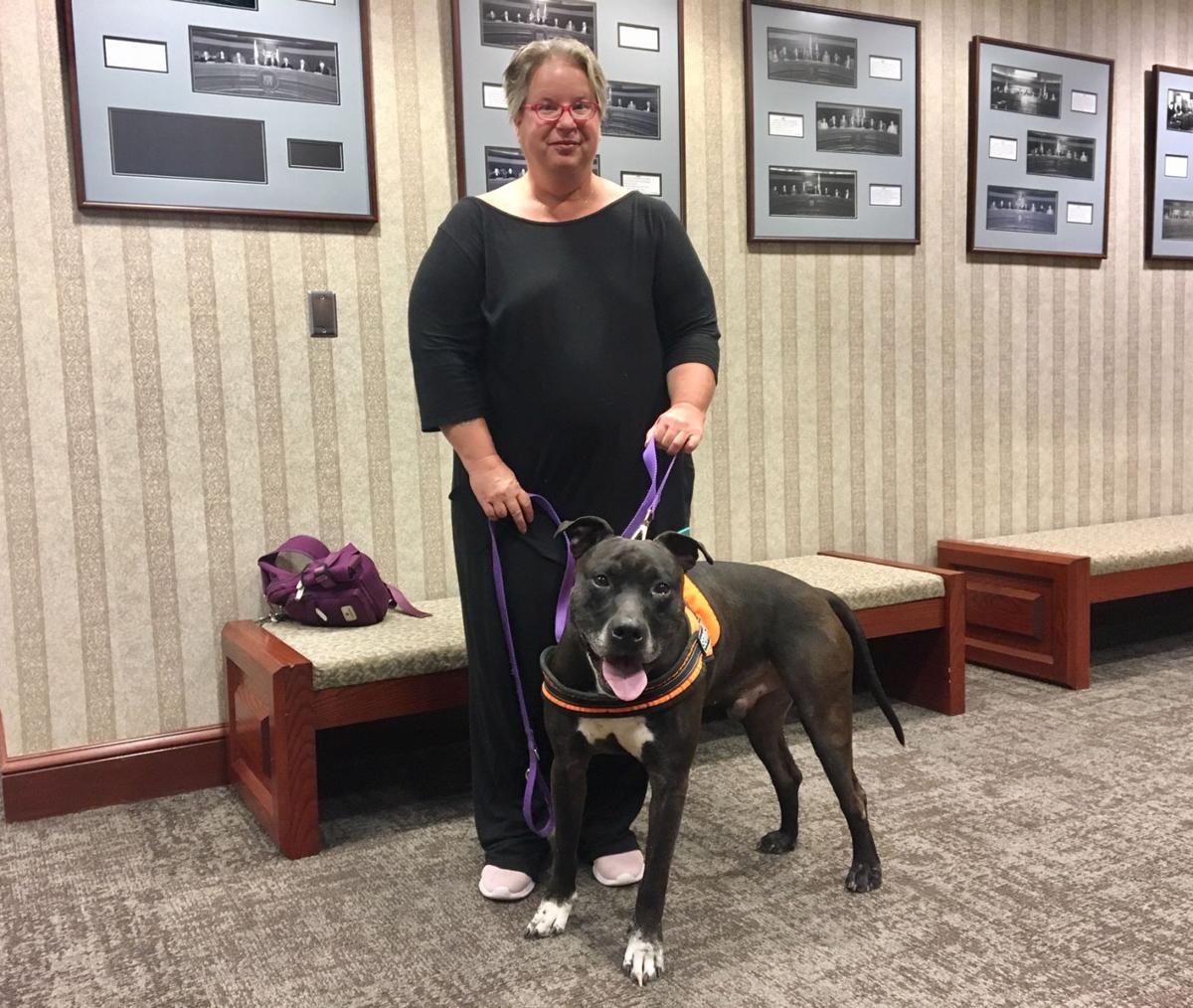 SIOUX CITY -- Marjorie Hattig stood at the podium in the Sioux City Council chambers Monday with her black and white pit bull leashed by her side and recounted how the service dog, named Tippy, saved her life on numerous occasions. 
The Sioux City woman, who has diabetes, said she got Tippy when he was just 18 weeks old and trained him to be her service dog.
"My dog has been trained to teach me when my blood sugar is too high or too low," she said. "If it wasn't for this dog, I'd be dead today."
Hattig was among more than 20 people who packed the council chambers Monday to voice their opposition to a controversial ban on pit bulls within the city limits. The ban, which was sponsored by former Councilman Aaron Rochester and unanimously adopted in September 2008, prohibits residents from having dogs that are 51 percent or more pit bull.
The current council voted 4 to 1 on Oct. 14 to move forward an ordinance that would repeal the ban. During Monday's meeting, the council voted 3 to 2 in favor of the ordinance on second consideration.
Just as he did on first consideration, Councilman Pete Groetken, a retired Sioux City Police captain, voted against the ordinance. Mayor Pro-Tem Dan Moore, who voted in favor of the ordinance on first consideration, also voted "no" during Monday's meeting.
"I want to do the right thing in this matter. It's not about the total number of bites. For me, it's really about the severity of the injuries," Groetken said at the end of a heated discussion the lasted nearly an hour and resulted in Mayor Bob Scott pounding his gavel to restore order.
Moore said "the threat of litigation" triggered the need to revisit the ban. He said exceptions will need to be made for pit bulls that are service and companion animals.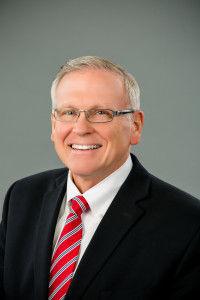 "Do we want to spend the thousands and thousands of dollars it would take to have a judge tell us, 'Your ordinance is illegal?'" he said. "I'm not saying we would get that. We would hire the best to defend and take on any litigation that would be filed against us, but it's going to be costly."
The city's legal department is recommending that the council adopt an ordinance to lift the ban because animal control regulations across the country are "turning to breed neutral regulation and moving away from breed specific regulations," according to city documents. The repeal is also recommended to ensure future compliance with Americans with Disabilities Act and Fair Housing Act regulations for individuals who may have service animals that fall under breed specific regulation.
Although no new pit bulls are allowed under the current ban, it grandfathers in pit bulls that were registered by residents prior to April 25, 2009, provided the animals are registered each year.
Jim Rixner, who was a member of the council that put the ban in place, said he is concerned about pit bulls returning to the city in the wrong hands. He told the council that if the ban is lifted and a pit bull bites him, he's not only going to sue the pit bull's owner, but also the city for repealing a "highly effective ordinance that is keeping this city safe."
"The problem is 10 percent of us people who are drug owners will have pit bulls again. The problem is the 10 to 15 percent gangbangers or want-to-be gangbangers that will bring their pit bulls back," he said. "The third problem is what you all identified here -- 30 to 40 percent of the people who are going to own the pit bulls have no idea how to take care of them. That's why my grandchildren will be in danger."
Scott told Rixner that he could file a lawsuit against the city, but the city would have immunity.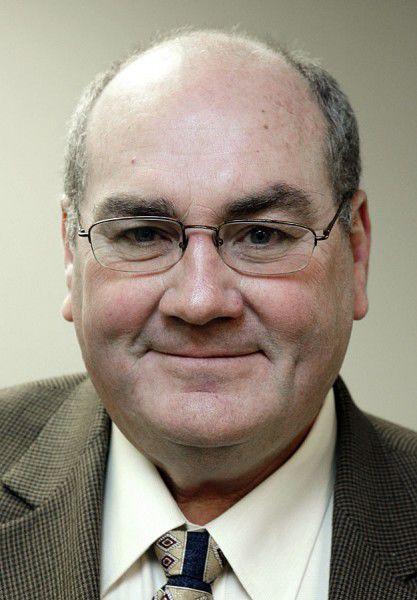 "The state law is pretty clear that we have the ability to revoke this ban and not be threatened if somebody gets bitten next week," he said. 
Councilwoman Rhonda Capron, who owns a pit bull that was grandfathered in, defended her decision not to abstain from voting on the matter, saying, "I feel I have a voice; and I'm the voice of the people." She said her vote in favor of repeal is in the best interest of taxpayers, citing litigation expenses that could cost upwards of $200,000.
"I certainly don't want to see any kid get hurt, who does? I don't want to see anybody get hurt," she said. "You can't avoid some things. It doesn't matter what kind of dog you've got. If people would take care of their kids like they take care of their dog, maybe things would be good."
The ordinance will come back for third and final consideration on Nov. 4.
Development
The council unanimously voted to adopt the Northbrook Urban Revitalization Area Plan as part of the city's municipal code.
The move opens up nearly 40 acres of land to development on the city's north side, south of 28th Street, where Brad Cummings, an Orchard, Nebraska, developer, and Dick Salem, a veteran Sioux City commercial real estate agent, plan to construct a looped road.
Cummings and Salem approached the city about financial assistance to promote the construction of road and utility infrastructure to support the ongoing development of the Northbrook industrial and commercial area. The area was originally developed nearly 20 years ago and the lots accessed by the initial road network are nearly built out.
Available property tax abatements would allow Cummings and Salem to construct the proposed infrastructure and promote additional construction on existing lots within the development. The property taxes due on the increased value of the improved property would either be abated for three years or based on a graduated schedule over the next 10 years.
Get Government & Politics updates in your inbox!
Stay up-to-date on the latest in local and national government and political topics with our newsletter.