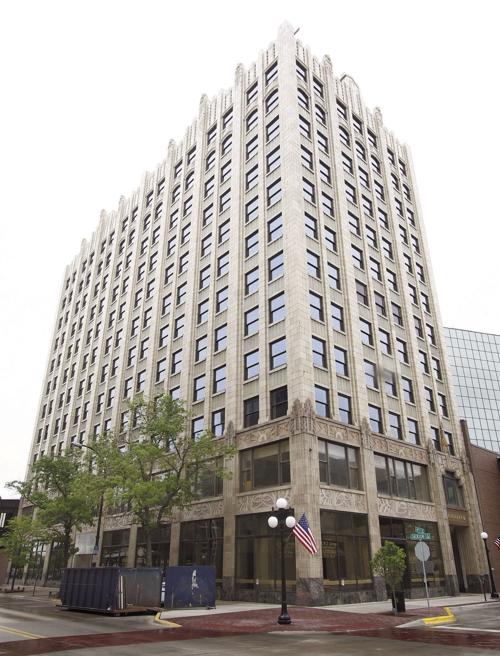 SIOUX CITY -- The Sioux City Council will be asked Monday to approve a consulting services agreement related to the redevelopment of the historic Badgerow Building.
City staff are proposing that the city enter into a contract with Chicago-based Hunden Strategic Partners (HSP) to assist with the process of selecting a developer for the project. According to documents filed with the city, interest in the Badgerow Building from "a variety of developers" continues to grow.
The council approved a resolution in October for the city to purchase the historic building for $750,000 from Cedar Rapids Bank and Trust Company so that it can be used for the continued redevelopment of downtown. According to the documents, environmental and structural engineering reports, as well as various general inspections, have "generally found no significant issues" with the 12-story structure, which was built in 1933 and listed on the National Register of Historic Places. Title work is underway and closing is anticipated to take place this week. 
You have free articles remaining.
The contract with HSP would not exceed the price of $60,000 plus expenses and be funded through the Combined Central Sioux City -- CBD tax-increment financing, or TIF.
HSP proposes that the city follow a process designed to create maximum interest in the property and generate quality redevelopment proposals. HSP will work with city staff to identify developers, both those who have contacted city staff about the project and additional contacts to be made by HSP.
The documents state that Rob Hunden and his team provided similar services to the city during the selection process for the convention center hotel project, which is currently under construction.
Earlier this month, the council unanimously approved a resolution adopting an amendment to the Combined Central Sioux City -- CBD Urban Renewal Area Plan in connection with the project, which will receive no more than $1 million in TIF, funds.
Cedar Rapids Bank and Trust purchased the Badgerow for $1 million at a November 2018 auction after it submitted the only bid. The bank had foreclosed on the building the previous year after the owner, California-based Mako One and its managing partner, Bruce DeBolt, defaulted on a bond that was secured to pay to renovate and redevelop it.
DeBolt had planned on transforming the Badgerow into a hub for small data centers, as well as space for restaurants, professional offices and other businesses. But his vision never came to fruition.