SIOUX CITY -- Violent crime in Sioux City dropped by about 18 percent last year, while instances of criminal acts overall grew by 1.7 percent, according to preliminary data the police department shared with the City Council Monday night.
A total of 279 violent crimes were reported in 2019, compared to 341 reported the previous year. The number of crimes overall grew from 6,830 in 2018 to 6,951 last year, according to the data.
Police Chief Rex Mueller shared four years of local crime data at Monday's meeting at the request of Councilman Dan Moore.
During the most recent two-year period, the city saw declines in murder and manslaughter (5 in 2018 to 2 in 2019), robbery (63 in 2018 to 62 in 2019), burglary (781 in 2018 to 673 in 2019) and arson (22 in 2018 to 15 in 2019).
There were increases in forcible rape (38 in 2018 to 42 in 2019), motor vehicle theft (246 in 2018 to 290 in 2019), aggravated assault (235 in 2018 to 242 in 2019), property crime (3,074 in 2018 to 3,162 in 2019) and larceny/theft (2,025 in 2018 to 2,184 in 2019).
Over four years, Mueller described crime trends as "basically steady" with some crimes moving up and others down. He said violent crime is "almost impossible" to predict.
"Often, violent crime is passionate. It's not predictable. People don't map out on Facebook when they're going to do a violent act. Things like this just happen," he said. "The best way that we can respond to violent crime is to pick out and identify up-and-coming criminals who are displaying violent tendencies, focus on them and hopefully arrest them for lower-level crimes before they can victimize our citizens."
Councilwoman Julie Schoenherr asked if drug crimes were included in the data, pointing out that drug use often leads to crime.
"I think our citizens feel like the drug activity is the seed to most of the crime," she said.
Resident Doug Strohbeen asked if the police department is changing the type of policing that it's doing to try to reduce the number of drug offenders.
"My concern is when there's a murder at 25th and Wall or shots ring out in Briar Cliff or a murder in a hotel on Southern Hills Drive -- that doesn't seem to be the parts of town that I want to stay away from," he said.
The "vast majority" of Sioux City's crime is likely drug-related, according to Mueller.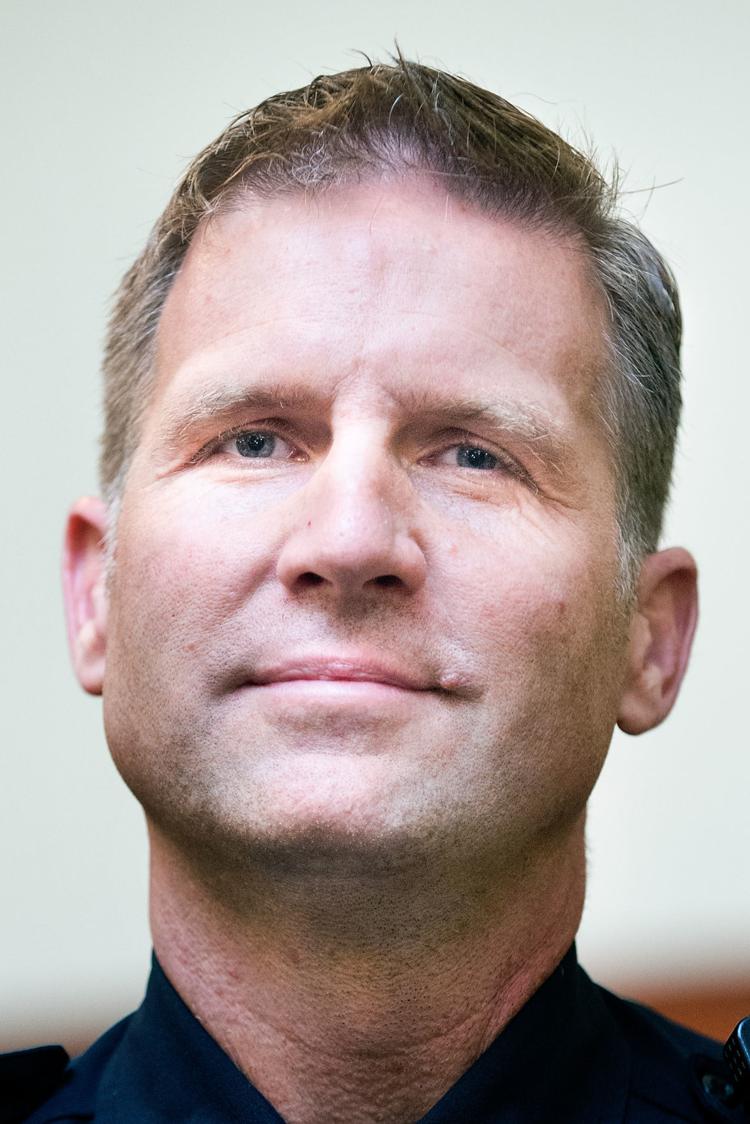 "We wouldn't in any way tell you that a lot of this crime isn't drug related. A lot of the violent crime is very much drug-related," he said.
Mayor Bob Scott said social media is calling attention to crimes that would've been "unimportant" five years ago and "never even would've made the news."
"The citizens are either getting better or your department is doing a good job with what they have for resources," Scott said of the drop in violent crime. "I really question that social media doesn't have a lot to do with this."
Mueller said staffing shortages continue to be an issue for the department. He said a recent staffing study revealed that the department is essentially 16 police officers below appropriate staffing levels. The department currently employs 125 officers.
"The call demand that we have, that's what drives most of the staffing studies -- how busy our personnel are," he said. "We can lose personnel due to injury or resignation or military deployments. It takes at least, sometimes, if not more, a year to hire, train an officer and for them to be solo."
Mueller said other challenges facing the department, include an outdated records management system, a lack of mental health and substance abuse resources in the area, and Woodbury County Jail overcrowding.
A March 3 referendum is set for a new 100,000-square-foot jail that the county plans to construct to hold up to 450 inmates. The $49.3 million facility would be located on a 38-acre plot of land now owned by the city of Sioux City, which is located west of 28th Street and Outer Drive.
"Also, with a full jail, they are kicking people out a lot sooner," Mueller said. "The jail will admit, people that probably need to be incarcerated are being pushed out. That's leading to recidivism; and guess who's usually the recipient of those individuals being released early and committing crimes, of course, we are."
Get Government & Politics updates in your inbox!
Stay up-to-date on the latest in local and national government and political topics with our newsletter.