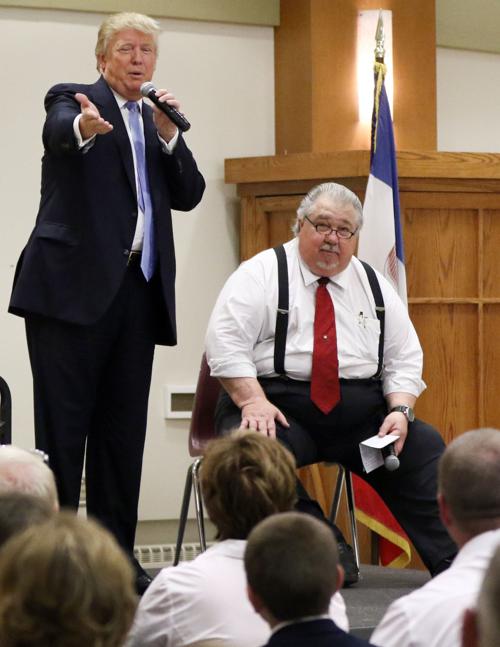 SIOUX CITY -- Siouxland's Sam Clovis, a former top campaign adviser to Donald Trump, is leaving his post with the U.S. Department of Agriculture to return to Iowa.
Clovis, who served as a White House liaison to the USDA, was scheduled to depart the department Friday, according to a Politico report Thursday night. In a text message Friday, Clovis told the Journal he did not immediately have time for an interview.
Clovis, a former Republican candidate for the U.S. Senate and state treasurer in Iowa, was a tenured economics professor for many years at Morningside College, and also hosted a talk radio show on Sioux City station KSCJ.
In the run-up to the Iowa caucuses, Clovis, a popular figure among conservative Republicans in Iowa, took an extended leave of absence from Morningside in August 2015 to join Trump's presidential campaign as national co-chairman and chief policy adviser.
After Trump won the election, Clovis began his current USDA job on the day of Trump's inauguration on Jan. 20, 2016. At the time, he gave up his teaching position at Morningside.
The probe revealed Clovis had communicated with George Papadopoulos, a former Trump campaign foreign policy adviser who has since pleaded guilty to making false statements to the FBI about his attempts to connect the campaign with Russian officials in 2016. As part of Mueller's investigation, Clovis testified before a grand jury.
In his letter to Trump in which he asked the president to formally withdraw his nomination, Clovis wrote, "The political climate inside Washington has made it impossible for me to receive balanced and fair consideration for this position. The reckless assaults on you and your team seem to be a blood sport that only increases in intensity every day."
"When I found out I probably wasn't going to get a floor vote, I said, 'That's it. I'm fine. I've got a job to do and I'll go back and do it'...I think it was more about the president than it was about me. Because I was a very visible, very strong advocate for the president," Clovis told the audience.
At the USDA, Clovis most recently was posted to the Natural Resources Conservation Service to provide guidance, according to the Politico story, which also reported that the department bid farewell to Clovis at a party Thursday night.
"Dr. Clovis was one of the first people through the door at USDA in January 2017, and we are grateful for his time here," a USDA spokesman told Politico. "He is a good man and a patriot who for decades has served his country admirably. While we are sad Dr. Clovis is leaving USDA, we wish him well on his future endeavors back home in Iowa."
Clovis finished second in the June 2014 GOP primary for an open U.S. Senate, behind then-state Sen. Joni Ernst, who was elected that fall. That same election cycle, Clovis was selected as the Republican nominee for state treasurer, where he lost to Democratic incumbent Michael Fitzgerald.
Get Election 2020 & Politics updates in your inbox!
Keep up on the latest in national and local politics as Election 2020 comes into focus.