SPENCER, Iowa -- Born in The Netherlands, John Conyn spent most of his formative years in Chicago, where his father sold tulip bulbs to greenhouses in the region.
Conyn said he has learned there's little difference growing up in a big city or a small town like Spencer, Iowa, where he today serves as fire chief.
"Opportunity is what you make for yourself. Whether you're in a group of one, 100, or 1,000, it's what are you going to do to get better. So bloom where you're planted," Conyn said. "Opportunity is what brought my family to the United States. While my father sold tulip bulbs, my mother was a maid for the Florsheim Shoe Company. Coming to America was an opportunity that required my dad to learn a little English so he could speak with wholesale florists to sell those dozens of different bulbs."
A Boy Scout for many years, Conyn was first introduced to his future profession through the youth leadership program. 
"Bar none, it has given me the greatest gift of confidence and the ability to pay everything forward. My whole career has been based on a series of handshakes. I went into my first Chicago firehouse when I was 8 years old, and a firefighter by the name of Bob Brown, who stood 6 foot-plus -- like a giant -- shook my hand, introduced himself, and invited me in for a tour. All I'm doing now is paying that handshake forward."
Almost a decade later, Conyn started working in a fire station while in high school. That came when he was asked to fix a flat tire for a Chicago fire battalion chief, who introduced him into a ride-along program. Then he enlisted in the U.S. Air Force as a firefighter in 1975.
Conyn accepted the position of fire chief in Spencer in July 2016, after serving in a similar capacity in Webster City, Iowa. He now uses a high school fire cadet program for both recruitment and training, opening the opportunity for students of high school age to be introduced into the fire fraternity, and learn what it's all about -- the same way he came up through the ranks.
"We are fortunate to live in an area that is very neighbor rich and community oriented. Firefighters can't do this alone. We rely on each other. Your neighbor could be a firefighter or a police officer. Your neighbor could be that person who shovels the snow away from that fire hydrant."
Under Conyn's leadership, the Clay County community is moving forward with the Northwest Iowa Public Safety Training Center, proposed for a site, the Green Industrial Center, on the east side of the Spencer.
Clay County's Firefighter Appreciation Day on March 10 raised approximately $25,000 to purchase drill props and supplies.
The donations resulted not only from free will donations for burgers and a carnival-like atmosphere more than 400 area residents enjoyed, but also from cash and in-kind contributions. All the food was provided at no cost by the Clay County Cattlemen and Pork Producers (who also grilled the burgers), along with Fareway and Hy-Vee.
You have free articles remaining.
The effort was coordinated by the all the service clubs in the county, led by retired businessman Paul Brenner. A like event two years ago benefited law enforcement personnel.
Conyn said that while he can anticipate the training facility opening "yesterday," he can realistically see quite a bit of progress in 2019.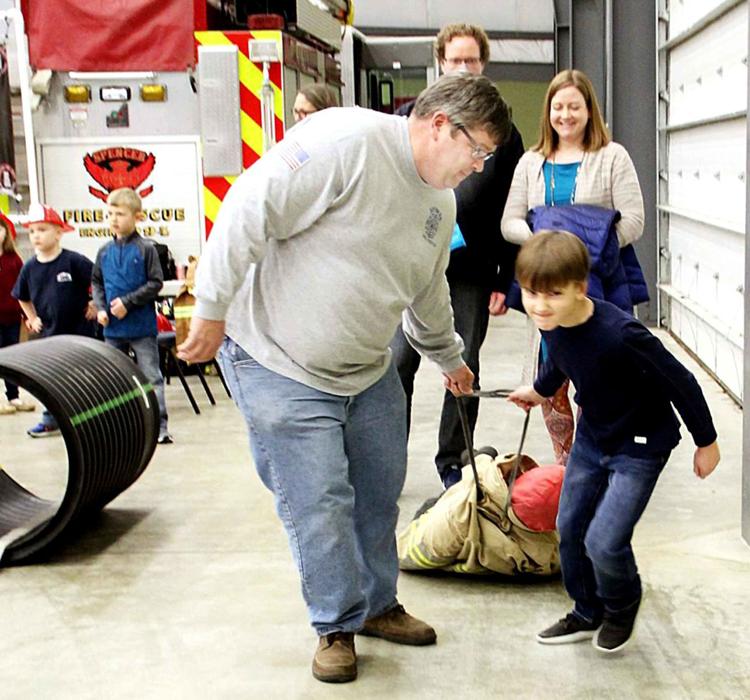 "I'd like to say we'll be practicing in the new facility before the year has ended. That's a strong goal," he said. "The biggest thing is to get out there dragging hoses and squirting water. That's the No. 1 thing. Then, as time and monies permit, we can build on that ground to enhance education and training even more."
In addition to Spencer, Dickens, Everly, Fostoria, Royal, and Webb fire departments, Conyn envisions the training center benefiting departments in the eight adjoining counties, as well as area law enforcement agencies. He noted that while it is not practical to train an entire department many miles from home at one time, smaller groups can travel to a one- or two-day event nearby.
"It is only through proper training that we can best help people like firefighters and law enforcement officers who help others," he said. "This new facility will help hone their skills. You can't take the entire department out of the community for training. But what you can do is train a few of them, then, in the following week or month, train the next group. And keep on training. That's the key."
A lifelong Cubs fan, Conyn and his family lived on Chicago's north side, in what he called "a taxpayer," an apartment above a grocery store and butcher shop, that helped pay the owner's taxes.
Living in that taxpayer, he said, made him appreciate the history of Spencer's downtown. After a devastating fire in 1931, the community worked together to rebound and get back to business in a very short time.
After the Spencer City Council recently enacted an ordinance allowing for murals on buildings in specific downtown locations, including the area where Spencer's firehouse is located, Conyn said he has considered the potential for the fire department to use its wall for a mural.
"If it could demonstrate spirit, brotherhood, and fraternity, because that is truly what you need in fire service," he said.
To a suggestion that some strategically placed tulips might appear on the wall, Conyn paused only momentarily before coming back with a huge grin.
"Oh my gosh. That be great -- a fun 'pay it forward'! One of the great things you see in Spencer is our Parks & Rec Department work that has flower baskets to welcome people passing through the community, and letting them know they are alive. It's one of the hallmarks that makes you recognize Spencer and sets it apart."