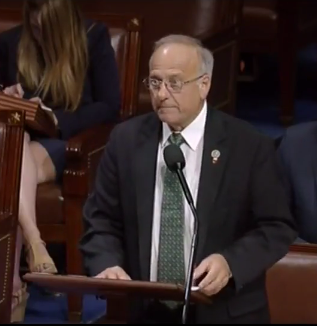 KIRON, Iowa | It was a packed 24 hours when Iowa 4th District Rep. Steve King managed on the U.S. House floor not one but four major bills that all won final passage.
King said it may seem he reached a major summit, and some might think "you should be jumping up and down to the theme song of Rocky."
However, he added, "But it isn't that way for me, because I always think we should be doing more."
Now, those bills, on the subjects of immigration and health care, are waiting in the Senate with an unclear calendar for action. Both chambers must pass legislation within a two-year session before they are sent to the president for his signature.
To spur that along, King is more than ready for President Trump to employ his well-recounted usage of Twitter to air issues he supports, sometimes in the wee morning hours.
"There is no reason to wait (for Senate action), none of this has a reason to wait. I hope (Trump) wakes up at 3 o'clock in the morning and sends out a tweet and says, 'Why don't you just act on all this within a 24-hour window, like they did on King's legislation in the House,' " the Republican congressman said in a Journal interview.
The bills were passed by the 435-member House in almost exactly 24 hours, from 5:19 p.m. June 28 through 5:26 p.m. June 29, making for one of the most pleasing periods for King in his congressional career, which began in January 2003.
"I was deeply into each one those from the author standpoint, because I did that (bill) language," King said.
Three of the bills involved immigration policy issues, a topic that is a preeminent point for King, who says illegal immigration undermines the nation's legal fabric and costs too much in law enforcement and social agency costs.
One bill was particularly important to King, since it was in response to the death of a Council Bluffs, Iowa, native. Sarah Root was killed in a street racing crash in January 2016 that involved an undocumented immigrant from Honduras.
The so-called Sarah's Law, or HR 174, requires U.S. Immigration and Customs Enforcement to take into custody undocumented immigrants charged with a crime resulting in the death or serious injury of another person in the U.S.
"It wasn't the most impactful piece, but it was personally and emotionally the most important piece," King said.
More than a year ago, King said he was introduced to the Root family, who have roots 65 miles south of Sioux City in the small Harrison County town of Modale.
King said over the last decade he's met with many family members of people killed by undocumented residents, or, as he calls them, illegal immigrants. He said he starts his days in his home in Kiron with prayers for those families.
"There isn't hardly any of them whose tears haven't dried on my jacket," he said.
Movement of the House bills to the Senate, where Republicans hold a narrow majority, places King in the position to perhaps finally see a bill he initiated be enacted into law.
Many critics have aired charges that King is an ineffective congressman who should be focusing more on his district and less on national wedge issues like immigration. A GovTrack Summary showed none of the bills King has introduced over 14 years had become law through 2016.
In August 2015, InsideGov, a government research website, named King the least effective member of Congress because none of the 94 bills he has sponsored has moved out of a committee.
King noted he's worked on medical malpractice issues for his entire House career.
"Sometimes it takes a long time to get the politics set up right to get a good idea passed," he said.
King said the time for the four pieces of legislation to come to the House floor had been delayed several times.
Managing the bills meant King essentially oversaw all aspects of debate directly from the House floor. As the floor manager, he served as the lead debater and rebutting opponents, managing the time allotted to his side and raising or contesting procedural points that required a ruling.
King's work on the bills also included taking names from House Republican leadership of six people and aiming to move them to yes votes. King chuckled, saying he soon figured out, "they were giving me the toughest list they had" of intransigent House members.
"We were whipping votes all the way up to the time the vote was called," he said.
Sarah's Law was eventually wrapped into King's bill seeking to stem the functioning of sanctuary cities (HR 3003, the No Sanctuary for Criminals Act), to improve its passage.
The other approved bills included HR 1215, the Protecting Access to Care Act, which sets a limit of $250,000 on medical malpractice lawsuit plaintiff non-economic damages. The fourth was HR 3004, or Kate's Law, which would raise maximum prison penalties for immigrants caught repeatedly entering the U.s. illegally, with escalating penalties for the number of repeat offenses.
The latter bill was named for Kate Steinle, who was murdered on a San Francisco pier in 2015, allegedly by an undocumented immigrant who was a repeat felon and had been deported many times.
Judging the future ahead for the bills, King said, "Sarah's Law is so obvious and so compelling, I think it is likely to be passed."
He added that Trump has said he would sign the medical malpractice bill into law. King said the sanctuary cities bill has opposition from large city mayors, who "get political support from criminals and criminal sympathizers."