SIOUX CITY -- Republican challengers to U.S. Rep. Steve King on Wednesday pushed back on his assertion that a path has opened for the nine-term congressman to be returned to House committees from which he was removed last year.
Additionally, a member of the entity that King said could return him to the committees instead said the congressman "will not be serving on any committee."
In a story first reported by the Journal on Tuesday, King said House Minority Leader Kevin McCarthy has agreed to a process by which King can get "exoneration" and back on committees that were stripped in January 2019 after his controversial published remarks about white supremacy. 
"On April 20, Kevin McCarthy and I reached an agreement that he would advocate to the (Republican) Steering Committee to put all of my committees back, all of my seniority," King said at a forum Monday night.
"When Congress comes back into session, when the steering committee can (inaudible) together, I have Kevin McCarthy's word that that will be my time for exoneration."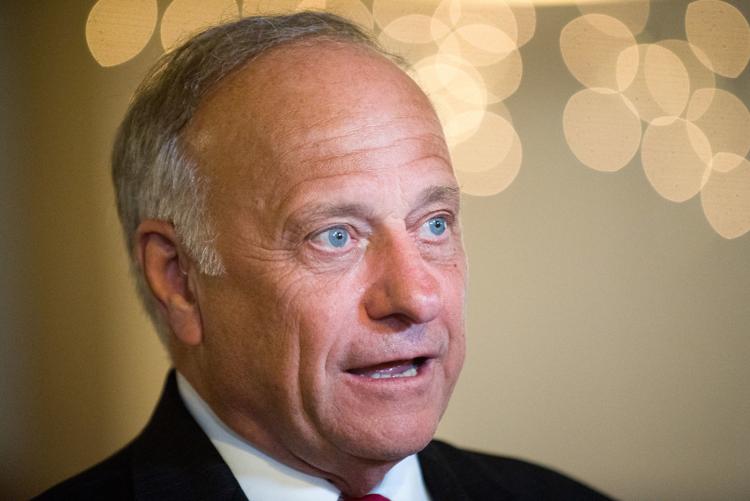 Those four, Randy Feenstra, Steve Reeder, Bret Richards and Jeremy Taylor, also took part in the forum. On Wednesday, Matt Leopold, a Feenstra campaign official, told the Journal, "The only thing worse than Steve King costing our district our voice on committees was lying to his constituents that they had been restored."
Taylor, another candidate in the field issued a press release that said "clarity" is needed on King's committee issue.
"The issues facing our 4th District families are too important to risk not having a voice on committees," Taylor said.
In a New York Times story on immigration 16 months ago, King was quoted as asking, "White nationalist, white supremacist, Western civilization — how did that language become offensive? Why did I sit in classes teaching me about the merits of our history and our civilization?"
The published remarks fueled a national backlash that prompted GOP House leaders to strip him of his committee assignments for at least two years, and for the full House to pass a resolution condemning white supremacy and white nationalism. 
Since then, King has repeatedly insisted the Times reporter misquoted him, and that Republican leaders were too skittish over the fallout to reinstate him to his committees.
Attempts to reach McCarthy were unsuccessful.
U.S.Rep. Steve Stivers, R-Ohio, who is a member of the Republican Steering Committee, in a statement to the Journal said King "was not removed from his committees because of one New York Times article. He has demonstrated a continued pattern of bigotry, racism and hate throughout his time in Congress."
Stivers continued, "As long as I am a member of the Steering Committee, I will not allow hate and bigotry to influence the legislation passed by Congress. That's why Steve King will not be serving on any committee."
Stivers said King may have been elected by Iowans, "but he will not have any outsized role in the legislative process beyond voting 'yay' or 'nay' on the House Floor."
One cycle ago, King edged Democrat J.D. Scholten, a Democrat from Sioux City, by 3 percent in the 2018 election. In remarks that November, King took aim at Stivers, who was then chairman of the National Republican Congressional Committee.
Stivers, in a tweet, had condemned King for "completely inappropriate" actions and remarks, and the NRCC cut off campaign funds to King.
King told the campaign victory party audience Stivers "legitimized everything my opponents said about me...still we hung on."
Look back: 19 times Steve King made news in 2019
Northwest Iowa congressman Steve King was frequently in the news in 2019. Here's a look back at some of the biggest headlines.
Get Election 2020 & Politics updates in your inbox!
Keep up on the latest in national and local politics as Election 2020 comes into focus.