SIOUX CITY | Flip on your right blinker. 
Pull up just past the parking space. 
Back in between the yellow diagonal lines using your rear-view mirrors. 
Such is the process recommended to local motorists using a handful of new reverse-angle parking slots on Third Street behind Promenade Cinema 14.
But, despite the heralded safety upgrades, the public has been adjusting to the new configuration with mixed reviews. 
Miriam Clayton, who volunteers at the Siouxland Center for Active Generations, told the City Council last week that when she recently took an informal poll of about 120 people, many of them senior citizens, 100 said they wouldn't go anywhere near the reverse-angle spaces. 
"(People would say) 'Where did this come from?' 'What school did this person go that designed this?' 'You must be kidding,'" Clayton later told the Journal.
Of the remaining 20 she surveyed, two told her they would give it a try. Eighteen had never heard of that style of parking and didn't have an opinion, she said. Clayton said she hopes the city looks into the cons of reverse-angle parking before it adds any more.  
One of Clayton's 120 survey respondents was resident Mike Tew. Sitting at the senior center Tuesday morning, he said he thinks the idea is flawed.
"I have no problem backing. I've backed trailers and trucks and everything else. I have no problem. But there's a lot of people that can't," he said. "I'm saying overall it's going to be a hazard, mainly because of the traffic behind you." 
Added Clayton, "The older you get, I think the harder it gets to turn around (and back up)."
City engineering staff say while the new configuration requires some adjustment, reverse-angle parking brings significant safety benefits to drivers. Civil engineer Eric Jones said the process of stopping in traffic and backing in is similar to parallel parking, but motorists now have an improved line of vision when pulling forward and also won't be opening their car doors into lanes where cars are driving. 
"There's been success around other cities around the nation," he said. "It will increase the safety for some of our parkers and try and alleviate some of the parking restrictions (in the area)."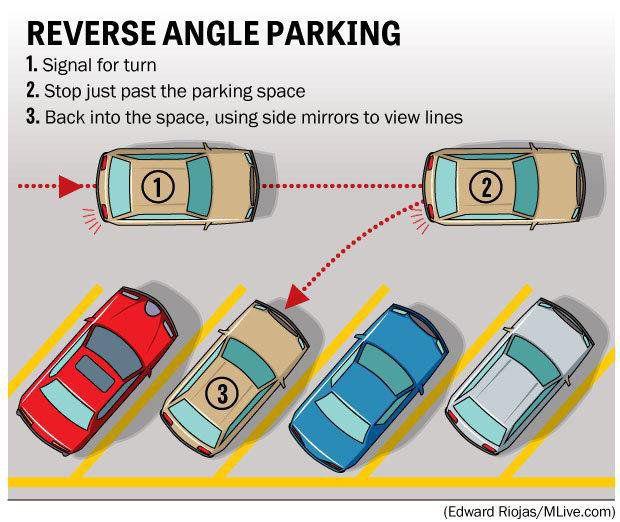 Jones added that the city gained six extra parking spots when it transitioned the existing parallel parking to back-in angled parking. As of now, the Promenade spaces are the only ones where the city is using reverse-angle parking.
Jones said he personally hasn't heard much feedback on the spots aside from a few mixed reviews on social media. In the future, he said he believes the city will look at adding more of the spaces downtown as it repaints parking spaces. 
"That's kind of the direction we want to go towards, but it's a ways off," Jones said of adding more reverse-angle spaces. "It's more based on spots wearing down, or going in and repainting."
Downtown Partners executive director Ragen Cote said she supports the new spots and believes they are a welcome addition to the area. Compared to the number of parallel parking spaces that fit on that block before, she said, the new ones add additional parking and increased safety. 
"The fact is that if we want to be a more pedestrian-friendly environment, that brings it to the top," she said. "That is the safest way for pedestrians, bicyclists and motorists."
Area businesses have heard mixed responses from customers. 
"Our customers don't see the point," said Julia Hernandez, assistant manager at Jitters, 306 Virginia St.  "They say it actually makes it harder for them to park there." 
Hernandez said the oncoming traffic can make it difficult to stop in the roadway. When the restaurant gets busy during the day and the spots directly in front fill up, she said, motorists often will find elsewhere to park and avoid the reverse-angle spots just around the corner.  
At 21st Amendment, 1008 Fourth St., owner Jesus Sanchez said he hasn't heard much from people frequenting his business, but based on what he's seen in areas like Omaha's Old Market, it will catch on.
"It will get utilized, it's just a matter of people getting used to it," he said. 
The parking was included in city plans to reconstruct Morningside Avenue between South Lakeport Street and South St. Aubin Street, where the stalls would have been drawn along the south portion of the roadway. Some said the spaces would serve as a barrier to their businesses, which serve a generally older clientele. 
"I can't tell you, when the story first started breaking, about how many of my customers came in, and every one of them was talking about the Third Street reverse-angle parking and how they would not park like that," said Bill Drilling, co-owner of Drilling Pharmacy at 4010 Morningside Ave. "People were adamantly opposed to it. It struck a nerve."
Drilling said he continues to believe such spaces would be a deterrent to any business -- in Morningside or the downtown -- because motorists would drive by the spaces. He added that many of the clientele who frequent the businesses like his on Morningside Avenue are older and have said they especially would have trouble entering the spaces. 
Jones said the city's engineering department would ideally like to add the reverse-angle parking in that spot for safety purposes, but it may take another route.
In the meantime, Jones said he recommends the drivers behind motorists using the new stalls remain patient. 
"We don't want people to try and go around them," he said.
It's also important to use them correctly, as drivers can receive tickets from city parking attendants or police officers for pulling forward into the stall rather than backing in.