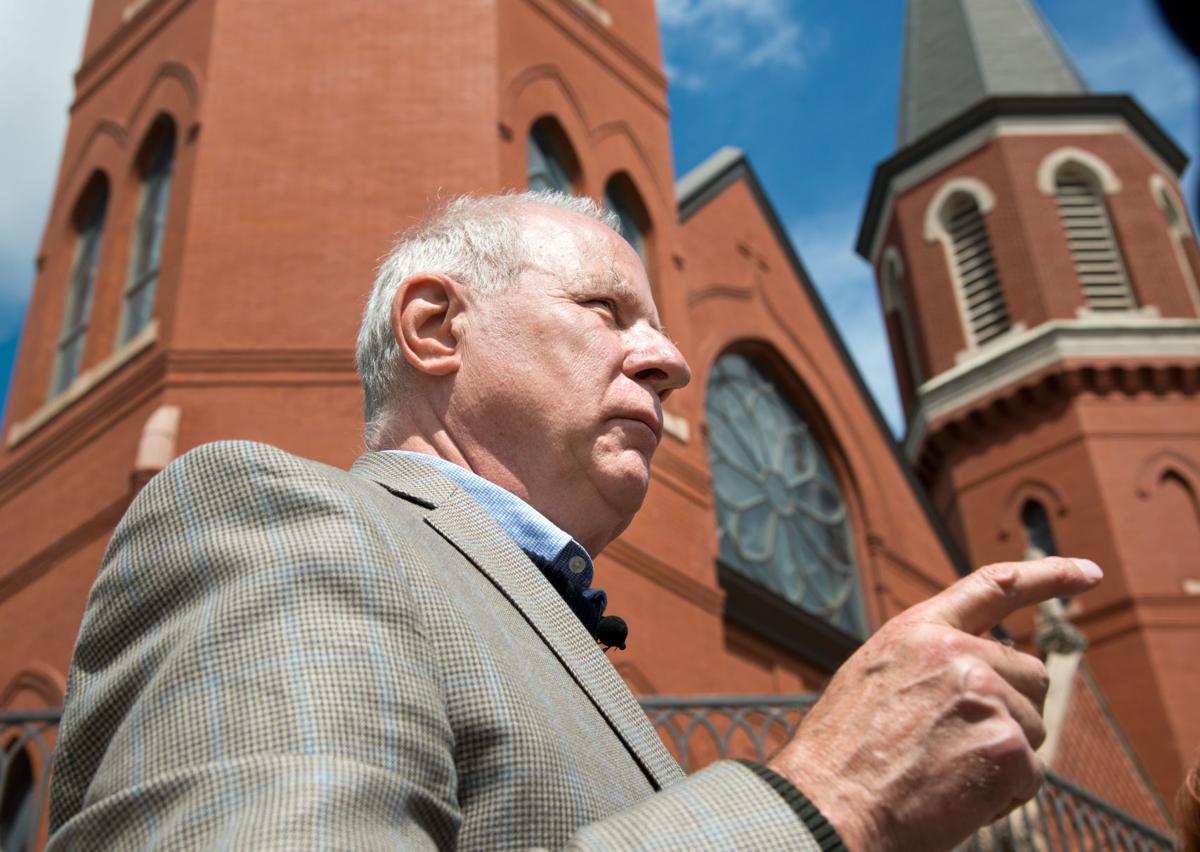 SIOUX CITY -- Tim Lennon stood at the corner of 10th and Douglas streets Thursday – the steeple of the Cathedral of the Epiphany rising high above him – as he held the picture of a 12-year old boy who had been sexually abused by a Catholic priest in Sioux City in 1960.
It was a photo of himself.
Now 72 and living in Tucson, Arizona, Lennon has been fighting for justice for other victims of abuse by Catholic officials. Back in his hometown Thursday, he accused the Diocese Sioux City of continuing to shroud itself in secrecy, even though the diocese earlier this year made public the names of 28 priests accused of sexually abusing children.
Lennon said the diocese, in its Feb. 25 disclosure, excluded nuns, brothers and deacons and religious order priests who have been accused of abuse. The church also did not list priests or other church officials who victimized other adults, he said. 
"We want to have full disclosure," Lennon, president of a victims advocacy group called Survivors Network of those Abused by Priests, or SNAP, said at the news conference Thursday. "That's one of the purposes, to say, to call out to victims to step forward. If not to us, to family members, to police, to brothers and sisters, wives and husbands."
A diocese review board, after examining records dating to the diocese's founding in 1902, identified 28 priests they said were "credibly" accused of abusing more than 100 children while serving in the diocese, which covers a large territory in Northwest Iowa. 
It was the first such disclosure by the diocese, despite repeated calls by SNAP and other victims advocacy groups to do so earlier. 
In a statement Thursday, the diocese noted its independent review board "worked diligently" to review all allegations of priests – including deacons and religious order priests – who have been credibly accused of abuse of a minor while serving in the diocese. Any allegation brought against a brother or nun is referred to their individual religious order for review and action, the diocese said in the statement.
"We take accusations seriously and urge any person with information on a case of abuse to contact their local police department immediately, and then alert our victim's assistance coordinator," the diocese said in the statement. "We will continue to update our list as appropriate."
Lennon's press conference in Sioux City Thursday came just one day after he stood alongside Iowa Senate Minority Leader Janet Petersen, D-Des Moines, at the state Capitol. They jointly called for state lawmakers to take more action on behalf of victims.
Under state law, the criminal statute of limitation is 10 years for cases like Lennon's and hundreds of other sexual abuse victims. Petersen has pushed legislation that would extend or eliminate that time limit. 
"Iowa provides better protections in our laws to child rapists and organizations that cover up the crime than we provide to children and adult supervisors of child sexual abuse," Petersen said. "That is morally wrong and inexcusable."
According to Child USA, an organization for child protection, the average age for an individual to disclose the sexual abuse they suffered in childhood is 52. Lennon said he wants Iowa's politicians to hold the Church responsible and give justice to its citizens.
"Victims never get justice," Lennon said. "The parishioners need to decide, whether they want those people in authority to represent their church … They need to decide what kind of church they want. And I would say one where there's zero tolerance. One where there's full disclosure, and a removal of all those that have sexually abused children."
None of the 28 credibly accused priests identified by the Sioux City diocese currently serve in the ministry or are active with youth, and all but six are deceased. 
Every morning, when Lennon wakes up, he says that he is filled with anger. All he can do is remember what happened and try to change the lives of individuals today. But Lennon says his anger is not bad, it is the fire that keeps him going. "Now I can fight back," Lennon said. "And I do every day."