"Packing the court with more justices would be too divisive," Greenfield, the Democratic nominee for the U.S. Senate, said during a campaign stop at Hardline Coffee Co. "There's way too much divisiveness going on."
Some Democrats have said that if Barrett is confirmed to the court, enshrining a conservative majority, the court should be expanded.
Greenfield said the court vacancy should not be filled until 2021, after American voters have selected new federal officeholders and decided between incumbent Republican Donald Trump or Democrat Joe Biden in the Nov. 3 election. Ginsburg died in September, less than two months from the election. Senate Republicans blocked the nomination of Merrick Garland, who was nominated by President Barack Obama, in 2016.
Currently in a competitive, high-stakes race against Joni Ernst, a Republican first-term incumbent, businesswoman Greenfield discussed her plans to help Iowans get back on their feet during the COVID-19 pandemic with an emphasis on health care, keeping workers safe and fixing the economy with a new stimulus package.
Saying health was on the minds of the people she's been meeting, Greenfield said she will do everything she can to protect the Affordable Care Act, including keeping the coverage of preexisting conditions. The Supreme Court will also soon take up a case related to that federal health law, which Greenfield said gives her concerns it could be overturned.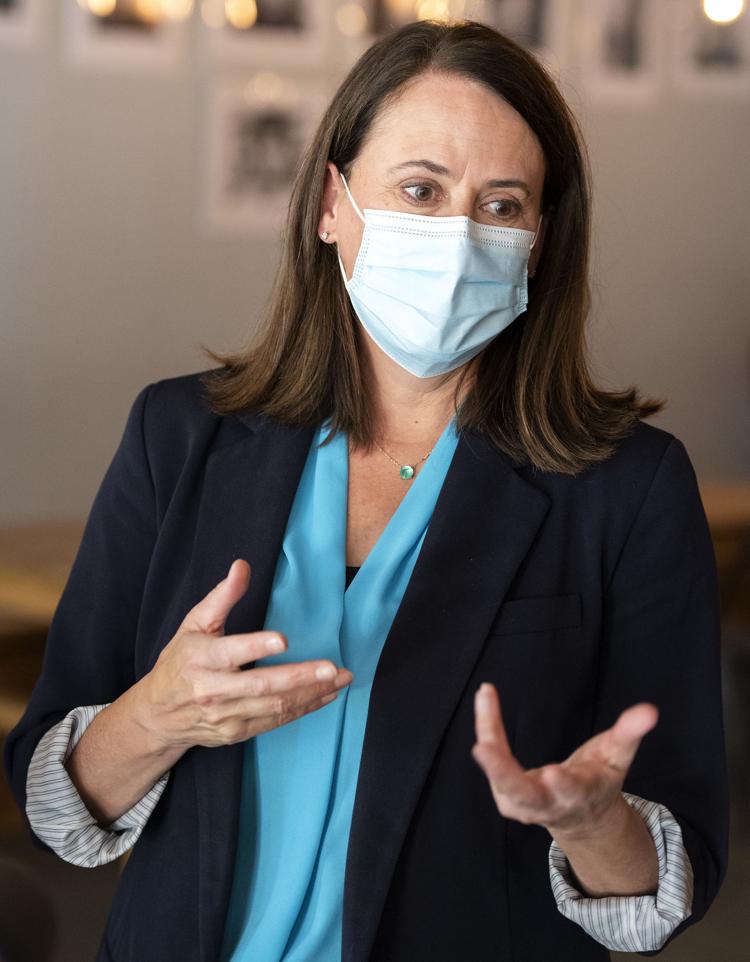 Greenfield is beginning to hold a few more public events, with coronavirus precautions. She also has run a blizzard of campaign ads, and is in a strong place financially, having announced that she brought in more than $28 million in fundraising over the three-month financial disclosure period that ended Sept. 30.
In addition to her Monday morning stop at Hardline Coffee Co., Greenfield was slated to be at Continue Care Home Infusion in Sioux City, tour a farm in Correctionville, and go to a small business in Denison before wrapping up with a tele-town hall with Iowa State Auditor Rob Sand.
Ernst was last in Sioux City on Saturday, for a campaign event that began "Joni's Ride Across Iowa," an annual fundraiser event for the senator that involves motorcycle riding.
The Journal's Bret Hayworth contributed to this story.
Get Election 2020 & Politics updates in your inbox!
Keep up on the latest in national and local politics as Election 2020 comes into focus.