SIOUX CITY -- With financial and logistical details hammered out, Siouxland officials say a smooth path from one agency region to another assures that continuing quality mental health services will be available to Woodbury County residents.
With the start of a new fiscal year on July 1, Woodbury County has officially departed the Sioux Rivers Regional Mental Health and Disability Services agency, and now functions as a member of the Rolling Hills Community Services Region.
There were challenges in fitting Woodbury County, with a population of more than 100,000 residents, into a more rural region, with the combined seven other counties having 98,000 residents. The Woodbury County Board of Supervisors worked with county leaders of Buena Vista, Calhoun, Carroll, Cherokee, Crawford, Ida and Sac counties in Rolling Hills to ensure a clean transition.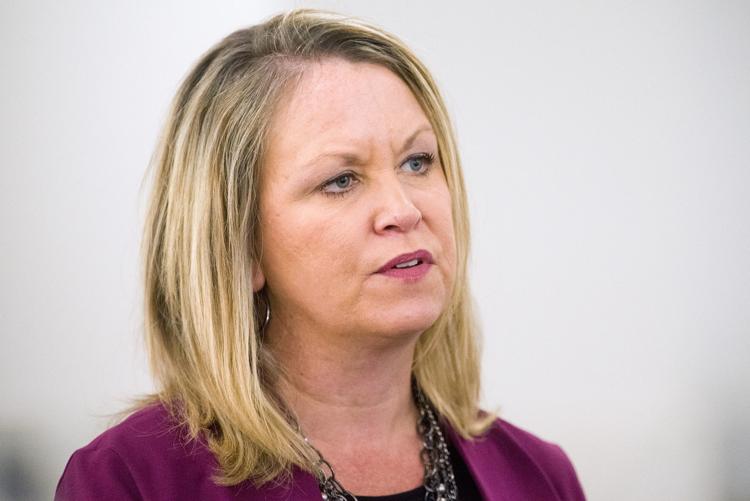 Dawn Mentzer, who works out of Storm Lake as chief executive officer for Rolling Hills, on Monday said careful vetting ensures "a future solid financial position for the continued development of core mental health services."
SIOUX CITY -- Katie Thompson describes living with bipolar disorder as "the worst of two evils."
"I have met with the majority of providers and have been nothing but impressed by the quality of services they offer to the residents of Woodbury County. The high level of involvement from Woodbury County mental health providers and local law enforcement in our newly established task forces has demonstrated a firm commitment to developing crisis services that will best meet the needs of individuals across our eight-county region," Mentzer said.
Woodbury, Sioux and Plymouth counties founded Sioux Rivers in 2014 when Iowa moved from a county-based to regional system for providing mental health services to disabled, low-income and other Iowans. Woodbury County officials sought to leave Sioux Rivers over disagreements on management style and other issues.
It took more than two years to accomplish that move. Over many months of 2017 and 2018, there were a host of Woodbury County, Sioux Rivers and Rolling Hills board meetings where county supervisors debated and voted on key steps.
In a total through last summer, the Woodbury County Board of Supervisors paid nearly $42,000 to a Sioux City law firm over the last year to work through the process of exiting Sioux Rivers.
Jeremy Taylor, of Sioux City, is the Woodbury County supervisor who has worked most closely with the other county officials who serve on the Rolling Hills governance board. Taylor said Tuesday the transition went well, because the two region CEOs worked in concert on final key details.
"We have staff in place, ready to go," Taylor said.
Mentzer said 820 people living in the previous seven counties of Rolling Hills received access to mental health services in the 2018-19 year just completed. By comparison, within Woodbury County alone, an estimated 1,083 people were served over the year.
Mentzer said the people in the other seven counties will now be able to access the Assessment and Crisis Stabilization Unit in Sioux City, which offers short-term observation or longer-term housing in a secure setting for patients whose conditions don't warrant hospitalization. She said it is pleasing that people can be served at that crisis center, as operated by Siouxland Mental Health Center at 4038 Division St., for up to 23 hours when needing an immediate place to go as other options are sought.
SIOUX CITY -- Matt Ohman, executive director of Siouxland Human Investment Partnership, told Sioux City Council members Monday that addiction …
"(Rural county residents) also gain access to Jackson Recovery Centers which provides a full array of services to individuals with substance use disorders that we had to contract with other regions for in the past," Mentzer said.
Together, the Rolling Hills board members are also looking into new services, including some new so-called core services that could be offered per a change in state rules.
"We are working towards the implementation of Mobile Crisis Response that should be available across all eight counties by early fall and are looking at the development of an access center, which is one of the new required core services," Mentzer said.
In February, Mentzer previously said mental health services available to students in Woodbury County schools will drop considerably. Mentzer said that was because school-based services are considered non-core services in Iowa.
Taylor reported the Woodbury County budget money left unspent in Sioux Rivers at the end of the fiscal year, which has been transferred into the Rolling Hills budget, was approximately $1.6 million. The Rolling Hills budget for 2019-20 will be $7.5 million.