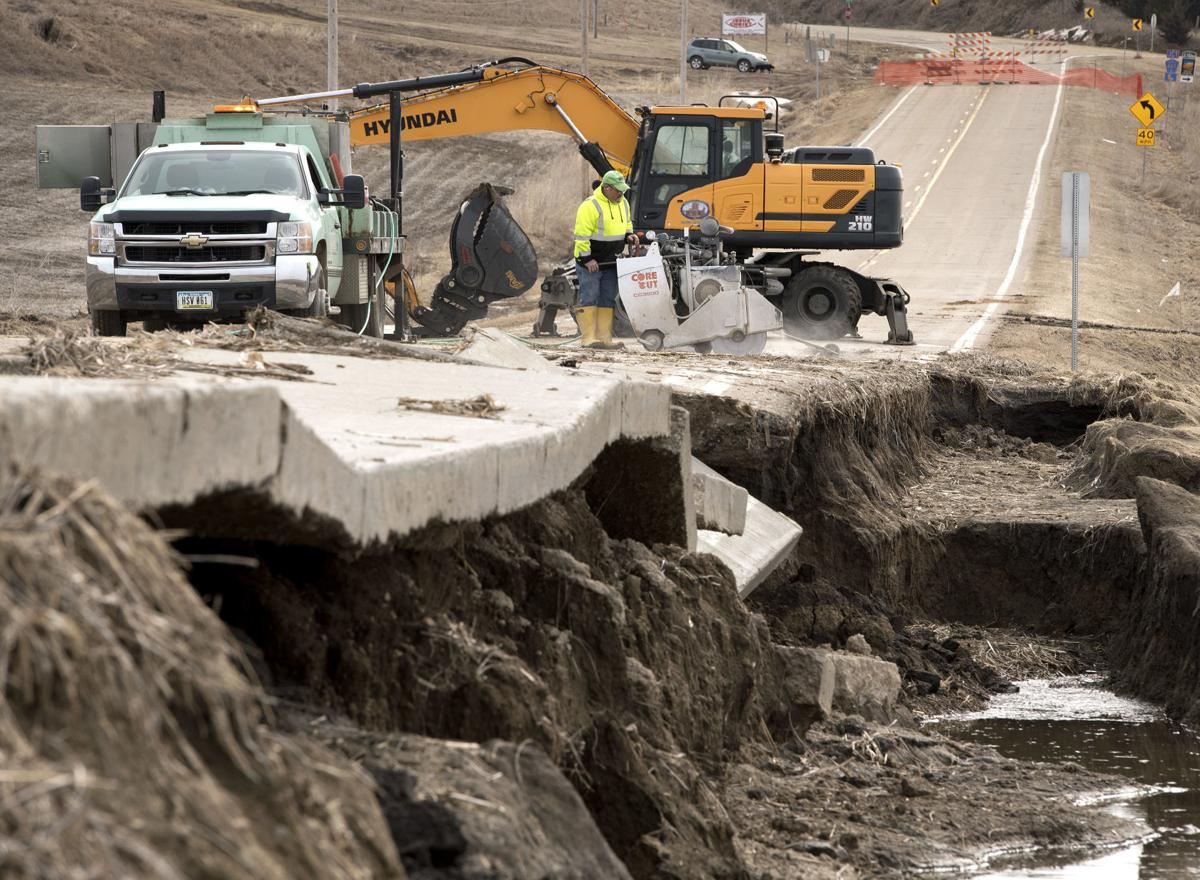 SIOUX CITY -- Woodbury County officials estimate March flooding caused  $1.5 million in damage to county roads. Much of the repair work has already been completed.
County Board chairman Keith Radig on Monday said the figure has been submitted to the Federal Emergency Management Agency, while another $250,000 in repairs will be pursued. FEMA is the agency that handles payouts to entities suffering losses from flooding.
"We have a good amount of the small repair projects done," County Engineer Mark Nahra said. "We have a pretty good amount of debris cleanup yet to do."
Nahra said FEMA will pay 75 percent of the roadwork costs, while the county will pay 15 percent and state money will pay 10 percent.
"We don't wait for FEMA money to arrive, we have to make repairs to get people in and out of their properties, and getting roads back open immediately," Nahra said.
Radig said there is no total known for the flooding losses to home and farm owners, who can also get FEMA financial assistance for losses, after cataloguing the items damaged.
You have free articles remaining.
A mandatory evacuation was ordered in Hornick on March 14, after snow melt and a breached levee on the West Fork of the Little Sioux River caused extensive flooding of streets.
At the height of flooding, 29 road sections were closed in Woodbury County. Nahra initially said two road sections would require costly long-term repairs, since floodwaters eroded part of the pavement on Highway 982 near Holly Springs and County Road L-37 near Danbury.
Those came fairly quickly, as an eastern Iowa contractor was available and handled the Danbury repair by March 22. The Holly Springs temporary surfacing repair was finished April 18. Nahra said a full pavement finishing to the Holly Springs section will be put out for bids soon, and done in the summertime.
Nahra said one of the vexing factors with the flooding is that it came in a cold time, rather than in summer, when floods have been more likely to occur. He said snow and ice still plugged culverts along gravel roads in March, which meant ditches backed up and washed away both sides of gravel roads and shoulders.
Nahra said a few gravel roads are still closed in various parts of Woodbury County. One is 200th Street south of Moville near the West Fork of the Little Sioux River, where the road had been greatly washed away for 400 yards.
"We are doing as much as we can as quickly as we can. We had widespread damage to some of the gravel roads," Nahra said.
Copyright 2019 The Sioux City Journal. All rights reserved. This material may not be published, broadcast, rewritten or redistributed.