SIOUX CITY -- Preliminary talks to build a new jail on the outskirts of Sioux City are underway by Woodbury County leaders who are also are considering a public referendum to finance a project with an estimated cost as high as $50 million.
County board chair Keith Radig told the Journal editorial board on Thursday it would make more financial sense to build a new jail than try to repair the aging Law Enforcement Center, which opened in 1987 at 407 Seventh St., across from the the county courthouse.
"Why spend $12 to $14 million in repairs? That just isn't right," Radig said.
Radig said a much better path ahead -- for a jail that has had maintenance issues and alternately been overcrowded or not, depending upon changing flows of inmates over the last decade -- is to build a new detention center with 300 to 440 beds, compared to the 234 beds in the current jail. 
A larger jail would allow Woodbury County to accept more inmates facing federal charges, including undocumented migrants detained by U.S. Immigration and Customs Enforcement, or ICE.
"We could take them right now, but we don't have room," Radig said.
The county could contract with ICE and receive around 80 inmates per day on average, which would bring in hundreds of thousands of dollars in additional revenue per year. That would make the operations in the new jail cash flow more positively, and possibly eliminate the need to pay back debt to construct the structure with property taxes from the county's annual operating budget.
A property tax-backed capital project in excess of $1.2 million would require putting the issue up for a countywide vote. County leaders have said residents may not have the appetite to support such an expensive project. A consultant has pegged the construction costs at between $35 million and $50 million.
"A bond issue is probably the intended and right way to do it," said Radig, who added he would prefer to put a measure on the ballot in 2020. 
A five-member committee has been meeting to hammer out a plan for the county's future jail needs. The panel includes Sheriff Dave Drew, Lt. Tony Wingert, Building Services Department Director Kenny Schmitz and county supervisors, Matthew Ung and Jeremy Taylor. They are working with the Goldberg Group Architects consulting firm from St. Joseph, Missouri.
Radig said the committee members are doing well in vetting issues, but he wants to see some movement toward a proposal.
"Time is really getting of essence on this," he said.
That's not only because of the aging and "terribly poor" condition of the existing jail, but also "construction costs are going up. The longer you wait, the more millions you could spend."
"We want to try to get on the same page on where and what we will build...and get plan out into the community," Radig said.
In a separate interview Thursday, Drew said a lot of thought must be given to a longtime vexing issues with the existing jail. He said at least 350 beds are needed in any new building.
"This thing has been looked at since 1999. In 1999 we were outgrowing the facility. In 1999 they didn't know all the potential (structural) problems," Drew said. "We are really on life support."
Drew said he also recognizes the difficulties in funding a new jail.
"It really is an issue that has been overlooked, because nobody wants to pay for it," Drew said.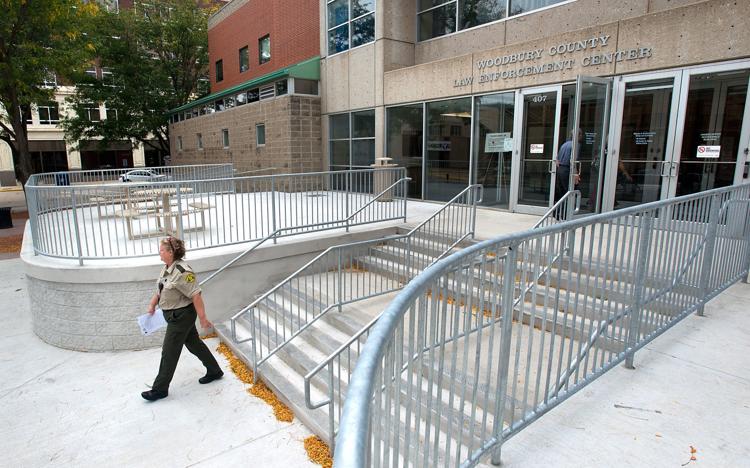 The county embarked down the path of trying to phase in several possible modernization projects for the Law Enforcement Center of about $1 million each. Combined, those pieces could have cost from $7 million to $12.6 million, depending upon when done, due to inflationary costs.
Radig said there does not appear to be a site large enough in downtown Sioux City to place a new jail there. Instead, county officials are looking on the outskirts of the city, with two leading sites emerging -- a parcel on the south end of town, just west of Sioux Gateway Airport, and the county's former Prairie Hills jail annex, on the east side of the city.
The board chair said while the county already owns the Prairie Hills land, it would require the county to install water and waste water lines. 
Drew and Radig said they prefer the location west of the airport because of the proximity to the airport and Interstate 29. The transportation links would make it easier for federal officials to transport inmates to the new jail.
"Logistically, it works out good," the sheriff said.